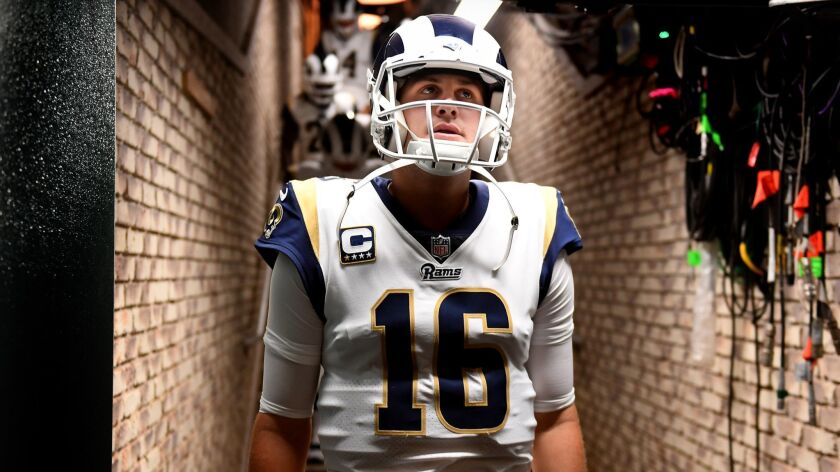 Rams (1-0) vs. Arizona (0-1)
When Rams have the ball
The Rams showed in a 33-13 victory over the Oakland Raiders that they did not need preseason games to get their offense in gear. And coach Sean McVay unveiled several new wrinkles that helped the Rams eclipse last season's league-best 29.9 points-per-game average. New Cardinals coach Steve Wilks has a defensive background, but it had to be a blur watching Rams running back Todd Gurley and receivers Brandin Cooks, Robert Woods and Cooper Kupp going in motion. The receivers carried the ball on jet sweeps and Gurley scored on a shovel pass. Now, if only McVay could get the tight ends involved. Quarterback Jared Goff is off to a solid, if unspectacular, start. Look for the third-year pro to continue taking multiple shots deep downfield. He just missed connecting with Cooks and Woods against the Raiders. The Rams have a lot of respect for Cardinals defensive end Chandler Jones, linebacker Deone Bucannon and cornerback Patrick Peterson, but the Cardinals gave up 21 second-quarter points in a 24-6 loss to the Washington Redskins. The Rams are much more high-powered, and they are eager to show fans that they are a legitimate Super Bowl contender.
When Cardinals have the ball
The Rams know all about Cardinals quarterback Sam Bradford: They selected him with the No. 1 pick in the 2010 draft. Since then, the oft-injured Bradford made stops with the Eagles and the Vikings before the Cardinals signed him to succeed Carson Palmer — and allow Josh Rosen to develop. Despite his balky physical history, Bradford is still regarded as an accurate passer. After watching Raiders quarterback Derek Carr get rid of the ball in a flash — how else to avoid a Rams pass rush featuring Aaron Donald, Ndamukong Suh and Michael Brockers? — expect Bradford to try to do the same. Running back David Johnson is one of the NFL's most versatile players. Before last week's opener, he also became one of the league's highest-paid players at his position, a debt he owes to Gurley and the $60-million extension the Rams gave him before the season. The Rams intercepted three passes against the Raiders, including one that cornerback Marcus Peters returned for a touchdown. The assignment might be more difficult this week because Cardinals receiver Larry Fitzgerald shows no signs of slowing down. He caught seven passes in the opener.
When they kick
When Greg Zuerlein's first field-goal attempt of the season missed wide right against the Raiders, there was concern that perhaps he was not fully recovered from back surgery in December. But the misfire might have had more to do with kicking on infield dirt rather than turf. Zuerlein made his next four attempts — including one off the dirt from 55 yards — and was named NFC player of the week. Pro Bowl kick returner Pharoh Cooper is sidelined because of ankle surgery, so JoJo Natson will return kickoffs and punts. Phil Dawson is the Cardinals kicker, Andy Lee the punter and Christian Kirk the punt returner.
Gary Klein's prediction
The Rams' opener served as their preseason. There is no reason to think they will get anything but better now that they have actually played together. Sure, some tough NFC matchups are looming on the Rams' schedule, but the Cardinals did nothing in Week 1 to indicate they qualify as one.
RAMS 37, CARDINALS 10
---