Rams' Watkins a franchise-tag candidate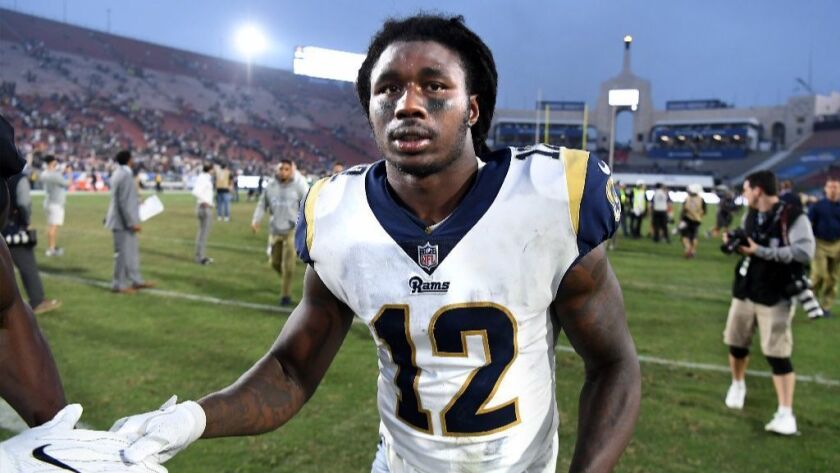 Bouncing from team to team and quarterback to quarterback does not appeal to Sammy Watkins.
The Rams receiver said so near the end of last season, which for Watkins included a training camp trade from the Buffalo Bills and the first playoff appearance of his four-year career.
The day after the Rams lost to the Atlanta Falcons in the wild-card round, Watkins said he would "definitely" like to stay with the Rams.
"Everything is right here as far as coaches," he said. "They are building something here. Great players."
Though he caught a team-best eight touchdown passes from quarterback Jared Goff, Watkins was not the featured receiver in coach Sean McVay's offense.
But he's in the spotlight now.
Watkins, 24, is one of the Rams' 14 pending unrestricted free agents and -- along with safety Lamarcus Joyner -- a potential candidate to receive the franchise or transition tag.
NFL teams can tag one player starting Tuesday. The deadline to apply tags is March 6.
The Chargers, unlike the Rams, will almost certainly be on the sideline.
Last spring, the team used the franchise tag on edge rusher Melvin Ingram before agreeing to a long-term deal. Tight end Antonio Gates is the biggest-name-pending free agent, but at this stage of his career it is highly unlikely the Chargers would use a tag on the 15-year veteran. Safety Tre Boston is a possibility, but the franchise tag might be too pricey even after Boston played well in his first season with the team.
A franchise tag binds a potential unrestricted free agent to the team for one year if certain conditions are met. The player is guaranteed a salary no less than the average of the five highest-paid players at his position, or 120% of the player's previous salary, whichever is greater.
Teams and players with the exclusive and nonexclusive franchise tag can work out long-term contracts. The deadline this year is July 16. If a nonexclusive franchise-tagged player signs with another team, the team that tagged the player receives two No. 1 draft picks as compensation.
Salaries for players with the transition tag are based on the top 10 players at the position. The player's team can match offer sheets from other teams, but if it declines to match the offer and the player signs with another team, there is no compensation.
The Rams franchise-tagged cornerback Trumaine Johnson the last two seasons, paying him nearly $31 million in combined salary. He is expected to test the free-agent market this spring but could re-sign with the Rams.
In 2018, franchise-tagged receivers are projected to earn about $16.2 million, according to overthecap.com. A transition-tagged receiver is projected to earn $14.2 million.
Franchise-tagged safeties are projected to earn $11 million, transition-tagged safeties $9.5 million.
Watkins was the fourth player chosen in the 2014 draft. But after he was sidelined for eight games because of injuries in 2016, the Bills did not exercise their fifth-year option. They traded him to the Rams for cornerback E.J. Gaines and a second-round draft pick.
Watkins did not immediately meld into the Rams' offense as Goff relied more on Robert Woods and rookie Cooper Kupp, receivers he had worked with the entire offseason and most of training camp.
But the 6-foot-1, 211-pound Watkins flashed as a deep threat, catching a 67-yard touchdown pass against the New York Giants, and proved especially effective on slant patterns near the goal line.
He finished with 39 catches, which ranked fourth on the team. But Watkins – and the threat he posed – opened the field for others. He also appeared to embrace his role as a blocker.
Perhaps most important, he did not sit out any games because of injuries, which has spurred the Rams' interest in retaining Watkins. If they do not sign him to an extension, tagging him would enable the team to further evaluate his durability before deciding whether to commit to a long-term contract.
"I do think we can use him better," McVay said after the season. "I've got to be able to put him in better spots, but I also think that he and Jared will continue to gain a rapport."
In January, Watkins said he did not know what was in his future.
"I just know it's a business," he said. "Since I got traded from the Bills, it's like anything can happen. I didn't see that coming.
"So, for me it's just really … I think I played pretty hard this year and I can't wait to see what my future holds here or anywhere else."
Joyner, 27, was a second-round pick by the Rams in 2014. The team has been attempting to sign him to a long-term deal since before last season.
Joyner appears smart to have waited.
Switched from slot cornerback to free safety in 2017, he flourished in defensive coordinator Wade Phillips' scheme.
Joyner, 5-8 and 190 pounds, intercepted three passes, returning one for a touchdown. He is regarded as one of the top safeties in the pending free-agent class.
If the Rams sign Joyner, they could possibly tag Watkins. If they sign Watkins, they could possibly tag Joyner.
Starting Tuesday, there are two weeks for those scenarios and others to play out.
Staff writer Dan Woike contributed to this report.
Follow Gary Klein on Twitter @latimesklein
Staff writer Dan Woike contributed to this report.
---
Get the latest on L.A.'s teams in the daily Sports Report newsletter.
You may occasionally receive promotional content from the Los Angeles Times.