The Rams and Chargers are in a so-called "Fight for L.A.," a competition that includes wooing — and accepting — new fans from all parts of Southern California's diverse population.
Both franchises have reached out to the LGBTQ community to help sponsor this weekend's second annual Venice Pride celebration of diversity.
Each sponsored a letter in the VENICE sign that will be illuminated Friday at 9 p.m. as part of a sign lighting and block party in Venice.
The Rams committed to sponsor the letter C in early May, becoming the first NFL team to officially sponsor a Pride event, said Grant Turck, executive director of Venice Pride. The Chargers signed on later in the month to sponsor the letter N.
"It opens a place for our community within the NFL," Turck said. "The ultimate message is: inclusion wins.
"If you choose to be inclusive, that's the more prosperous approach, not just for the LGBTQ community but for everybody."
The Rams have made several historic steps toward diversity.
In 1946, they signed Kenny Washington, making the UCLA All-American the first African American NFL player in the modern era.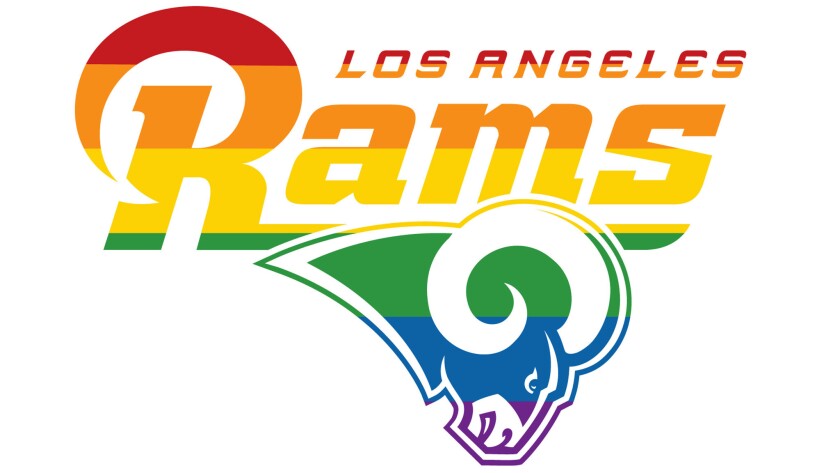 In 2014, they selected Michael Sam in the seventh round of the NFL draft, making Sam the first openly gay player to be drafted. Sam, a defensive lineman from Missouri, played in preseason games but was released when the roster was trimmed to 53 players before the season opener.
Molly Higgins, Rams vice-president of community affairs and engagement, said the Rams' involvement in Venice Pride continued the franchise's commitment to inclusion.
"We thought of it as an opportunity to offer support of diversity, something that publicly displays our internal values and encourages acceptance and equality across the board," Higgins said.
Kimberley Layton, the Chargers' vice president of external affairs for corporate, community and governmental relations, said the team has supported San Diego's AIDs walk and numerous human rights organizations through monetary donations and donations in kind.
"Equity, diversity and inclusion are as fundamental to our organization as bump-and-run coverage, the three-step drop and gap technique," Layton said. "We could not be more excited to partner with Venice Pride and support our LGBTQ community."
Follow Gary Klein on Twitter @latimesklein
---