Rams decline to exercise fifth-year option on offensive lineman Greg Robinson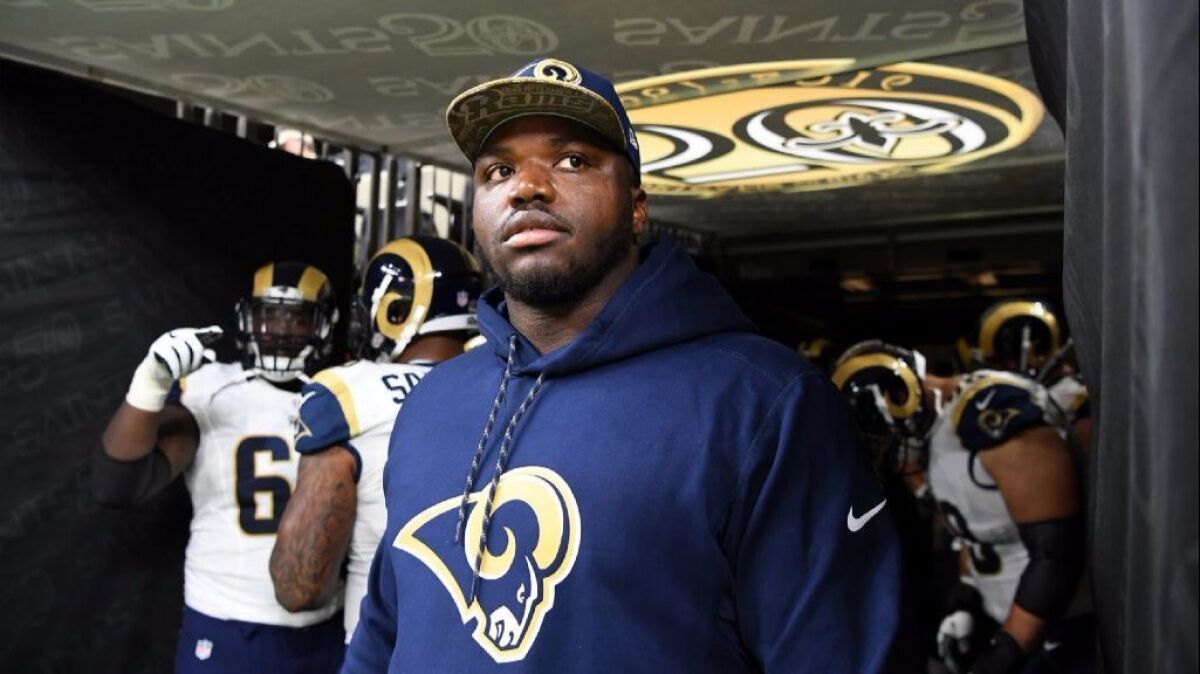 The Rams will not exercise their fifth-year option on offensive lineman Greg Robinson, the No. 2 pick in the 2014 draft, the team announced Tuesday.
Robinson, 24, struggled with penalties and to provide consistent protection as the starting left tackle the last two seasons.
The Rams in March signed free-agent left tackle Andrew Whitworth to a three-year, $33.7-million contract. The 6-foot-7, 330-pound Whitworth, 35, was voted to the Pro Bowl in each of the last two seasons.
The 6-foot-5, 332-pound Robinson has been moved to right tackle and also could get some work at right guard.
Under terms of the NFL collective bargaining agreement, teams have the option of adding a fifth year to first-round rookie contracts after a player's third season. The fifth year is guaranteed for injury. For players selected with the No. 1 through No. 10 picks, the fifth-year salary is the average of the top 10 salaries for the player's position.
Robinson, who played college at Auburn, originally signed a four-year, $21.3-million contract, including a $13.8-million signing bonus, according to spotrac.com. Robinson is scheduled to earn about $6.7 million this season in salary and bonuses. Had the Rams exercised their option, Robinson would have been guaranteed more than $12 million in 2018.
Robinson was benched twice last season. Despite the problems, he said in January that he improved technically and mentally.
"I was progressing and there was a lot of things that could have distracted me, but I just felt like I just stayed the course and tried my best to get better," he said.
Last month, the Rams exercised the fifth-year option on defensive tackle Aaron Donald. The 13th pick in the 2014 draft was the NFL's defensive rookie of the year and has been selected to the Pro Bowl in each of his three seasons.
Donald, 25, originally signed a four-year, $10.1-million contract that included a $5.7-million signing bonus. He is due to earn about $3.2 million this season. Donald's 2018 salary will be about $6.9 million, but the Rams will attempt to work out a long-term deal that could make Donald one of the league's highest paid defensive players.
Last year, the Rams exercised fifth-year options on receiver Tavon Austin and linebacker Alec Ogletree. Austin, the eighth pick in the 2013 draft, signed a four-year, $42-million contract three months later. The Rams have said they were working toward signing Ogletree to an extension.
Follow Gary Klein on Twitter @latimesklein
Get the latest on L.A.'s teams in the daily Sports Report newsletter.
You may occasionally receive promotional content from the Los Angeles Times.