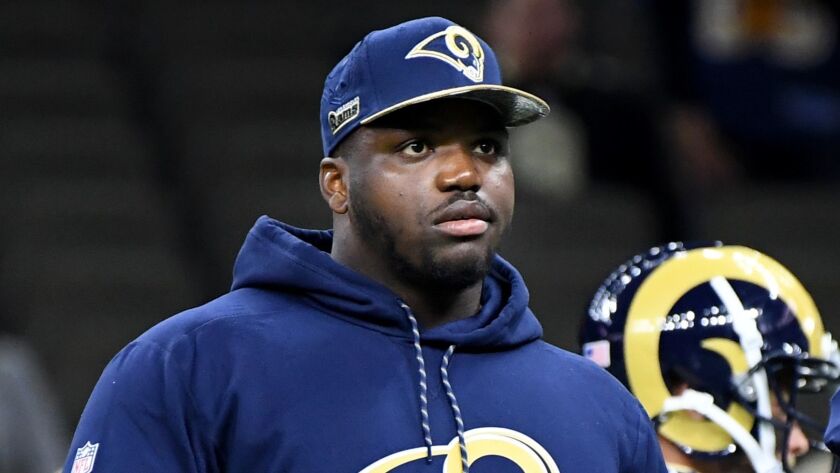 He was the second player chosen in the 2014 draft, an offensive lineman the Rams envisioned as a franchise cornerstone.
Instead, Greg Robinson could never overcome the penalties and protection issues that plagued him as an overmatched left tackle.
After new coach Sean McVay moved Robinson to the right side and evaluated him through off-season workouts and mini-camps, the Rams finally made a move.
On Thursday, they announced that they had traded Robinson to the Detroit Lions.
In return, the Rams received a sixth-round pick in the 2018 draft.
"We felt like it was going to be something that was best for our team and best for Greg," McVay said.
Robinson's departure was the latest in a series of housecleaning moves that began months ago when the Rams traded, released or let several players from the Jeff Fisher era leave as free agents.
General Manager Les Snead survived Fisher's firing, but his selection of the 6-foot-5, 334-pound Robinson will be remembered as a major mistake.
Robinson, 24, was among eight players the Rams acquired through the 2012 trade that enabled the Washington Redskins to select quarterback Robert Griffin III. Linebacker Alec Ogletree and defensive tackle Michael Brockers are the only players that remain on the roster.
The Rams chose Robinson, who played at Auburn, one pick after the Houston Texans selected defensive end Jadeveon Clowney. Robinson was chosen ahead of players such as Oakland Raiders linebacker Khalil Mack, New York Giants receiver Odell Beckham Jr., and Rams defensive tackle Aaron Donald.
Robinson's performance rarely matched what was expected from his draft position.
"We appreciate his dedication and the effort he's put forth over the past three seasons," Snead said in a statement. "We wish him the best as he embarks on this new chapter."
In March, the Rams signed veteran left tackle Andrew Whitworth, a three-time Pro Bowl selection, to replace Robinson and protect quarterback Jared Goff's blind side. Robinson was moved to the less demanding right side.
But Jamon Brown supplanted him at the spot and Robinson took only a few snaps with reserves during a mini-camp that concluded Wednesday.
"It wasn't anything we didn't see" from Robinson, McVay said. "It was more of a product of what we've seen from Jamon Brown."
McVay said the trade came together in the last few days.
The Times' Gary Klein and Lindsey Thiry discuss the progress the Rams made during offseason organized team activities and minicamp.
"It all happened really quick," he said. "It was something where a couple other teams had expressed some interest."
Robinson's market value was not high.
Last season, he was made inactive for one game and benched for another.
The Rams did not exercise their fifth-year option — as they did for Donald — signaling Robinson's future with the team was tenuous.
Robinson originally signed a four-year, $21.3-million contract, including a $13.8-million signing bonus, according to spotrac.com. Robinson is scheduled to earn about $6.7 million this season in salary and bonuses.
"Whatever opportunities I have, I'm looking forward to my future," Robinson said after an organized team activity workout in May. "Hopefully, it's with the Rams.
"I don't really know how that's going to go, but whatever opportunities come my way, I've just got to take advantage of it."
That opportunity is now with the Lions.
Robinson told reporters in Detroit that he was so excited by the move, he took a red-eye flight from Los Angeles to Detroit. He took a physical and observed the Lions' final mini-camp practice.
Robinson said he planned to benefit from the change of scenery and make the most out of the move.
"[My career] hasn't really went the way I would like," he said, according to MLive.com "I think at this point, besides all the negatives, just trying to improve as much as possible, and that's all I can offer."
The Lions were in need of a left tackle since Taylor Decker will be sidelined for part of the season because of a shoulder injury. They also signed tackle Cyrus Kouandjio.
Lions coach Jim Caldwell told reporters he was not concerned about Robinson's performance with the Rams.
"I'm concerned about what he does for us here and now from this point forward," Caldwell said. "I don't look back much. Those are speculations and stuff you guys can do. I guess it makes for interesting reading for someone, but for us, we know he's got ability. He's very capable and we're happy to have him."
Etc.
McVay said he decided to cancel the final day of mini-camp to reward players for their work during the off-season program. "To see the excitement on their faces when we said, 'Hey, man, enjoy your break, be safe and it starts today.' The roar in the room was quite a response.… We're by no means a finished product, but I think if you talk about maximizing the off-season program and getting what we wanted out of it from our team I think we accomplished that and that's why we wanted to do that for those guys." ... Rookies report for training camp at UC Irvine on July 26. The first workout is July 29. McVay said he would vacation in Cabo San Lucas and Europe. "I will try to get away because I think it's important to try to kind of just get refreshed, recharged. Take better care of myself. I'm a little bit heavier than I'd like to be right now. … It will be nice to get away and then kind of just work on football a couple hours every now and then, and that's what I'm looking forward to. And being able to live out here and kind of enjoy the area is really nice too because you feel like you're living on vacation." … The Rams waived quarterback Dylan Thompson.
Follow Gary Klein on Twitter @latimesklein
ALSO
Rams' Aaron Donald shows up to minicamp though his contract situation remains unresolved
There are signs that second-year Rams QB Jared Goff might be much improved
Super Bowl-pedigreed Kayvon Webster must show he can handle starting role with the Rams
---
UPDATES:
This article was updated with comments from the coach. The article was originally published at 7 a.m.
---