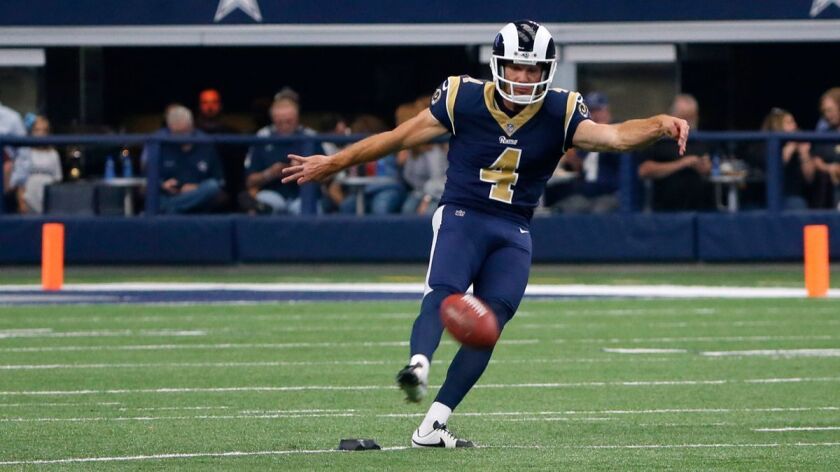 A few Rams veterans get a break from practice each Wednesday so they can utilize extra time to recover from the previous game.
Greg Zuerlein is not one of them.
But the sixth-year pro probably earned the right to a rest after carrying the Rams with his powerful right leg in Sunday's victory over the Dallas Cowboys at AT&T Stadium.
Zuerlein kicked a team-record seven field goals, two extra points and also kicked off nine times in the Rams' 35-30 victory that improved the Rams' record to 3-1 and kept them atop the NFC West.
The kicker known as Legatron, Greg the Leg, Mr. Automatic and other monikers was named the NFC special teams player of the week after rising to the top of the NFL season scoring list with 56 points.
Zuerlein was a bit sore Wednesday — for every kick he attempts during a game, he said he makes about 15 kicks during warmups or into a net on the sideline — but he went through a light workout with snapper Jake McQuaide and holder Johnny Hekker, a battery that has been together under special teams coordinator John Fassel since Zuerlein and Hekker entered the league in 2012.
"You prepare the same every week," Zuerlein said, adding, "Some games you don't get many kicks, some you get a lot."
Zuerlein was busy against the Cowboys, converting field-goal attempts from 49, 44 and 44 yards in the first half and 30, 28, 43 and 33 yards in the second as the Rams came back for an important road victory.
"He was just bailing us out time and time again, just chipping away and that diligence was able to put us in a position to win the game," offensive lineman Rodger Saffold said.
The 6-foot, 191-pound Zuerlein, 29, took an uncommon road to the NFL. It began in Nebraska, included a stop in Missouri and nearly included a detour to UCLA.
Zuerlein played high school football in Nebraska and began his college career at Division II Nebraska Omaha, where he redshirted as a freshman in 2006.
In 2010, he sat out the season because of a hip injury that required surgery, and was granted a sixth season of eligibility by the NCAA. In March of 2011, however, the school dropped its football program.
Zuerlein was eager to test his skills at Division I, and he had several suitors.
Angus McClure, a former Nebraska assistant, had seen Zuerlein kick at camps while Zuerlein was in high school. In 2011, McClure was the special teams coach for a UCLA program looking to add a kicker.
When McClure heard that Nebraska Omaha had dropped football, he scanned the roster from the previous season. He recognized a familiar name.
"I saw Zuerlein on there," McClure recalled, "and I went 'Holy Moses!' "
McClure connected with Zuerlein and invited him for visit to UCLA.
"Moving up in competition is what I was most interested in, and I had a lot of offers from D-I colleges," he said. "But UCLA, just having nice weather, Pasadena, the Rose Bowl is known for great fields.
"It seemed perfect."
But the NCAA had different rules for each division. It determined that Zuerlein's eligibility clock for Division I had expired.
Zuerlein thanked UCLA for the scholarship offer and enrolled at Division II Missouri Western, where he made 21 consecutive field-goal attempts, including nine from beyond 50 yards.
Meanwhile, UCLA kicker Kip Smith suffered a season-ending hip injury in the first game, leaving the Bruins to turn to a former soccer team manager.
The Rams selected Zuerlein in the sixth round of the 2012 draft.
McClure, who remains on UCLA's staff, still tracks Zuerlein.
"Every time he kicks a field goal," he said, laughing, "I think, 'Dang, we could have had him!' "
Zuerlein made 23 of 31 field-goal attempts as a rookie, including one from 60 yards. He made 93% of his attempts in 2013, and 80% in 2014 before making 20 of 30 (67%) in 2015.
He bounced back to make 19 of 22 last season, and in March signed a three-year, $6.75-million contract.
Now he is one of the most valuable pieces for a Rams team that plays host to the defending division champions Seattle Seahawks on Sunday at the Coliseum.
A victory would keep the Rams on track for a possible playoff berth, something the franchise has not earned since 2004.
"He's really developed his body into one that can withstand 20 weeks, plus playoffs," Fassel said of Zuerlein. "Which is good, because hopefully one of these days we'll be needing some more kicks in some more games."
If Zuerlein continues to perform at this level, it could be this season.
Follow Gary Klein on Twitter @latimesklein
Staff writer Lindsey Thiry contributed to this report.
---