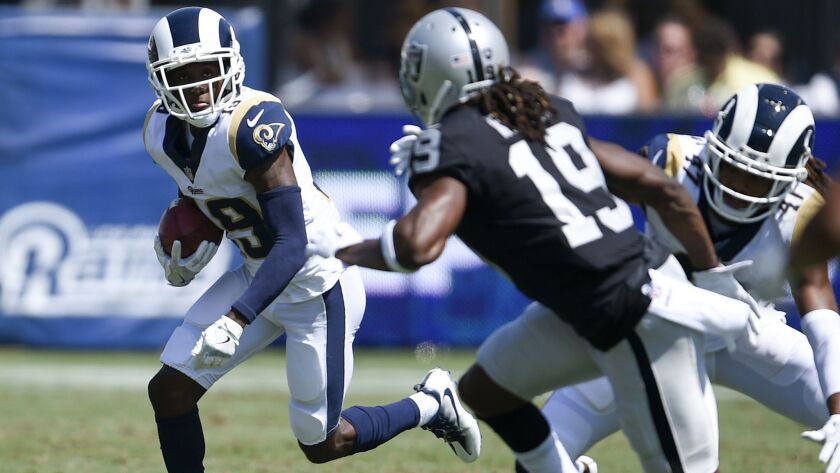 The weekend was spent at home in Florida, watching season-opening NFL games and wondering when his next opportunity might come around.
JoJo Natson did not wait long.
With Pro Bowl kick returner Pharoh Cooper bound for surgery after suffering an ankle injury in the Rams' opener Monday night, special teams coach John Fassel called Natson on Tuesday.
By Wednesday, the small but speedy Natson was back in the locker room and on the Rams' roster.
It was quite a change of fortune for the 5-foot-7, 153-pound Natson, who played the entire preseason with the Rams but did not make the final 53-man roster or the practice squad.
"I didn't expect for the turnaround to be this quick at all," Natson said.
Now Natson is a member of team regarded as one of the Super Bowl favorites. He is set to return kicks and punts Sunday against the Arizona Cardinals.
"He's a fearless competitor," coach Sean McVay said.
It took an unusual set of circumstances for the Rams to summon Natson.
Cooper suffered the ankle injury and backup return specialist Mike Thomas suffered a groin injury in the Rams' 33-13 victory over the Oakland Raiders. Cooper was put on injured reserve Wednesday, and Thomas is expected to be sidelined for a few weeks.
McVay said the Rams did not consider using receiver Cooper Kupp or other players as the kick returner.
"[Kupp] is so valuable to us from an offensive standpoint," McVay said. "Then, you've got a couple other guys that have done it, but not consistently enough to where you want to try to really get some of those off."
Natson's experience during the preseason — he averaged 24.4 yards for 14 kickoff returns, and 11.1 yards for nine punt returns — gave Fassel confidence that he could handle the job, McVay said.
"He did a good job with the ball security, understanding how to set the returns and things like that," he said.
Natson's road to the Rams' roster was not easy. But he is accustomed to overcoming adversity.
"I've been against the odds all my life," he said, "and it's just another bump in the road."
Natson started his college career at Utah State but was dismissed from the team in June 2015 after several off-the-field incidents and violations of team rules. He played his final season at Akron.
In 2017, Natson signed with the Indianapolis Colts as an undrafted free agent. He performed well during the preseason but did not make the roster.
He played in seven games for the New York Jets last season, averaging 20.3 yards for 16 kickoff returns and 2.4 yards for 16 punt returns. The Jets, however, released him in April.
Natson played in every preseason game for the Rams, but there was no room on the star-studded roster.
So Natson waited.
"It's a tough process at first," he said. "When things don't go my way, I just keep pushing on. I just stay positive."
Natson said he felt bad that Cooper suffered an injury — "That's my boy," he said — but did not doubt that an opportunity would arise.
Now he is ready to help the Rams.
"I feel like I bring a bit of excitement," he said. "Just my quickness, my speed."
At 153 pounds?
"It's light," he said, "but you can't hit what you can't catch.
"I just go out there and try to play with my heart, man, because that's what I live off — playing with my heart and everything else takes care of itself."
Etc.
The Rams did not practice but players did go through a walkthrough, McVay said. Linebacker Mark Barron (ankle), running back Todd Gurley (not injury related) and Thomas (hip) were listed on the injury report. ... Kicker Greg Zuerlein was named NFC special teams player of the week after making four of five field-goal attempts against the Raiders. Zuerlein missed his first attempt, from 46 yards, but then made kicks from 20 yards in the second quarter, 28 in the third and 55 and 20 yards in the fourth.
---