Marcus Peters has been in a slump, but the Rams' coaches are staying in his corner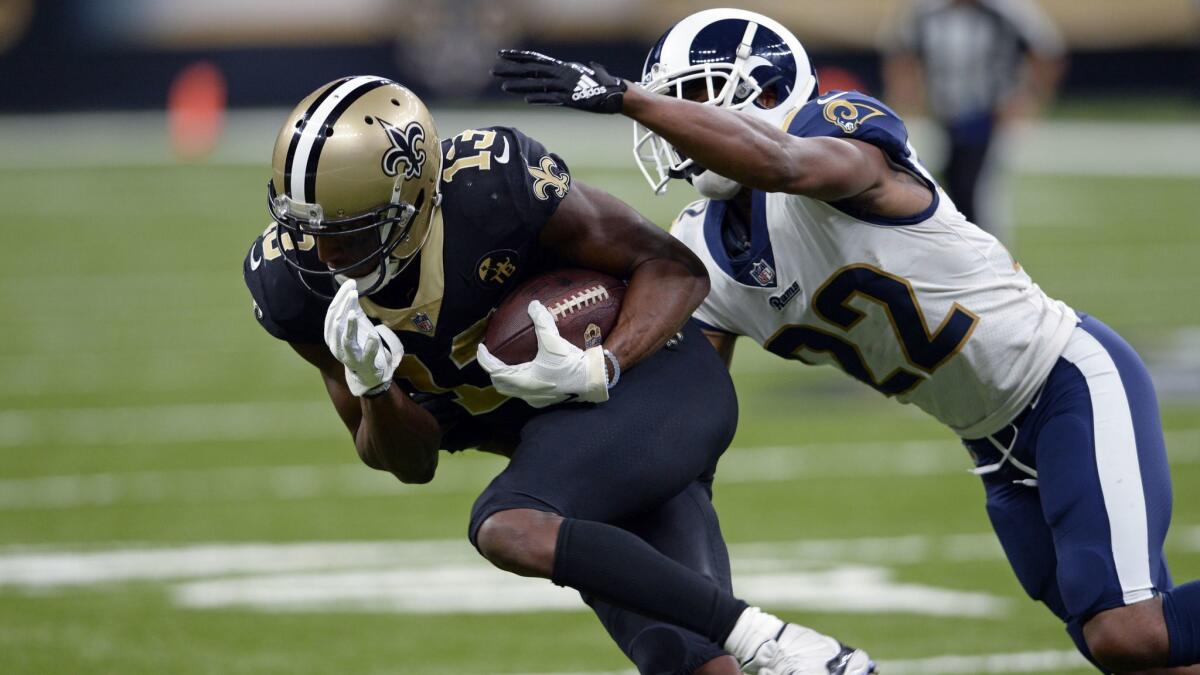 The season began on a high note for Rams cornerback Marcus Peters.
The Oakland native intercepted a pass against the Raiders in the opener and joyously returned it for a touchdown to cap the Rams' victory in his hometown.
Peters, acquired in a trade with the Kansas City Chiefs, looked every bit the two-time Pro Bowl player who tallied 19 interceptions in his first three seasons, more than any NFL player during that span.
But Peters has struggled to repeat that form.
In last Sunday's 45-35 defeat by the New Orleans Saints, he was beaten on several plays, including a 72-yard touchdown late in the fourth quarter by receiver Michael Thomas.
As he has done throughout the season, Peters did not make excuses.
"When things happen like this and you start slow, you don't make complaints," Peters said. "You don't sit there and talk about what could have happened. You move forward ...
"It's all upon me of getting the job done. And I know I can get it done, so that's the easy part about it."
It does not figure to get any easier for Peters on Sunday, when the Rams play the Seattle Seahawks at the Coliseum.
The Rams defeated the Seahawks 33-31 in Week 5 at Seattle, but Seahawks quarterback Russell Wilson had his way with the Rams' secondary and appeared to burn Peters twice for touchdowns.
That Oct. 7 game was part of a tough stretch for Peters, who suffered a calf injury in Week 3 against the Chargers, came back four days later and struggled against the Minnesota Vikings, and then played every defensive snap against Wilson and the Seahawks.
Peters appears recovered from the calf injury, but as with nearly every NFL player who suffers an early-season injury, he probably is playing through the issue without complaint.
The absence of veteran cornerback Aqib Talib also has affected Peters and the Rams' defense. Talib has been sidelined for six games while recovering from ankle surgery. He will be eligible to come off injured reserve in time for the Rams' Week 13 game at Detroit.
In the meantime, much of the onus is on Peters.
"When you perform in this league as much as I did, and you come in and you're one of these players who makes those plays, and you're used to making those plays, and those plays are not coming, it kind of frustrates you," Peters said, adding, "It's just all about finding your groove and finding where you fit in through everything and you just go make your plays when they come."
Against the Saints, the Rams could not stop quarterback Drew Brees from passing for four touchdowns. The last one, to Thomas, appeared to catch Peters flat-footed.
Defensive coordinator Wade Phillips said he was responsible: "That's on me," he said, "not Peters.
"Any time that it's third and seven, it's the end of the game and you've got one-on-one with no help with their best player, then that's on the coaches," Phillips said.
Said Peters: "I'm just going to put it on me regardless, because regardless of what coach called we got to go out there and make plays. And I didn't execute."
When Peters processes defensive calls, sets up in a timely manner and plays with proper technique, "you can see there's some great examples of being on the screws, looking like an elite-type player," coach Sean McVay said.
Phillips and McVay acknowledged, however, that Peters needs to play better.
"With a good player and a productive player that's had as much success as he has had and the confidence we have in him, we trust that he'll improve," McVay said.
On Sunday, Peters must put behind the game against the Saints.
Thomas caught 12 passes for a team-record 211 yards. Several receptions were with Peters in coverage.
After the game, Saints coach Sean Payton said his team got the matchup it wanted for the final touchdown.
On Thursday, when asked about Payton's comments, Peters said he encouraged the coach to "keep talkin' " and that the Rams would see the Saints "soon," presumably in the NFC playoffs.
"And then we going to have a good little, nice little bowl of gumbo together," Peters said.
Hall of Famer Ronnie Lott, who played the first five of his 14 NFL seasons at cornerback, praised Peters' talent and said he would bounce back.
"Every corner has a day when things go wrong — it's like trying to stop Kobe [Bryant] on a hot night," Lott said. "You can't.
"You come back and you work on the basics."
That's what Peters said he intended to do.
"Next play," he said of his attitude about moving on from good and bad outcomes. "Next week."
Follow Gary Klein on Twitter @latimesklein
Staff writer Sam Farmer contributed to this report.
Get the latest on L.A.'s teams in the daily Sports Report newsletter.
You may occasionally receive promotional content from the Los Angeles Times.