Netflix's 'Last Chance U' star Dakota Allen will continue his journey with Rams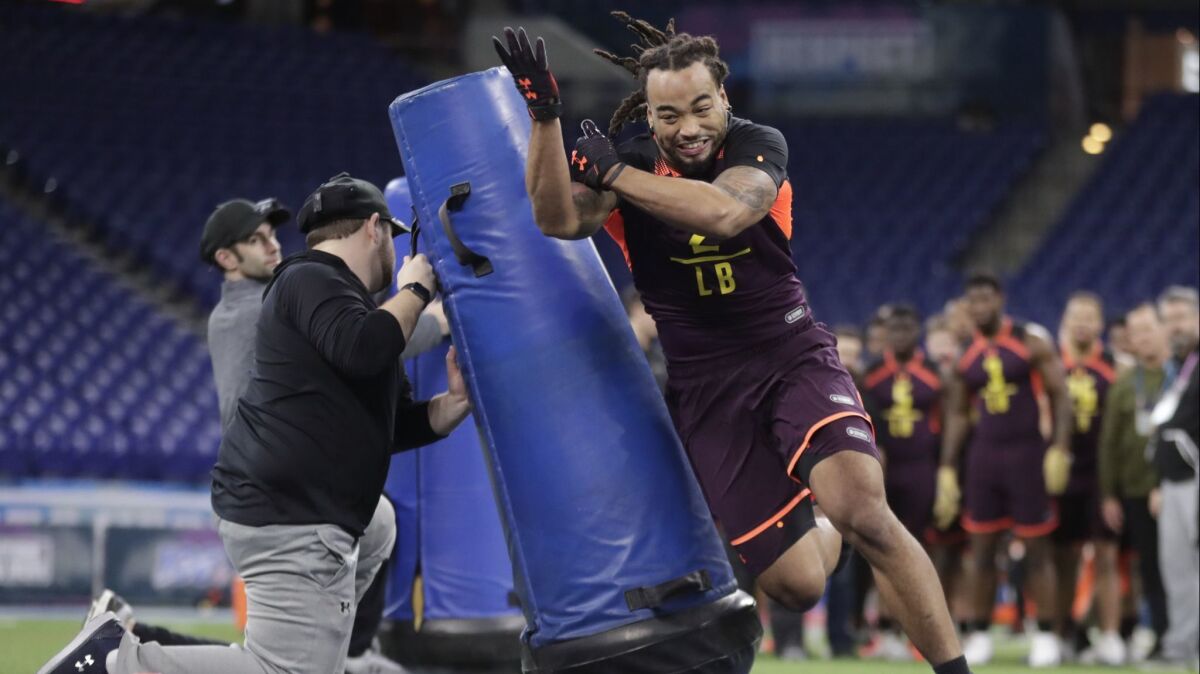 The Rams concluded the NFL draft on Saturday with a Hollywood-style finish.
With their final pick, they selected Texas Tech linebacker Dakota Allen, bringing to Los Angeles a player who gained prominence for his role in the second season of the Netflix documentary series "Last Chance U," which chronicled players' ups and downs at East Mississippi Community College.
"I honestly can't believe I'm an L.A. Ram," Allen said during a teleconference.
Smith's selection with the 251st pick was the last of the Rams' eight picks in a draft that included six trades by general manager Les Snead, three with the New England Patriots.
After selecting Washington safety Taylor Rapp, Memphis running back Darrell Henderson, Michigan cornerback David Long and Oklahoma offensive tackle Bobby Evans on Friday, the Rams on Saturday chose Washington defensive tackle Greg Gaines in the fourth round, Wisconsin offensive tackle David Edwards in the fifth, and Penn State safety Nick Scott and Allen in the seventh.
Snead and coach Sean McVay said the Rams filled specific needs for a team that has won two consecutive NFC West titles and advanced to the Super Bowl last season.
"When you look at the eight players that we were able to acquire, you have a vision for all those guys and you can see a fit," McVay said. "And I think that's a credit to where we're at going into our third year.
"We have much better feel for our personnel."
Snead and McVay said Gaines impressed during Senior Bowl workouts against top offensive linemen. So Saturday morning began with the Rams figuring how to trade up to draft the player who can play nose tackle in the Rams' base defense.
Gaines, who played at La Habra High, said he was "super excited" about joining the Rams and being part of a defensive line that includes tackle Aaron Donald, the two-time NFL defensive player of the year.
"I've watched Aaron Donald a lot on film and studied a lot of his techniques," Gaines said. "It's going to be amazing to learn from him first-hand."
Edwards' draft status probably slipped because of concerns about a left shoulder injury that he played through until he was forced to sit out Wisconsin's final three games. But he said he did not regret it.
"As much as I wanted my tape to be better or the season for myself to be better, I had the chance to play 10 games with teammates and make memories that I will never forget," he said. "So, in terms of regretting it or feeling bad about it — don't feel bad at all and I hope that the Rams can see that they got a really good dude and a team guy that is going to work his tail off for everybody in the building."
Mission accomplished.
"You give him credit for that," Snead said, "He was toughing it out. … You kind of dig deep and go back when he was healthy and see what he might be when he is healthy."
Scott was not invited to the NFL scouting combine, but Rams special teams coordinator John Fassel called him during the event.
"He said, 'Hey Nick, I'm looking at your film and I'm extremely surprised that you're not here right now,' " Scott said. "And we've been in contact ever since then.
"He told me he was going to draft me and he kept his word."
Allen sounded as if he was in tears when speaking with reporters after the Rams selected him.
As a redshirt freshman in 2015, Allen was Texas Tech's second leading tackler. But he was expelled in 2016 after he and two other players were indicted for a second-degree felony burglary charge that included the alleged theft of a gun safe and seven guns. The charges were eventually dropped when the players completed a pre-trial diversion program.
"When I first left Texas Tech, I thought I was never going to play football again," Allen said. "That's why I'm so grateful and thankful for the opportunity East Mississippi provided me. And then once I got that opportunity, I just took it and ran with it."
Appearing on the "Last Chance U" series was a "weird experience but also a great experience," he said.
"People do recognize me from the show — they recognize me as sort of the good guy," he said, laughing. "Just the whole experience was just amazing, and I'm thankful for it because I was able to continue playing football."
Allen transferred back to Texas Tech for his final two seasons and was a voted a team captain. He said he was "open and honest" with NFL teams when discussing his past, and had learned and grown from a "mistake" that would not be repeated.
Snead said the Rams had researched Allen's past.
"The No. 1 thing we try to find out is when somebody does go through adversity — what happens after that adverse moment and is there any lessons that's applied," Snead said. "So it's a really neat story.
"I know it's well-publicized based on the 'Last Chance U' and all that but … what was really neat about going through the process, the mistake he made at Texas Tech, there were people at Texas Tech who definitely fought for him to get a second chance based on who he was."
::
Greg Gaines, defensive tackle
6 feet, 2 inches, 316 pounds, Washington, Round 4, Pick 134
Notable: Gaines, who played at La Habra High, won the Morris Trophy as the Pac-12 Conference's top defensive lineman in a vote by conference players.
Last season: Gaines capped his senior season by making three tackles, including one for a loss, in Washington's Rose Bowl loss to Ohio State.
Why the Rams drafted him: With the departure of Ndamukong Suh, the Rams were searching for depth in the defensive line. Gaines plays inside, which might enable Michael Brockers to continue playing more as an end.
::
David Edwards, offensive tackle
6 feet, 7 inches, 315 pounds, Wisconsin, Round 5, Pick 169
Notable: Edwards played quarterback in high school and began his college career as a tight end before moving to the offensive line.
Last season: Edwards started at right tackle and was part of a line that helped the Badgers rush for 273.4 yards per game. He suffered a left shoulder injury that forced him to sit out the final three games.
Why the Rams drafted him: The Rams want to continue building depth on the offensive line. Edwards played tackle at the same school that produced Rob Havenstein. He said he would welcome opportunity to play guard or center as well.
Iman Marshall leads three USC defensive players taken on third day of NFL draft »
::
Nick Scott, safety
5 feet, 11 inches, 200, Penn State, Round 7, Pick 243
Notable: Scott was standout special teams player for the Nittany Lions and caught the eye of Rams special teams coordinator John Fassel.
Last season: Scott intercepted three passes, blocked a field-goal attempt and recovered a fumble on a punt return.
Why the Rams drafted him: With the departures of free agents Bryce Hager and Ramik Wilson, and the possible ascent of linebacker Micah Kiser into a more prominent role, the Rams are in need of reserves who can be key special teams contributors.
Sign up for our daily sports newsletter »
::
Dakota Allen, linebacker
6 feet, 1 inches, 232, Texas Tech, Round 7, Pick 251
Notable: Allen was featured in season 2 of the Netflix series "Last Chance U," when he attended East Mississippi Community College.
Last season: Allen was voted to All-Big 12 Conference by league coaches after making 73 tackles, including 6½ for losses.
Why the Rams drafted him: With the loss of Mark Barron, Allen gives the defense an versatile inside linebacker. He also can play special teams.
Follow Gary Klein on Twitter @latimesklein
---
Get the latest on L.A.'s teams in the daily Sports Report newsletter.
You may occasionally receive promotional content from the Los Angeles Times.