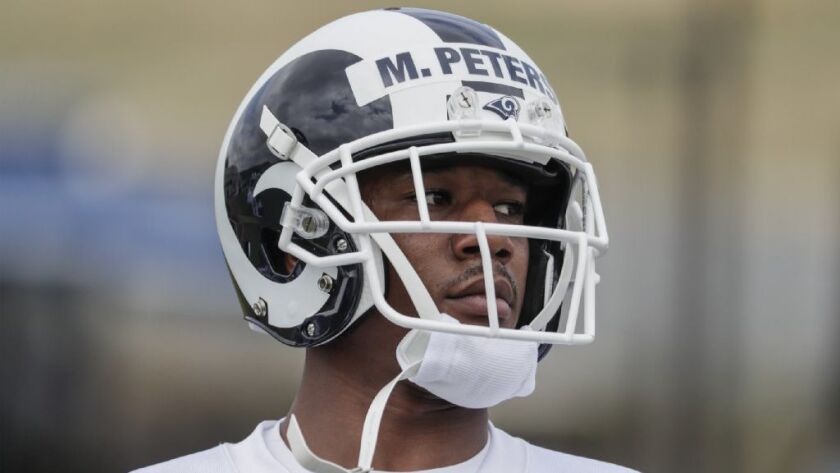 It didn't take long for new Rams cornerback Marcus Peters to make a statement.
Peters, a two-time Pro Bowl pick acquired in a trade with the Kansas City Chiefs, made two plays on balls Monday during the first workout of full-squad organized team activities. He created a headline, however, with a comment at a post-workout news conference.
Asked if he was hoping that absent defensive lineman Aaron Donald would soon join his teammates, Peters gave a matter-of-fact but pointed answer.
"Hey man, pay the man," Peters said. "I mean … I mean you win the MVP, man. Come on now."
For nearly a year, Rams executives and coaches have said they were working with Donald's representatives to work out a new contract.
After Donald won the NFL's defensive player of the year award — despite sitting out organized team activities and training camp last season — Rams general manager Les Snead told reporters there was an unspecified "timeline" in place for possibly coming to an agreement on a deal.
The timetable — if there is one — remains static.
Donald's absence Monday left a void in a defense that is expected to improve dramatically with the additions of Peters, cornerback Aqib Talib and defensive lineman Ndamukong Suh.
Donald, scheduled to earn $6.9 million in the final year of his rookie contract, is believed to be seeking a deal that would make him one of the NFL's highest-paid players.
The situation with Donald is "kind of where it's been," coach Sean McVay said.
"As far as timetable, don't really have any dates on that," McVay said. "I don't expect Aaron to be here until we get a resolution to that."
With Donald elsewhere, much of the media's attention was focused on Suh, Talib, Peters and new receiver Brandin Cooks.
Suh, who signed as a free agent, had "been in and out" of voluntary workouts that began in April, but McVay pointed to the lineman's track record of durability during an eight-year NFL career.
"When you look at just the ability to be able to be available, how productive he's been year in and year out, he's got a pretty strict regimen that we kind of understood," McVay said. "He's been here at some points, and then there's other times when he's been working out and doing some different things.
"But those were things we knew kind of going into it."
Talib and Peters, acquired in trades, said they were impressed by what Talib described as "that McVay offense."
"It was crazy," said Talib, who won a Super Bowl with the Denver Broncos playing under Rams defensive coordinator Wade Phillips.
"Bunch of movement, bunch of speed on it. ... Got to have your eyes in the right place."
Quarterback Jared Goff connected with Cooks on several plays, including a long pass during a seven-on-seven drill.
"Just wanted to get some of the new guys like Brandin out there and see what he could do," Goff said.
Cooks was happy for the opportunity to run routes against a full defense after studying defenses during film sessions and practicing in individual drills. He said there was value in making mistakes.
"That's where you really get your learning," he said.
Etc.
Linebacker Mark Barron, recovering from unspecified offseason surgeries, will not participate in OTAs, McVay said, "but we expect him to be ready to go at some point in [training] camp." Barron did not participate in OTAs last year and was held out of most drills during training camp. But he was one of the Rams' most productive defensive players. ... Rookie linebacker Ogbonnia Okoronkwo underwent foot surgery last week but is expected to return during training camp, McVay said. … Defensive lineman Matt Longacre (back) did not participate. Defensive lineman Dominique Easley, who is coming back from 2017 knee surgery, worked with a trainer on the side. … Kicker Greg Zuerlein, who had back surgery near the end of last season, was on the field but did not kick.
Follow Gary Klein on Twitter @latimesklein
---