Column: A lot has changed since the Raiders left L.A., but the city still bleeds silver and black
Stan Carranza stood on the edge of one of the parking lots down Martin Luther King Boulevard searching for passersby in Rams gear.
Carranza wore a custom-made Raiders jersey with the No. 20 and the name "C Dogg" across the back. He wore sunglasses and a backward-turned Dodgers cap.
Locating a target, he shouted, "Rams fan, check it out! You're in Raiders territory!"
Carranza cackled, as did his friends nearby, who were also wearing Raiders-theme clothing.
"Just heckling," Carranza said.
The Raiders lost to the Rams in a preseason game Saturday at the Coliseum, the first game for the visitors in their old home stadium in nearly 24 years.
However, much has changed in these parts since the Raiders returned to Oakland, some parts of Los Angeles remain the same. The city is still waiting for the Dodgers to win another World Series and its football team of choice remains the Raiders.
That much was evident last year, when the Raiders visited the Chargers and their fans took over StubHub Center.
The scene Saturday was of a different magnitude. It was one thing to be the de facto home team in a tiny stadium against a team that has virtually no local following. It was another for the visitors to have the crowd on their side in a cavernous venue against a Super Bowl contender, with Raiders fans outnumbering Rams counterparts three to one, maybe even four or five to one, in the estimated crowd of 55,000.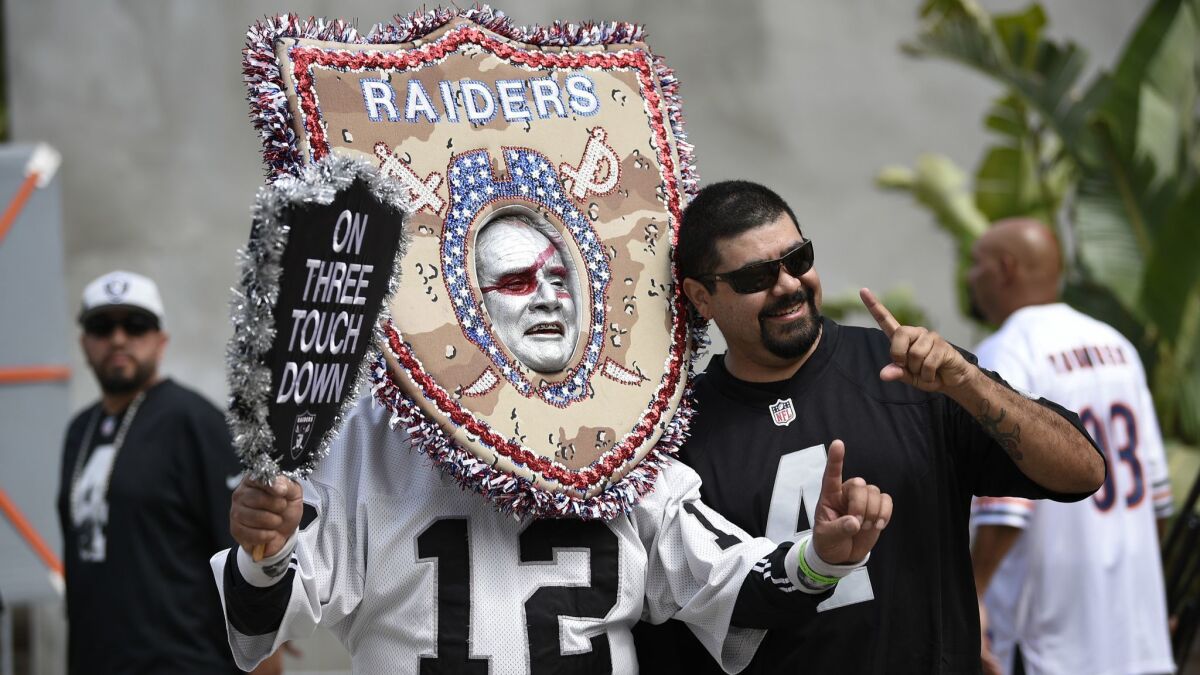 And this is no ordinary Rams team. The Rams have identifiable stars in Todd Gurley and Jared Goff. They have a rock star coach in Sean McVay. They still are no match for the Raiders in the Fight for L.A. and they never might be.
Carranza, 43, said he was at the Raiders' last game at the Coliseum, a loss to the Kansas City Chiefs on Christmas Eve 1994. He was finishing his fourth season as a cotton candy and snow cone vendor.
"Before I worked here, I had no team," Carranza said. "Because of the atmosphere and the fans, I became a fan."
And has remained one since.
A cursory walkthrough of the parking lots before the game showed the pro-Raiders crowd was predominantly Latino. One of Carranza's friends, Christian Oliva, explained that was in part because the Raiders were led for the majority of the 1980s by a Mexican American coach in Tom Flores and a Mexican American quarterback in Jim Plunkett.
But Oliva, who was born to a Mexican father and Salvadoran mother, also thinks Latinos also related to the Raiders because of their outcast image.
"In this city," Oliva said, "we're not welcome."
The game Saturday was more of a homecoming for fans like Carranza and Oliva than it was for the Raiders themselves.
Raiders canopies covered the parking lots. Raiders flags sailed.
"Driving in on the buses, we kind of circled the stadium," Raiders receiver Griff Whalen said. "And every parking lot, it just looked like it was full of Raiders fans. It was awesome."
In one of the parking lots, a crowd gathered to listen to a three-man ensemble playing banda music.
"If you understand the Raiders, they have a history here, a championship history here," Raiders coach Jon Gruden said. "There's still a lot of fans that remember those teams and rightfully so."
But even if the Rams win a Super Bowl, that might not capture the city's heart. It might be too late.
"It's been with my family for generations," Marcial Ramirez said.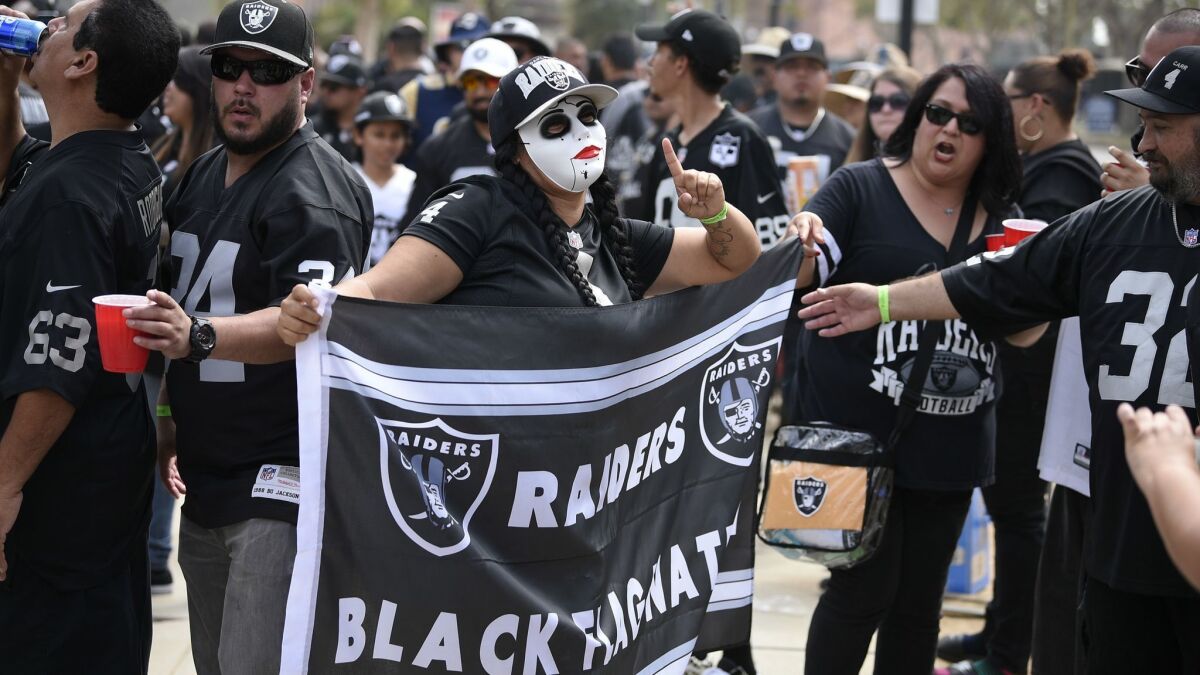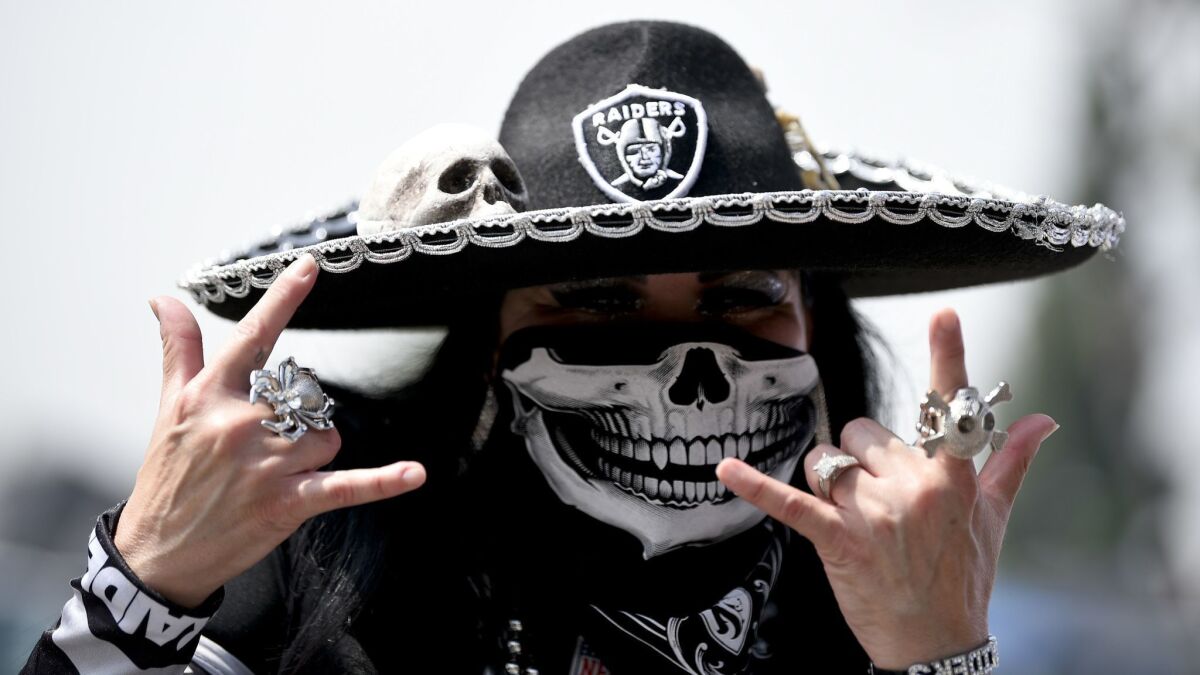 Ramirez, 25, said his parents became fans of the Raiders when they became the only Los Angeles team to win a Super Bowl, in 1984.
Michael Estrada, 20, wasn't born when the Raiders last played in Los Angeles. Asked how long he has been a Raiders fan, he replied, "Since birth."
Estrada's fandom was also inherited.
There are many stories like theirs around Los Angeles. Flores and Plunkett did for the Raiders what Fernando Valenzuela did for the Dodgers. They converted more than a generation of fans. They converted entire bloodlines.
Estrada is a Raiders season-ticket holder even though he lives in Fontana. He said he was looking forward to the opening of the Raiders' stadium in Las Vegas in 2020 because it would shorten his commute to games.
Asked whether the Rams could win him over by winning a championship, Estrada shook his head and replied, "Never."
"Horns down, man," he said.
---
Get the latest on L.A.'s teams in the daily Sports Report newsletter.
You may occasionally receive promotional content from the Los Angeles Times.