Gurley, Rams happy they won't have to face Mack in Raiders matchup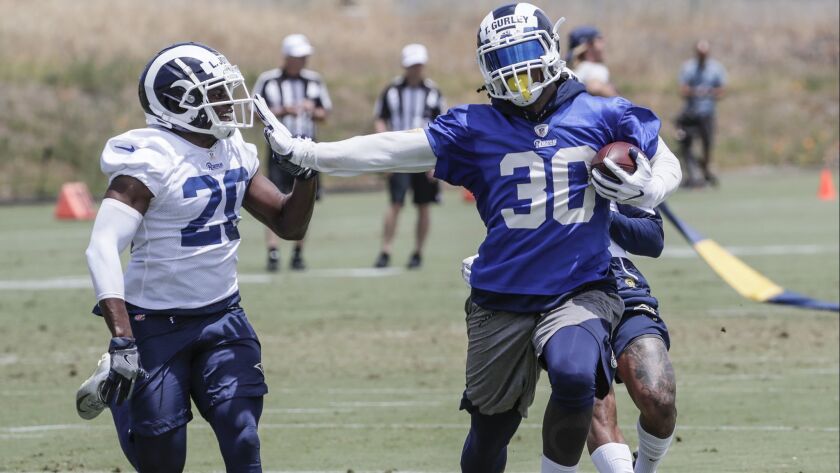 The Rams and the Oakland Raiders will be the last teams to open the NFL season when they play Sept. 10 on "Monday Night Football."
Rams running back Todd Gurley is in no hurry.
"I'm just waiting my time, enjoying my last couple of days before not being hit," he said Sunday. "It will be fun. Almost a week to go and can't believe it's here."
Gurley and the Rams, rejoicing over the return of Aaron Donald, are preparing for a Raiders team trying to move past the trade that sent star edge-rushing linebacker Khalil Mack to the Chicago Bears.
The Rams are shedding no tears over Mack's exit.
"I'm just happy Khalil Mack got traded to the Bears and I don't have to worry about him in Week 1," Gurley said.
Coach Sean McVay, who will match wits with mentor Jon Gruden in the opener, also was not sad to see the 2016 NFL defensive player of the year eliminated from the game plan.
"I would say I'm not upset about that," he said.
A day after the Rams gave defensive tackle Donald a $135-million extension that made him the highest-paid defensive player in NFL history, the Bears agreed to terms with Mack on a $141-million deal.
The Rams will see Mack Dec. 9 when they play the Bears in Chicago.
But for now, they are simply enjoying the return of Donald after a holdout that began in the offseason and did not end until Friday.
"I called my brother," Gurley said, "I was like, 'Oh!' and I texted my dad, 'We got [No.] 99 back. … I was just super-excited to just see him in the building and just have him back. I knew he was going to come back but just didn't know when.
"Just to see all that 'pay that man' stuff, and just to see everything work out in his favor. I was super-excited for him."
Donald, who has 39 career sacks, has looked good during his two workouts, McVay said.
"You just see the movement," he said, "you see the twitch."
The reigning NFL defensive player of the year is getting acclimated to working alongside new teammate Ndamukong Suh and longtime teammate Michael Brockers.
"Everything's kind of flowing" between the linemen, Suh said.
"It's good to get a vibe for everybody and how they rush and just playing together which, in my opinion right now, it seems to be seamless," he said. "But we won't really find out until … we start playing against other teams."
Suh signed a one-year $14-million contract with the Rams in March. He was released by the Miami Dolphins, who had signed him to a $114-million contract in 2015. Before Donald agreed to terms, Suh had said that Donald deserved more than he got from the Dolphins.
"They did right by him by paying him," Suh said Sunday. "That's the best thing about this organization: They look out for their players."
Brockers reunited with Donald after he saw him pull into parking lot at the Rams facility on Friday.
"I was like, 'Oh man, this thing is about to start rolling,'" Brockers said. "I embraced him and gave him a big hug.
"I know he missed us as much as we missed him. It's just about the part of the business that gets in the way. He loves to be around us, and we love him being here."
Brockers and other defensive starters played seven snaps in the third preseason game against the Houston Texans. Afterward, alluding to Donald, he said players "want that final piece of the puzzle" to see what the defense really looks like.
"We have all the pieces of the puzzle together," he said Sunday, "and you can finally see how crazy this line is."
With right guard Jamon Brown suspended for the first two games, Austin Blythe is on track to start in his place against the Raiders. "You're expecting Austin Blythe to step in and do a great job," McVay said. … The Rams were not awarded any players claimed off waivers. Of the players they cut, only offensive lineman Aaron Neary was claimed, by the Cleveland Browns. The Rams re-signed nine players to the practice squad: cornerback Dominique Hatfield, tight end Temarrick Hemingway, wide receiver KhaDarel Hodge, guard Jeremiah Kolone, tight end Henry Krieger-Coble, wide receiver Steven Mitchell, defensive back Steven Parker, quarterback Luis Perez and cornerback Ramon Richards.
Follow Gary Klein on Twitter @latimesklein
---
Get the latest on L.A.'s teams in the daily Sports Report newsletter.
You may occasionally receive promotional content from the Los Angeles Times.