After an off week, Rams' Todd Gurley is ready to get back in the running in road game vs. Lions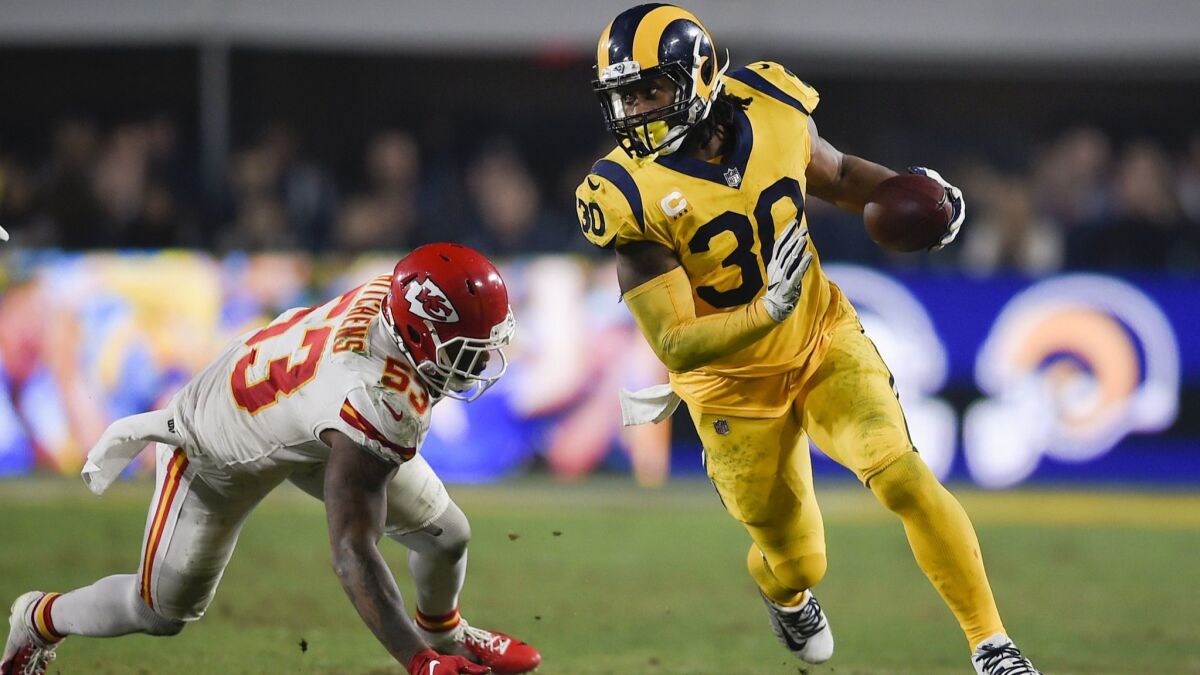 After being off in Week 12, a possible run to the NFL's most valuable award resumes Sunday for Rams running back Todd Gurley.
And now Gurley might be playing from behind.
Dallas Cowboys running back Ezekiel Elliott supplanted Gurley as the NFL rushing leader, and Saints kicker Wil Lutz moved past him for the scoring lead.
But Gurley, who suffered a minor ankle injury during the Rams' 54-51 victory over the Kansas City Chiefs on Nov. 19, is expected to be at full strength against the Lions.
Gurley was injured during the first quarter against the Chiefs. He rushed for just 55 yards in 12 carries, and caught three passes for 39 yards. His 15 touches were nine fewer than his season average. And for the first time in 14 games dating to last season, he did not score a touchdown.
Coach Sean McVay said after the game that Gurley played through the injury.
"I never said nothing about it," Gurley said this week.
The injury did not affect his performance, Gurley said, and he is "feeling good" heading into a game that offers the Rams a chance to clinch a second consecutive NFC West title. A Rams victory or Seattle loss or tie would clinch the top spot.
Gurley, the reigning NFL offensive player of the year, has rushed for 1,043 yards and 13 touchdowns. He has 43 receptions, four for touchdowns.
Elliott has rushed for 1,150 yards. Lutz has scored 113 points, Gurley 108.
Gurley was among Rams players who left Southern California during the off week. He spent part of it in North Carolina, where he grew up.
"Home is where the love is," he said. "Get to see all your friends, see your family and just not even think about football.
"Just go back and just chill with all your people."
Talib activated
The Rams moved to restore their defense to full strength by activating veteran cornerback Aqib Talib.
"It's a big boost to our team," McVay said after practice.
Talib, an 11th-year pro, has been sidelined since suffering a left ankle injury against the Chargers in Week 3. He was recalled this week from injured reserve,
During Wednesday's practice, Talib's ankle was heavily taped. On Friday, he worked without the wrap.
"I was thinking about it too much the other day," he said, adding that Friday, "was probably the best it felt."
The Rams waived receiver Nick Williams to make room on the roster for Talib.
Productive duo
With productive performances against the Lions, receivers Brandin Cooks and Robert Woods both could eclipse 1,000 yards receiving.
Cooks has 59 catches for 964 yards and three touchdowns. Woods has 59 catches for 904 yards and four touchdowns.
Cooks is on track for his fourth 1,000-yard season. He achieved the feat twice with the New Orleans Saints and once with the New England Patriots.
"When you come into the league as a young man … it can be something great," Cooks said. "So when it happened I was definitely joyful about it.
"But as you continue to be in your years, when it happens you're not really looking at that anymore. You're looking at how you're helping your team win."
Woods has never amassed 1,000 yards receiving in five previous NFL seasons, four with the Buffalo Bills and one with the Rams.
Woods said it would be "a huge accomplishment" though one outweighed by others.
"The biggest stat of all right now is just winning games," he said. "There's been a lot of 1,000-yard receivers who didn't make the playoffs, who couldn't finish off the season right.
"That's something we want to do."
Follow Gary Klein on Twitter @latimesklein
Get the latest on L.A.'s teams in the daily Sports Report newsletter.
You may occasionally receive promotional content from the Los Angeles Times.