Surging Rams hoping for more fan support at Coliseum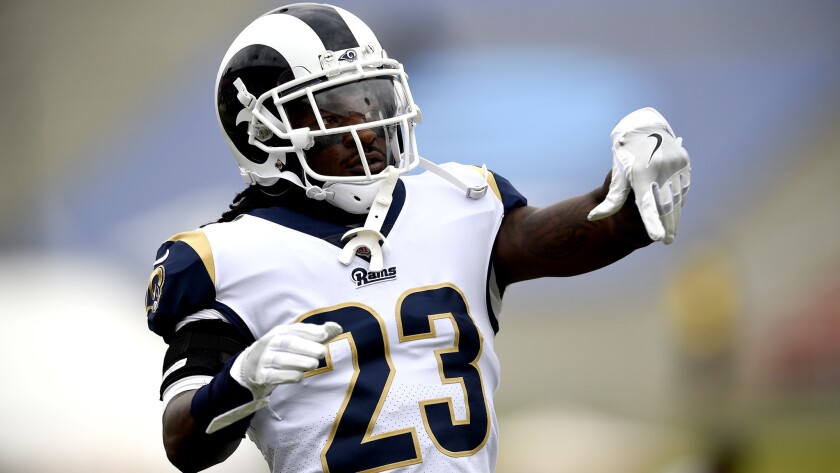 Return waves from neighbors were the first signs of recognition that Nickell Robey-Coleman noticed. After several months of saying hello to them, and receiving nary an acknowledgment in return, they finally knew he was a Rams cornerback.
Then Robey-Coleman saw Rams banners hung in windows, and people around Los Angeles wearing team hats and T-shirts.
During the last month, the Rams have won three games, all away from the Coliseum. They have a 6-2 record, are atop the NFC West and are in the national conversation as a possible Super Bowl contender.
So Robey-Coleman expects an enthusiastic crowd at the Coliseum on Sunday when the Rams play the Houston Texans. It is the Rams' first home game since an Oct. 8 loss to the Seattle Seahawks.
"L.A. sees it," Robey-Coleman said when asked about fan reaction to the Rams' success. "I think they kind of miss us because we've been doing so well."
It remains to be seen how many fans turn out to watch the surging Rams.
This season the team reduced to about 66,000 the number of tickets made available for home games, ostensibly to improve the fan experience in a stadium capable of seating more than 90,000.
The Rams announced that 60,745 tickets were distributed for the game against the Seahawks last month, but there appeared to be only about 55,000 spectators in the cavernous venue. And many were noisy Seahawks fans, who forced the Rams offense to go to a silent snap count during the fourth quarter.
But first-year coach Sean McVay and his players are optimistic that the Rams' success — and the buzz surrounding the team — will motivate more Rams fans to turn out and cheer them on.
"We've got to just continue to focus on trying to deliver a good product to this city and, hopefully, the fans will come up and support us," McVay said.
The Rams are averaging an NFL-best 32.9 points per game and rank third in offense, averaging 382.1 yards per game. Running back Todd Gurley has scored a league-leading 10 touchdowns, and quarterback Jared Goff is coming off a career-best four-touchdown performance against the New York Giants that included a 67-yard strike to receiver Sammy Watkins.
The Rams routed the Indianapolis Colts in their opener at the Coliseum but suffered home losses against the Washington Redskins and the Seahawks.
They are 5-0 in games away from Coliseum.
"This is a city that likes people that win," Goff said. "When you win, they come. And we have been winning, so hopefully they'll come."
Gurley is taking a wait-and-see approach.
"It's probably not going to be a bigger crowd, but it is what it is," he said, adding, "We go out there and play ball, man.
The Times' Gary Klein and Lindsey Thiry preview the Rams' (6-2) Week 9 matchup against the Houston Texans (3-5) on Sunday at the Coliseum.
"We want fans there and like I said, if we just keep winning, hopefully they keep coming. If they don't, they don't. If they do, we definitely appreciate the support."
The Rams' high-scoring offense is not the only draw.
The defense posted a shutout against the Arizona Cardinals and caused three turnovers in last week's 51-17 victory over the New York Giants.
Lineman Aaron Donald has been a standout for a unit that is giving up 19.4 points a game, which ranks ninth in the NFL.
"It ain't just one or two people making plays," Donald said. "Each week it's someone different making plays, big-time plays, too."
The Rams rank ninth against the pass (205.4 yards per game) and 26th against the run (121.6 yards per game).
There are still adjustments to be made as the Rams prepare for a possible run to the playoffs for the first time since 2004.
The Times' Lindsey Thiry asks the Rams to sum up their 6-2 start in one word.
"We can stop the run better and, to be honest, we can rush the passer better," lineman Ethan Westbrooks said. "We're not No. 1 in either of those things.
"Until you're No. 1 in that, you can use some improvement."
Cornerback Trumaine Johnson anticipates that more Rams fans will show up for home games to watch it happen.
In addition to the Texans, the Rams have remaining home games against the New Orleans Saints, Philadelphia Eagles and San Francisco 49ers.
"I know it's going to be way more on Sunday," he said of the crowd support, "just because we're winning."
Follow Gary Klein on Twitter @latimesklein
---
Get the latest on L.A.'s teams in the daily Sports Report newsletter.
You may occasionally receive promotional content from the Los Angeles Times.