Rams tight ends are two more weapons Chiefs have to be prepared for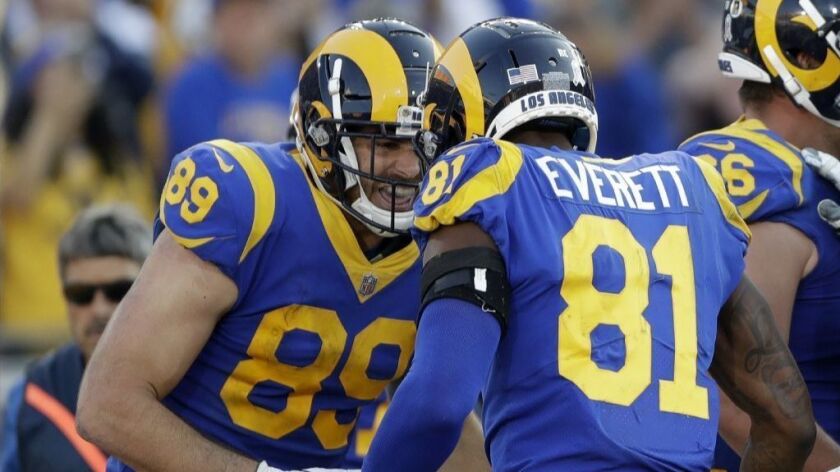 Reporting from colorado springs, colo. —
The Rams' high-powered offense featured an array of weapons through the season's first nine weeks.
Last Sunday, coach Sean McVay and quarterback Jared Goff gave the Kansas City Chiefs another one to consider.
Actually, two.
Goff tossed touchdown passes to tight ends Gerald Everett and Tyler Higbee in a victory over the Seattle Seahawks, the first time the two tight ends scored touchdowns in the same game.
"We just wanted to be a little bit more balanced in that area and continue to try to implement them in some of the stuff we're doing," Goff said. "They stepped up big."
The tight ends' prominence against the Seahawks forces the Chiefs to spend time game-planning for playmakers other than running back Todd Gurley and receivers Brandin Cooks, Robert Woods and Josh Reynolds on Monday night at the Coliseum.
"You want to make sure that people are honoring all five [eligible receivers]," McVay said this week when asked about his increased use of tight ends. "Most importantly, it's about getting those guys involved, them capitalizing on their opportunities that they're deserving of."
During his time as the Washington Redskins' offensive coordinator, McVay was noted for the way he utilized tight ends Jordan Reed and Vernon Davis. But tight ends have had a much lower pass-catching profile with the Rams.
Last season, on a team that led the NFL in scoring, tight ends accounted for only 49 of the team's 320 receptions, and only three of 28 passing touchdowns.
The outlook for tight ends this season was clouded at the end of the preseason.
Higbee was penciled in as a starter, but Everett sat out nearly all of training camp because of a shoulder injury, and third-year pro Temarrick Hemingway struggled to catch passes and was ultimately cut.
Higbee, Everett and Johnny Mundt contributed through the first half of the season but not anywhere near the level of Gurley or the receivers.
That began to change in a Week 9 loss at New Orleans, when Everett caught three passes for 48 yards, along with a two-point conversion. Higbee caught two passes for 40 yards.
It was a coming out of sorts for Everett, the 2017 second-round pick from South Alabama.
Everett struggled at times last season in his transition from college to the demands of playing tight end in the NFL. His development as a catch-and-run threat was further stunted after he suffered the shoulder injury early during training camp that prevented him from practicing or participating in preseason games.
McVay's decision to put the ball in Everett's hands for a critical two-point attempt against the Saints resonated.
"That's what you want as a person, as an athlete — as anybody — you want confidence from your peers," said Everett, who has 15 catches for 161 yards. "Just glad to see they trust me.
"I knew that they did, but now it's time to show that I'm ready and can handle it. And I'm glad I was able to be there for my team."
The following week, with the Seahawks holding an early lead, Goff looked to Everett again.
He caught a game-tying 10-yard touchdown pass in the first quarter and also had a key third-down catch that helped set up Higbee's go-ahead touchdown in the fourth quarter.
Higbee, a 2016 fourth-round draft pick, made a difficult catch for the 10-yard touchdown.
"That's why I've got Jared Goff as my quarterback," said Higbee, who has 11 receptions for 135 yards. "That was pretty much one of the few places he could have put it.
"Just my turn to make a play."
Everett and Higbee figure to get more opportunities against the Chiefs, who feature tight end Travis Kelce, a three-time Pro Bowl pick who has 57 receptions for 787 yards and six touchdowns.
Kelce caught at least 67 passes in each of the previous four seasons.
The Rams tight ends are not expecting a workload that heavy, but they will be ready when called upon.
"Just trying to be reliable," Higbee said, "and when you get a chance to make a play — make a play."
Follow Gary Klein on Twitter @latimesklein
---
Get the latest on L.A.'s teams in the daily Sports Report newsletter.
You may occasionally receive promotional content from the Los Angeles Times.