Jared Goff accidentally gets hit and goes down during Rams simulated game, but quarterback is fine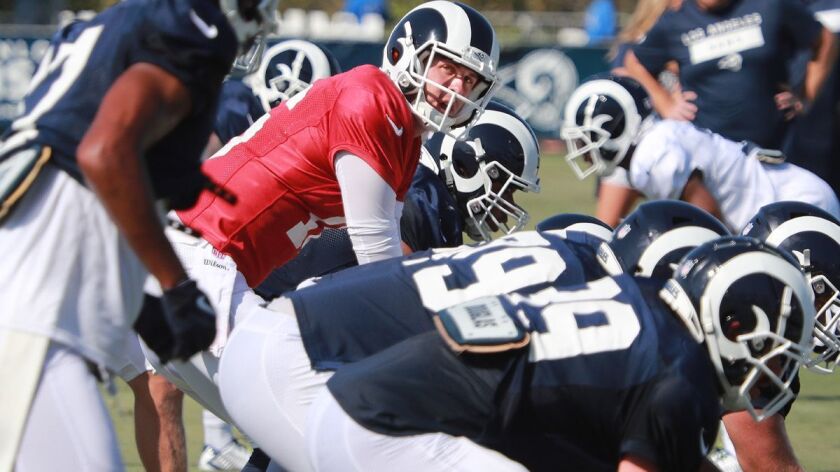 For a moment Wednesday, every Rams coach on the field and executive on the sideline held their breath.
Quarterback Jared Goff was on the ground.
During a prolonged scrimmage at UC Irvine, in the penultimate training-camp practice, linebacker Samson Ebukam had rushed on the outside and battled with left tackle Andrew Whitworth. The 6-foot-7, 330-pound Whitworth took a few steps back and accidentally collided with Goff, knocking the franchise's most important player to the turf.
The anxiety was palpable.
A mass exhale ensued as Goff slowly got to his feet.
"To say I was holding my breath, I think it would be probably a little bit more than that," coach Sean McVay said.
The bump that sent him sprawling might be the most contact Goff absorbs until the Sept. 10 opener against the Oakland Raiders on "Monday Night Football."
Goff and other starters were held out of last week's preseason opener at Baltimore to avoid injury and almost certainly will not play against the Raiders on Saturday at the Coliseum.
They might get snaps in the third preseason game against Houston but, in keeping with standard NFL practice, they are on track to sit out the final preseason game at New Orleans.
So Whitworth's contact with Goff qualified as dramatic.
"I literally just stepped back and tried to move out of the way and thought someone was at my feet," Whitworth said. "And it was Jared behind me.
"In practice you're always worried when you're running into each other and guys are falling all over the place. But he's fine. And, you know, at least now he's got a hit for the preseason."
McVay said the Rams ran about 100 plays during the scrimmage setting. Veteran center John Sullivan and rookie defensive lineman Sebastian Joseph-Day briefly tangled, and tight end Temarrick Hemingway and a defensive player mixed it up for a moment during a workout that featured a trip to the locker room for a mock halftime.
"It was good just getting used to sitting down for 10-12 minutes and coming back out here and getting it going right away, like we do at halftime," veteran cornerback Aqib Talib said. "It was a great situational day."
The Rams will practice Thursday morning and then break camp. They will practice the next two weeks at their facility in Thousand Oaks.
Whitworth is completing his 13th NFL training camp.
"When you're an older player, every one of these camps you really savor 'em and really enjoy the moment," he said. "For me, it's been fun and it's been challenging.
"You're out here every day with a young football team and, really, a group that's just getting better and better."
Kicking in
With kicker Greg Zuerlein coming off back surgery, the Rams re-signed Sam Ficken as an insurance policy.
Zuerlein appears physically sound — he kicked a 57-yard field goal Wednesday — but Ficken said he was glad to be in camp. Against the Ravens, Ficken converted an extra point, kicked off once and also punted once.
"Any time that a team retains your services, I think that's a good thing," said Ficken, who made two of three field-goal attempts last season. "I've been on the opposite side of that, so any time you're signed with a team is a good opportunity for you.
"Regardless of the situation here, I'm going to go out there and try and prove myself and do the best I can. So far, so good, so we'll see what happens."
Ficken knows he is auditioning not only for the Rams but also for all NFL teams. If Zuerlein finishes the preseason soundly, the Rams would probably cut Ficken, giving him an opportunity to sign with another team.
"I don't try and think too far ahead — it's day to day," he said. "I think that's the best way to approach everything at this position in this situation."
Etc.
Tight end Gerald Everett (shoulder) and receiver Josh Reynolds (ankle) remain sidelined. … Tailback Justin Davis is nursing a hamstring injury. If he does not play Saturday, rookie John Kelly will get extended opportunities. … The Rams announced that they are requiring mobile or physical hard-stock tickets for home games at the Coliseum. Print-at-home or PDF tickets will not be accepted at games because of new NFL policies, according to the team. Tickets will include a suggested gate for entry. Team and stadium officials are urging fans to use suggested gates to avoid problems accessing seats because of renovation construction.
Follow Gary Klein on Twitter @latimesklein
---
Get the latest on L.A.'s teams in the daily Sports Report newsletter.
You may occasionally receive promotional content from the Los Angeles Times.