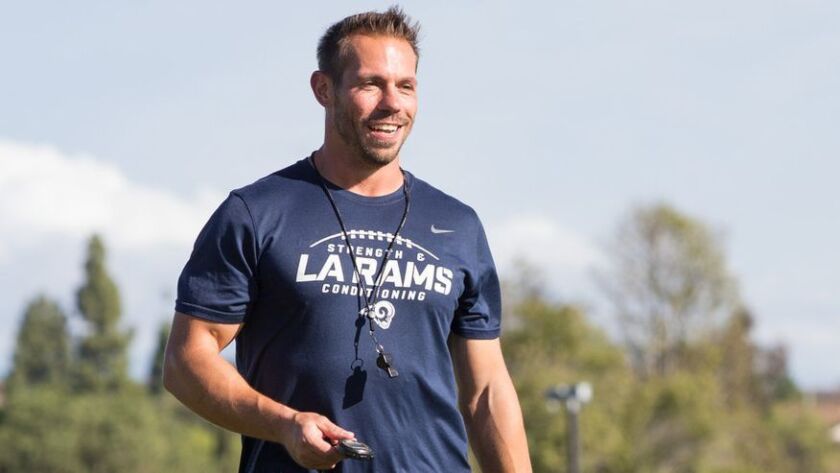 Ted Rath, the Rams' director of strength training and performance, has been on leave from his position since mid-January after he was charged with three counts of misdemeanor sexual battery in Ventura County, the team confirmed Friday.
Vicki Podberesky, Rath's attorney, entered a plea of not guilty on his behalf at a hearing in Ventura County Superior Court on Friday.
"We are aware of the charges filed against Ted Rath," the Rams said in a statement. "We take these allegations very seriously. Once the charges were filed, we decided Ted would take a leave of absence from the team as this matter works its way through the justice system."
Rath, 35, was not with the team for the Jan. 20 NFC championship game in New Orleans or the Super Bowl against the New England Patriots. The Rams had said Rath was absent from practices and games after undergoing a medical procedure, and Podberesky confirmed Friday that Rath underwent an unspecified procedure.
The alleged incident that led to charges against Rath took place in June 2018 at a private residence in Moorpark and involved an adult woman with whom Rath was acquainted, said Erik Nasarenko, senior deputy district attorney for Ventura County. Rath has been free on $5,000 bail, according to a press release from the district attorney's office.
Sign up for our daily sports newsletter »
The release said "the charges allege that Rath touched an adult woman against her will on intimate parts of her body for the purpose of sexual arousal and gratification." If convicted on all counts, Rath could face a maximum of 18 months in jail and would be required to register as a sex offender. A pretrial conference is scheduled for April 19.
"Mr. Rath takes these allegations very seriously," Podberesky said in a statement to the Times. "Ted is a man who has led a law abiding life. He is a husband, a father and a dedicated family man. He has the utmost respect for women and would never intentionally act in a manner that was demeaning or otherwise inappropriate. We intend to defend this matter to the fullest extent possible in a court of law, and we believe that after there has been a full vetting of the facts of this case Mr. Rath will be shown to be not guilty of these charges."
---