(Wally Skalij / Los Angeles Times)
Amid the blaring of blue and gold horns, on a super-sized Sunday fit for an ascension, the Los Angeles sports heavens just got a little more crowded.
Make room for the Rams.
Move over, Lakers. Back up, Dodgers. Everybody clear space for the oldest of friends, the newest of heroes, the prodigal sons turned Super Bowl champions.
Six years after returning to Los Angeles with helmet in hand, the Rams raised those helmets to the sky Sunday with a 23-20 comeback victory over the Cincinnati Bengals in Super Bowl LVI at SoFi Stadium.
"It's amazing," said owner Stan Kroenke from a postgame stage littered with crying players and fluttering confetti.
It was more than amazing. It was breathtaking. It was mesmerizing. It was perfect.
Requiring a winning drive in the final moments for a third consecutive playoff game, the Rams got it — Matthew Stafford to Cooper Kupp, just like Magic to Kareem, Bulldog to Scioscia, again and again and again, pushing 79 yards downfield and ending with a one-yard touchdown pass lofted by Stafford and cradled by Kupp with 1:25 remaining.
Then, in the final minute, requiring one more great play from the planet's greatest defensive player, the Rams got it, again, Aaron Donald throwing Bengals quarterback Joe Burrow to the ground with 39 seconds remaining on fourth down for a game-ending incompletion.
Boom. Done. Won. The exhausted Rams stalked triumphantly off their sidelines, falling into padded embraces as their fans began chanting the familiar "Whose house? ... Rams' house!"
"I just don't have words," said the quiet Kupp, his voice thick with emotion after being named Super Bowl MVP with 92 yards receiving and two touchdowns, plus a seven-yard run on fourth down to keep the final drive alive. "I'm just so thankful for everyone."
Like Kupp, the equally quiet Donald seemed overwhelmed with the magic of the moment.
"It was a huge play," he said of forcing the fourth-down incompletion that sealed the win. "You've got to be relentless. If you want something bad enough, you have to go get it."
The Rams overcame a deficit in the final minutes after leading for most of the game and losing Odell Beckham Jr. to injury in a 23-20 victory.
As the Rams celebrated on the wonderfully littered field, the stadium was filled with what has become the victory anthem shared by the likes of the Lakers and Dodgers, the strains of Randy Newman's "I Love L.A."
Maybe now, L.A. will start to really love the Rams.
In winning their first Super Bowl championship and second NFL title during their 54 years of inhabiting Los Angeles, the Rams also secured their spot among the local sports landscape's elite.
In a city of champions, they needed a title to be considered legitimate citizens. Today, they belong.
In a city where the sports fans demand excellence for their dollars, they needed a title to attract a larger share of the attention. Today, everybody is watching.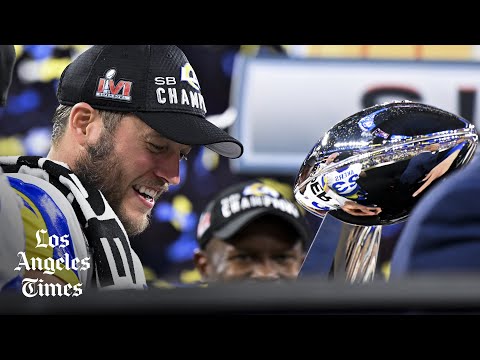 Fans celebrate the Rams' first Super Bowl victory in Los Angeles, a 23-20 triumph over the Cincinnati Bengals at SoFi Stadium.
"You talk about a resilient team," said Rams coach Sean McVay. "For the offense to be able to find a way and for Aaron finding a way to finish it off ... it's poetic."
For a while, in front of an equally divided group of Rams and Bengals faithful among the 70,048 witnesses, the emotionally grueling game was pure slam poetry.
The Rams led by 10 in the second quarter. Then they trailed by seven in the third quarter. Then they trailed by four with two minutes remaining.
They lost receiver Odell Beckham Jr. to a knee injury. They nearly lost their mind when a missed face-mask call led to the Bengals' go-ahead touchdown on the first play of the second half. Stafford threw two interceptions, and their offense shut down for most of the final two quarters, gaining only 58 yards until the final drive.
But the defense continually showed up, harassing Burrow into a Super Bowl record-tying seven sacks. Then the offense made big plays, converting a third down and a fourth down on that final drive. And the Bengals defense finally went crazy trying to stop Kupp, being assessed with two penalties in three plays on that final drive while trying to physically hold him down on the goal line.
"It hurts … it's disappointing," said Burrow, who was hampered by a knee injury in the final minutes and couldn't convert after moving his team to within about five yards of attempting a game-tying field goal. "We'll take this and let it fuel you for the rest of our careers."
The Rams' Super Bowl loss to the New England Patriots in the 2018 season clearly fueled them. They spent three years trying to get back and weren't going to be stopped short again. Is it any wonder it took the emotionally drained team more than 30 minutes to show up at the postgame news conferences? And they were all still wearing their sweat-stained jerseys? And they arrived at the podiums in golf carts filled with family members?
This was about more than just football. This was about a connected, concerted effort of an entire organization to submit an overdue repayment of an ancient debt owed.
"This team is as mentally tough as any team I've been on," said Donald. "We never wavered, we never stopped believing."
They were this city's first NFL team in 1946. They left for St. Louis after the 1994 season. They returned in 2016 with a promise to make up for lost time and a mission to win back a city's heart.
Promise kept. Mission complete.
"To finish it off the way we did, it's something you hear out of a book, a story, fiction, a fairy tale," said safety Eric Weddle.
It is the first Los Angeles championship in the four major sports since both the Lakers and Dodgers won titles in the fall of 2020. And, like the Lakers and Dodgers, the Rams spared no expense in making it happen.
When they returned here after an absence of more than two decades, owner Kroenke committed everything to a ring.
He spent $5 billion to construct the palace that is SoFi Stadium with the hopes that his team would one day win a championship there.
He then dispatched team president Kevin Demoff and general manager Les Snead to leave no expensive stone unturned in realizing those hopes.
They had the foresight to hire McVay when he was the youngest coach in NFL history — he was 30 then, he's 36 now and just became the youngest coach to win a Super Bowl. Then they surrounded him with the game's best talent.
Check out the best images from Los Angeles Times photographers covering the Rams vs. Bengals in Super Bowl LVI on Sunday at SoFi Stadium.
They made Donald the league's highest-paid defensive player at the time. They traded for the game's best cornerback in Jalen Ramsey. Then on Jan. 31, 2021, they really got serious when they traded for Stafford. Since then, they have also traded for Super Bowl linebacker hero Von Miller and signed receiver Beckham.
"There's something really powerful about being a part of something bigger than yourself and you can see that in the way these guys competed," said McVay.
After occasionally struggling earlier this season as Stafford found his footing, they finally peaked at the right time this year, riding playoff wins against the Arizona Cardinals, Tampa Bay Buccaneers and San Francisco 49ers into Sunday's Super Bowl finale.
Which they finished with a flourish, in the style of all serious Los Angeles champions, the first team in NFL history to win three playoff games by three points or fewer, winning as every great Los Angeles team expects to win.
The heavens no longer have to wait. Make room for the Rams.
Get the latest on L.A.'s teams in the daily Sports Report newsletter.
You may occasionally receive promotional content from the Los Angeles Times.