'Best day of my life': Fans celebrate Super Bowl champion parade in sea of blue and gold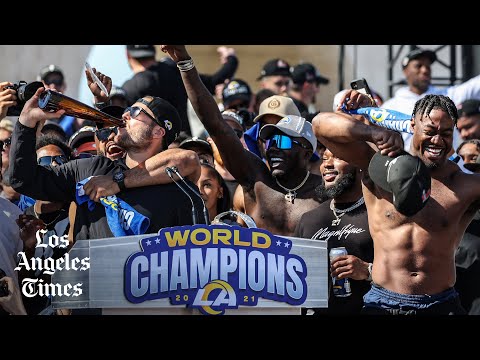 Exposition Park on Wednesday was transformed into a sea of blue and gold as excited L.A. Rams fans gathered for a parade and rally to honor the Super Bowl champions.
There were cheers. There were bullhorns. There were speakers blaring Dr. Dre.
But above it all, four words rang loud and clear:
"Whose house?"
"Rams' house!"
Rams fans cheer for the Super Bowl champions at a parade in Los Angeles.
The team defeated the Cincinnati Bengals 23-20 in Super Bowl LVI on Sunday at SoFi Stadium in Inglewood, but in many ways, the celebration was years in the making.
Los Angeles in 2020 claimed championship wins for the Lakers and the Dodgers, but parades were never held in their honor because of concerns about large gatherings during the COVID-19 pandemic.
On Wednesday, the county lifted its outdoor mask mandate as the number of hospitalized coronavirus-positive patients continued to fall.
The joy was palpable as Angelenos young and old donned Rams gear — and in some cases, Dodgers and Lakers gear — and gathered outside the L.A. Memorial Coliseum and along the parade route from the Shrine Auditorium.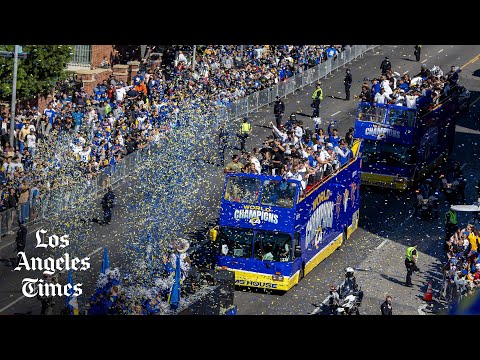 Exposition Park on Wednesday was transformed into a sea of blue and gold as excited L.A. Rams fans gathered for a parade and rally to honor the Super Bowl champions.
Super Bowl MVP Cooper Kupp appeared in a Kobe Bryant jersey, but the day unmistakably belonged to the Rams — and to the city of L.A. itself.
"Finally my Rams win the Super Bowl," said superfan Jesse Castellanos, 32. "I don't have any kids. I'm not married. … This is one of the best days of my life. I just want to show people how much I love this team."
Double-decker buses, wrapped in bright Rams blue and carrying the championship team and their family members along with cheerleaders, wound their way through the streets as fans cheered and waved flags.
There were cigars and beers and celebratory kisses, smiling and shimmying and selfies. And a great big silver trophy.
At the rally, fans cheered as the team and other officials crowded onto the stage.
Mayor Eric Garcetti declared it "Los Angeles Rams Day" and announced that he was delivering three honorary keys to the city to Kupp, defensive lineman Aaron Donald and quarterback Matthew Stafford.
Inglewood Mayor James T. Butts gave a key to Rams owner Stan Kroenke, the second-ever key to the city, he said.
"The Rams were born in Los Angeles, and they'll always be the Los Angeles Rams," Butts said.
To grab a view of the stage over the sea of people crowding the front of the Coliseum, some fans climbed atop trees, portable toilets and parking lot kiosks.
Among them was Emiliano Ruiz, 19, who grew up and still lives across the street from the Coliseum.
"It's a euphoric feeling that just brings joy back to the whole city," Ruiz said of the championship victory, his legs dangling from a kiosk, smilingwith a can of Modelo in hand. "Especially amid the pandemic, it helps brings the atmosphere up."
At the podium, Stafford shared a similar sentiment with the crowd.
"It's an unbelievable journey we've been on — so many ups and downs — but you guys are right there with us, and we appreciate you, every step of the way," he said.
Rams Super Bowl parade becomes a DYI fashion show. 'Even you stopped.'
Nearby, the smell of bacon sizzled from one street vendor's grill while another displayed hand-painted Rams masks for sale. Confetti swirled through the air.
And in true L.A. style, people went all out with fashion.
One fan, Hilton Rodriguez, wore a jacket adorned with Lakers, Dodgers and Rams logos amid the words "City of Champions."
Another, who goes by the nickname Gee Enzel, wore a handmade faux-fur-lined sweatshirt with a gold-embossed Rams logo.
Fans said they came from Koreatown, North Hollywood, Riverside and even as far as Arizona. Many erupted at the sign of buses.
Watts resident Latasha Bracks stood in head-to-toe blue-and-gold Rams gear handing Twizzlers out to the youngest attendees of the parade.
A mother of six, including a son who was killed three years ago at age 19, said her goal was to spread positivity while supporting her hometown team.
"I love the Rams so I came out for the parade — and to make the kids happy because they're here with their parents," she said.
Felix Gonzalez, 62, similarly turned the celebration into a family affair. He, his granddaughter Diana Gonzalez, 23; her boyfriend, Victor Alvarez, 24; and their 5-month-old child, Chelsea, arrived from Chino Hills about 10:30 a.m.
"I wanted my family to experience this, to be a part of the parade and the city," he said. "It's wonderful."
The Michoacan native created his own tricolor helmet, complete with Rams horns.
"There's a lot of Mexican fans, and we have to represent," Gonzalez said.
Another group — friends Gilbert Nieto, 58, Danny Viveros, 59, and Jared Chavarria, 32 — all took the day off from their jobs at a DHL warehouse in the Inland Empire.
"I'm representing L.A. The city of champions, that's what we're about," said Chavarria, who was born and raised in Los Angeles, "All that negativity is out the window."
Viveros said he has been a Rams fan since the 1960s. "When they left for St. Louis, they broke my heart," he said.
On Sunday, as he watched Stafford, the Rams quarterback, take a knee to run out the clock, he and Chavarria cried.
Others played hooky to honor the team. Andrew Torres claimed an elevated spot on the sidewalk along the parade route on Jefferson Boulevard.
He carried his 8-month-old daughter, Audrianna, who also donned a Rams jersey.
"We had to take her out of school," Torres said, pointing to his 7-year-old daughter, Aria, sitting in a stroller.
These last few days have been extra special for Torres and his longtime girlfriend, Darline Olguin. He got on one knee and proposed to her right after the Rams won.
"It was the perfect day," Olguin said.
For a two-year period marked by highs and lows — championship wins, devastating surges of COVID-19 — the day was nothing if not a big, blue-and-gold release.
Dorsey High School football coach Stafon Johnson, who is also a USC and NFL alum, called into the Los Angeles Times' livestream to share his joy with those watching from home.
"It's just this wonderful feeling seeing this," Johnson said. "I think L.A. needs it to pump that exposure, pump the excitement back in Los Angeles."
The rally ended with fireworks and the familiar sounds of Randy Newman's "I Love L.A.," but not before Rams defensive coordinator Raheem Morris took the microphone and shared a similar thought.
"This is for everybody," he said. "This is for the whole city, baby."
Times video journalist Jessica Q. Chen contributed to this report.
Watch L.A. Times Today at 7 p.m. on Spectrum News 1 on Channel 1 or live stream on the Spectrum News App. Palos Verdes Peninsula and Orange County viewers can watch on Cox Systems on channel 99.
Sign up for Essential California for news, features and recommendations from the L.A. Times and beyond in your inbox six days a week.
You may occasionally receive promotional content from the Los Angeles Times.