Ibrahimovic has been a winner, but not with the Galaxy
Zlatan Ibrahimovic is a winner — just ask him.
"If I don't win, I feel as a failure," said Ibrahimovic, who hasn't played on a losing team since leaving his native Sweden 17 years ago.
That's why his short stay with the Galaxy has been uncomfortable. The team has lost six of the nine games in which he's played, falling behind the pace it set last year when it broke franchise records for futility.
"How do you fix it? By winning the games," said Ibrahimovic, who will try to help the Galaxy (5-7-1) do just that Saturday in Portland when they meet the Timbers (6-3-2) at Providence Park.
Ibrahimovic has been unable to hide his disappointment with the Galaxy's poor play, especially when teammates fail to get him the ball. In the 10th minute of Wednesday's loss to FC Dallas, striker Ola Kamara failed to connect with a wide-open Ibrahimovic at the near post and Ibrahimovic protested by standing in front of the goal, arms out. It wasn't the first time he has shown visible frustration with Kamara on the field.
Ibrahimovic took a game-high nine shots and scored both Galaxy goals in a 3-2 loss. But over the last month there have been several instances of Ibrahimovic openly expressing anger and impatience on the field.
"It's not just Ibra. We're all frustrated," coach Sigi Schmid said.
Schmid has placed much of the blame for his team's struggles on its defense, but Ibrahimovic's presence has changed the way the team plays on offense too. Over the winter, Schmid remade his attack around Kamara and a midfield of Romain Alessandrini, Gio dos Santos and Jonathan dos Santos, none of whom is taller than 6 feet or particularly good in the air.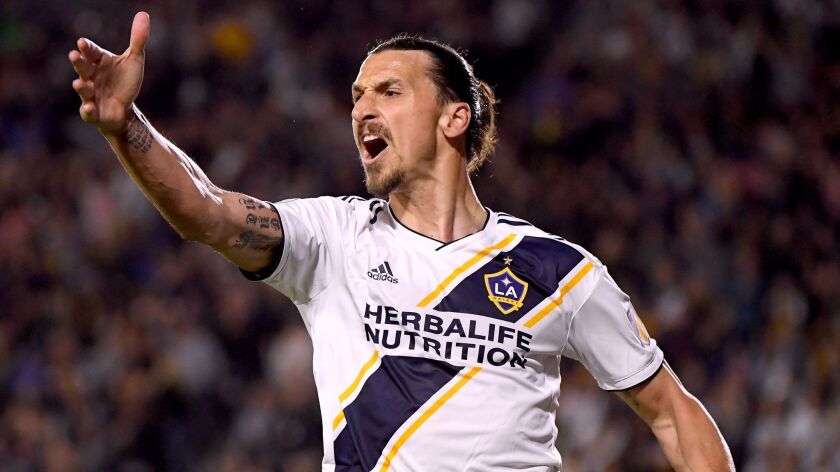 When the 6-foot-5 Ibrahimovic is on the field, though, Schmid has asked Kamara to move upfield and has called on the team to deliver high crosses into the box.
"He changes how we play, Schmid said. "We end up playing balls in the air."
Ibrahimovic said the result has been confusion on both ends of the field.
"We're a little bit lost in the positions we are playing because we are not organized," he said. "It's difficult to play like that."
Sorting that out this weekend could be difficult. The Galaxy will be playing their fourth game in their third city in 12 days, and against a team that hasn't lost a regular-season game at home since July.
They will also be without the Dos Santos brothers — who are away with the Mexican World Cup team — and Kamara, who was called up to Norway's national team.
"It's probably good that we're going again in three days," captain Ashley Cole said after the Dallas loss. "We have to kind of put this game behind us now because we weren't good enough.
"We have to start picking up points. We want to not just get to the playoffs — this team should be fighting to win it."
Twitter: @kbaxter11
---
All about the beautiful game
Go inside the L.A. pro soccer scene and beyond in Kevin Baxter's weekly newsletter.
You may occasionally receive promotional content from the Los Angeles Times.