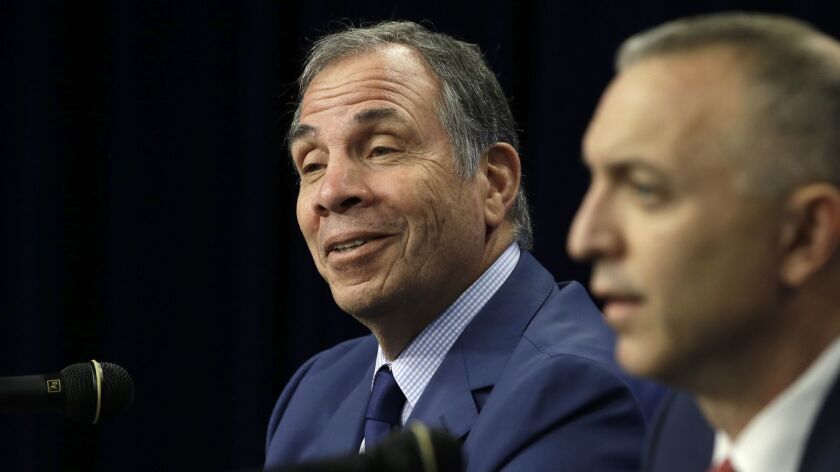 Few things have remained the same in the 2 1/2 years since Bruce Arena coached his last game at the StubHub Center.
For starters, it's not called the StubHub Center any more. The Galaxy's home is now called Dignity Health Sports Park. And the last time Arena roamed the sidelines there, the team was in the MLS playoffs.
They haven't been back since, going through four head coaches, 54 players and two losing seasons in the interim.
"Things have changed a lot for sure," said midfielder Ema Boateng, one of just four players on the current Galaxy roster who also played when Arenacoached the team.
One thing that hasn't changed is Arena's passion for the game, which is why he'll back in the technical area Sunday, this time in front of the New England Revolution bench, for his first MLS game since leaving the Galaxy for the U.S. national team in 2016.
At 67, he's the oldest coach in the league — and also the most successful, with five MLS Cup titles and 202 regular-season wins. Yet his decision to return rather than retire was as certain as the sunrise.
"He's a workaholic," said Galaxy defender Dave Romney, another holdover from the Arena era. "Just loves being on guys, being in the locker room. So it didn't really surprise."
Arena, hired as coach and general manager by the Revolution on May 14, has come back twice before. In 2006, a month after learning his contract with the national team would not be renewed, Arena signed with the New York Red Bulls, leading the team to consecutive playoff appearances. Nine months after leaving New York, he took over a Galaxy team headed toward a third consecutive losing season and guided it to four MLS Cup finals in six seasons.
In his final season in Southern California, he promoted Daniel Steres from Galaxy II of the USL and gave him a start on opening day. Steres has gone on to play more games, 87, than any Galaxy defender since.
"I'm grateful for the opportunity he gave me to start my career here," said Steres, the only field player to have played every minute for the Galaxy this season. "He was there for me, gave me my opportunity, gave me confidence to play when I was making my first start, first game and all that.
"Outside of this game on Sunday, I hope he does well."
Sign up for our weekly soccer newsletter »
Oh yeah, the game. Although Arena, who led his first practice with the Revolution just five days ago, said he wouldn't coach against the Galaxy if he thought it would be a distraction, his return has clearly taken the focus away from a match that is important for both teams.
For New England (3-8-4), which was unbeaten in three games under interim manager Mike Lapper, a result Sunday would equal the team's best run since last June.
Meanwhile the Galaxy (9-5-1) entered the weekend second in the Supporters' Shield standings but winless in their last two at home. With the team starting a three-week MLS break after the game, coach Guillermo Barros Schelotto said momentum is vital.
"It's important to win it," he said in Spanish.
Which is why Boateng said he plans to seek Arena out for a warm hug, then hopes to thank him for his first MLS contract by beating the Revolution.
"He's on a different team," Boateng said. "I respect Bruce and what he did for me, giving me a chance. It will be nice to see him and say hello.
"But the goal is to try to get a win."
The game will be the third in 10 days and seventh in four weeks for the Galaxy, who will again be without injured right back Rolf Feltscher, one of five players who will leave next week for international duty.
Feltscher, despite his injury, is expected to report to the Venezuelan team ahead of the Copa America. Four others are on preliminary rosters for this month's CONCACAF Gold Cup: Midfielders Jonathan dos Santos and Uriel Antuna with Mexico, midfielder Sebastian Lletget with the U.S. and defender Giancarlo Gonzalez with Costa Rica.
kevin.baxter@latimes.com | Twitter: @kbaxter11
---