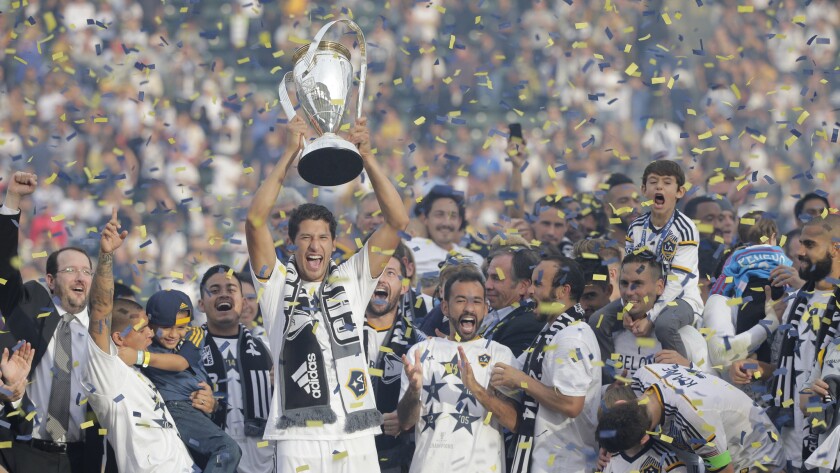 On his flight to Los Angeles to interview with the Galaxy in the summer of 2008, Bruce Arena whiled away the time working on the lesson plan for the graduate-level course he was preparing to teach at the University of Virginia.
The title? Sports Leadership.
Arena never made it to class, because after acing the interview he took the job as the Galaxy's coach and general manager instead.
But that hasn't exactly been academia's loss. Over the last six seasons Arena has given a textbook example of leadership in sports, inheriting a team that hadn't had a winning record or a playoff appearance in three years and taking it to four Major League Soccer Cup finals, winning three championships.
And he has done it under some of the most challenging circumstances in U.S. professional sports: in a league with a strict salary cap, a limited draft and an often confusing and inefficient player-development system.
"That's impressive stuff," Arena boasted Sunday after the Galaxy won its third MLS title in four seasons and record fifth league title overall. "Especially in a league like ours that probably doesn't want that to be the case and would be happy moving the trophy from one franchise to the next each year.
"So that's a bit of a dynasty at this point."
And not only on the field, where the team's dominance is obvious. The Galaxy has also set a high standard in the front office, where the franchise is widely considered the model for MLS.
"This club, this organization, this team does things right. And it starts at the top," said Landon Donovan, who retired Sunday after 10 seasons with the Galaxy.
At the top is billionaire businessman Phil Anschutz, the only owner the Galaxy has known as well as one of the founding fathers of MLS. (His name is on the league's championship cup, officially known as the Philip F. Anschutz Trophy.)
"Phil Anschutz is as passionate and caring an owner as you'll see," Donovan said. "He's behind the scenes. That filters down. When you have that spine in any organization, that organization is going to be successful regardless of who's playing."
Which brings us to the other half of the team's formula for success: who's playing.
In 2007, the Galaxy changed the financial and competitive profile of MLS forever when it signed former English national team captain David Beckham to a five-year $32.5-million contract, at the time the most lucrative in MLS history.
For a league with a payroll cap of $2.1 million per team, the math didn't work.
So MLS adopted what became known as the Beckham Rule, allowing each team to sign up to three designated players whose salaries wouldn't fully count against the salary cap.
That loophole allowed the league to acquire not only Beckham, but France's Thierry Henry, Mexico's Cuauhtemoc Blanco and Rafa Marquez, England's Jermain Defoe and a couple of dozen other big names, putting MLS on the international soccer map.
But it was the Galaxy that used the rule best, signing Beckham; Robbie Keane, the league's reigning MVP; Donovan, the MLS record-holder in goals and assists; and national team defender Omar Gonzalez as designated players. That quartet formed the foundation on which the team's last three MLS titles were built.
"The league does everything in its power to ensure parity. So, when you have a team that wins three titles in four years, it's pretty special," Donovan said. "We aren't the Yankees, who won three out of four years. We aren't the Celtics or the Lakers, who won three out of four years. We are a team that has the same rules as everyone else.
"That's a huge credit to Phil, [team President] Chris Klein, Bruce Arena for being able to do that. So when you put it in that real context it's a lot more special than just winning three out of four."
Arena and Klein, a former Galaxy midfielder turned executive, also helped pioneer a new player development model in January when the team became the first MLS franchise to found and fund its own team in the third-tier USL Pro.
The team, LA Galaxy II, served as a kind of minor league affiliate, giving up-and-coming players such as Rafael Garcia, Bradford Jamieson, Jack McBean, Oscar Sorto and Jaime Villarreal a place to play competitive games on a weekly basis.
It also became a practice ground for some first-team players. In the spring Arena sent injured midfielder Robbie Rogers down to USL Pro with the idea of using him as an outside back. Rogers passed the test and wound up making 18 regular-season appearances and five playoff starts as a defender.
The lessons weren't lost on the rest of the league: By next season at least seven other MLS franchises are expected to have their own USL Pro teams.
And when all that hasn't worked, Arena filled in the gaps with trades, an option that is becoming increasingly rare in MLS. Yet in the Galaxy's last three MLS Cup victories, Arena has used six players he acquired in trades.
So the secret to the Galaxy's success is really no secret at all. All it took was an involved and invested owner, some deft player signings, an innovative coach and team president willing to think outside the box, and attention to detail.
Like the detail of chartering a plane and taking the entire Galaxy staff to Seattle for last month's Western Conference final. That gesture didn't register on the scoreboard, of course, but it did further the family atmosphere the team has cultivated.
"They do things right here," Donovan repeated.
Arena wouldn't say how much of that was in the syllabus for the course he never taught. But he did admit this season has been a learning experience.
"I've had a lot of opportunities in my career in a lot of organizations. This is the best place I've ever been in my life," he said. "A fabulous owner. Great management. This year, for me personally, has been one of my most rewarding."
Twitter: @kbaxter11
---