LAFC benefiting from the 'Beitashour Effect'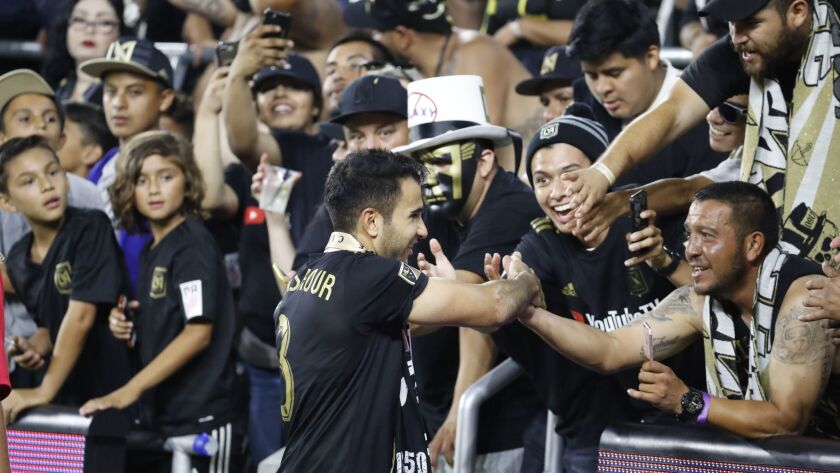 Steven Beitashour's MLS resume includes stops in four cities in two countries, meaning he's played for as many teams as he's scored goals during a nine-year career.
But the defender, now with the Los Angeles Football Club, left his mark on all four teams in another way: by turning them into winners.
As an MLS rookie he joined a San Jose Earthquakes team coming off two straight losing seasons. Three years later, the Quakes set franchise records for wins and points while reaching the playoff quarterfinals.
He next moved to Vancouver, which had made the playoffs just once. In Beitashour's two seasons there, the Whitecaps reached 50 points in successive seasons, advanced to the conference semifinals and won a Canadian championship. Then he signed with Toronto, a team that had gone nine seasons without a winning record. In his two years there, Beitashour helped Toronto to two MLS Cup finals, a league-record 69-point season in 2017 and the only treble — an MLS title, a domestic cup win and a Supporters' Shield — in league history.
None of those teams finished with a winning record the year after Beitashour left.
"One guy called it 'the Beitashour Effect,'" he said with a chuckle.
That might be the best way to describe Beitashour's Midas touch, which is now turning LAFC's first season to gold. Heading into Saturday's road match with the lowly Chicago Fire, his fourth team is on pace to finish with the best record of any MLS expansion club.
Beitashour has been a big reason why, anchoring the defense at right back by playing more minutes and making as many starts as any field player other than midfielder Benny Feilhaber.
"He's an intelligent player. He reads situations well," coach Bob Bradley said. "Steve came here knowing that he had played an important role in Toronto and maybe not everyone around the league recognized that.
"He came here to show everybody that he's a very good player."
It's that last element — the desire to prove himself — that has been driving Beitashour for most of his career. While he has universally been seen as one of the best fullbacks in the league, he's also changed teams three times in the last five years.
"I had great excuses to take the chip off my shoulder after last year. But then, sure enough, I find plenty of reasons," said Beitashour, who has been forced to change teams every time his contract expires. "Toronto doesn't want to pay me to keep me. That's more chips to put on the shoulder."
Beitashour's base salary has grown from $49,612 in 2013, his final season in San Jose, to $275,000 this year, according to the MLS players union. But he doesn't believe that increase in salary matches his experience and contributions over the last five years, especially since LAFC had nine contracts larger than Beitashour's this season.
"A team is paying you to do a job. And if you do it well and they want to keep you, they give you an increase. If they don't, they'll bring someone else in," he said with a shrug.
This is the time of year where Beitashour, 31, really proves his worth. With a postseason berth all but guaranteed, Bradley's challenge will be to keep a young LAFC team with little MLS playoff experience focused over the final five weeks of the regular season. Beitashour, whose 15 postseason games lead the team, will be instrumental in that.
"Experience always helps. Experience of being on a good team and knowing how little things at the end of the season count for more," Bradley said. "Those are areas where Steve is very important for us."
kevin.baxter@latimes.com | Twitter: @kbaxter11
---
All about the beautiful game
Go inside the L.A. pro soccer scene and beyond in Kevin Baxter's weekly newsletter.
You may occasionally receive promotional content from the Los Angeles Times.