Carlos Vela won't say it just yet, but loan to Barcelona now appears unlikely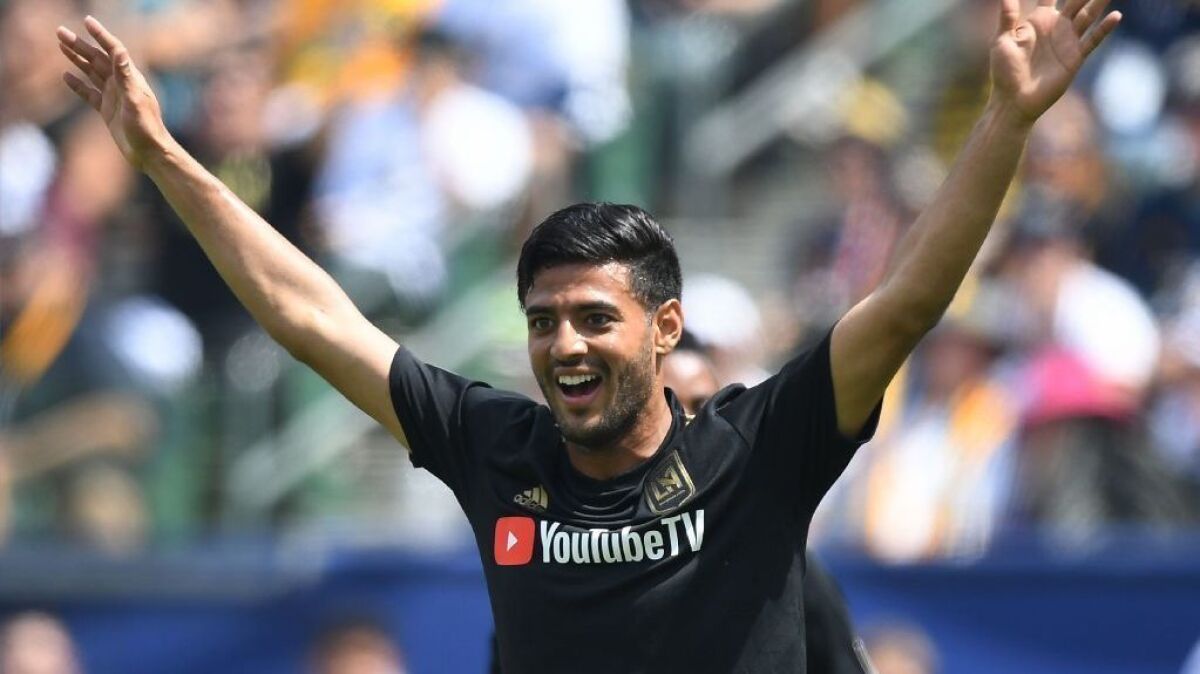 Carlos Vela exited the locker room Monday with heavy legs and a wry smile. He had just finished the Los Angeles Football Club's first training session of the new season, literally running circles around the rest of the team by jogging along the perimeter of the field while his teammates scrimmaged inside.
"It's nice to be back in the sunshine," said Vela, who returned last week from an offseason vacation to his girlfriend's home in San Sebastian, Spain, where the sun was mostly a rumor. As for that other rumor, the one that had Vela heading back to Spain to join superclub Barcelona, he again asked for patience.
Vela, LAFC's leader in both goals (14) and assists (13) last season in an MLS debut that made him a league MVP finalist, was scheduled to speak at the league's media day last Saturday but didn't show. He was scheduled to speak again Monday after practice, but about 90 minutes after the team left the field, a team spokesman emerged to say that Vela had changed his mind.
Privately LAFC officials said Vela didn't want to address rumors of a six-month loan to Barcelona until there was more certainty, something the player said he lacked Monday afternoon.
He may have that soon.
Vela was on a shortlist of players the Spanish club was considering as a midseason replacement for forward Munir El Haddadi, who recently left for Sevilla. But on Monday, Barcelona announced it had acquired Kevin-Prince Boateng from Italian club Sassuolo for $1.13 million, slowing — if not stopping — talk of a Vela loan or transfer.
"When rumors start flying around you have to try to figure out what they mean," LAFC coach Bob Bradley said. "At the moment it's only a rumor. I'm not in a position to say how that works. My experience in the transfer window is this: Usually a team will have five names, six names, 10 names, 15 names.
"They're working through some list and they're trying to get an idea of what's possible. So if you say today how serious is it, I have no answer."
Vela, 29, was the foundation around which Bradley built LAFC's first roster after the Mexican national team forward joined MLS from Spain's Real Sociedad a year ago. He was the team's first designated player, the focus of the team's first marketing campaign and, with a guaranteed salary of $6.29 million, the team's highest-paid player as well.
And he proved well worth the investment, quarterbacking Bradley's demanding possession-oriented offense into the playoffs and finishing the season wearing the captain's armband. That left teammates breathing a sigh of relief when news of Boateng's move to Barcelona spread, making it likely Vela would stay in L.A.
"I told him I'm taking his keys and passport so he can't leave," midfielder Lee Nguyen said.
More to come
LAFC opened preseason camp with 20 players on its roster but just 13 of them were on the field at the team's training center on the campus of Cal State Los Angeles. Defenders Danilo Silva of Brazil and Mohamed El-Munir of Libya were delayed by immigration paperwork and three others — defender Walker Zimmerman, goalkeeper Tyler Miller and forward Christian Ramirez — are with the U.S. national team and may not join the club until next month.
Sign up for our daily sports newsletter »
There were 11 unsigned players in camp Monday, including three selected in this month's MLS SuperDraft: midfielders Peter-Lee Vassell of Jamaica, Javier Perez of Spain and Kevin Mendoza of Mexico. Also in camp are veteran midfielder Baggio Husidic, 31, who is on a one-week trial after spending the last five seasons with the Galaxy, and former Portland Timbers keeper Wade Hamilton, 24, who made seven appearances last year for Galaxy II, the Galaxy's USL affiliate.
Preseason schedule
LAFC released its full six-game preseason schedule, which begins with a Jan. 27 closed-door scrimmage against Toronto FC at UC Irvine. The team will play five friendlies at Banc of California Stadium, beginning with a Jan. 31 game against Japanese club Vissel Kobe, the only preseason game the general public can attend. A Feb. 23 game with Vancouver is open to season-ticket holders only.
Games with Columbus (Feb. 4), Atlanta (Feb. 10) and San Jose (Feb. 16) at Banc of California Stadium will not be open.
kevin.baxter@latimes.com | Twitter: @kbaxter11
---
All about the beautiful game
Go inside the L.A. pro soccer scene and beyond in Kevin Baxter's weekly newsletter.
You may occasionally receive promotional content from the Los Angeles Times.