Column: In coming back, Landon Donovan is following a well-worn path
Kyle Martino admits he went through some dark times after injuries forced him to hang up his soccer boots for the last time nine years ago.
"It's sort of like a Peter Pan complex. You never think you're going to grow up," the former MLS rookie of the year said. "Ever since we're little we dream of being professional soccer players. And then one day it's gone and you have a difficult time understanding who you are and what you do next."
So when Martino heard that Landon Donovan, his former Galaxy teammate, was ending his own soccer retirement after just 21 months, he was more pleased than puzzled. The uniform, he had warned Donovan, is a lot easier to put on then it is to take off.
"I just immediately felt excited for him," said Martino, now a studio analyst for NBC's coverage of the English Premier League.
Donovan could make his return official Sunday afternoon when the struggling Galaxy, winners of only one of their last eight games, plays Orlando City at the StubHub Center (FS1, Fox Deportes, 4 p.m. PT).
Donovan, 34, trained briefly with the first team Saturday and his playing time Sunday — if he plays at all — will be limited by a lack of fitness. But his presence alone is already providing a spark for a listless team that entered the weekend tied for second in the Western Conference despite being slowed by injuries.
"For me, personally, it's like a dream come true to play with the best player in the history of the United States," said midfielder Giovani dos Santos, who leads the Galaxy with 12 goals. "He knows this club. He knows this league.
"Great players like him, at his age, don't have anything to prove. With his quality, he can help us."
Donovan quit soccer after leading the Galaxy to victory in the 2014 MLS Cup final, retiring as the all-time leader in both goals and assists in MLS and with the U.S. national team. Coach Juergen Klinsmann's controversial decision to cut him from the national team that summer, less than a month before the World Cup, played a role in that decision, as did a relentless schedule that had seen him average nearly a game a week over a 15-year professional career.
And it wasn't the first time he had walked away. After fighting both physical and mental exhaustion as well as a then-private battle with depression, Donovan took a three-week "sabbatical" from soccer in 2013, only to return with his most productive season ever in 2014, setting career highs for games (31), starts (30), minutes played (2,720) and assists (19) en route to a record sixth MLS title.
After the MLS Cup, he said he was done for good.
"It was a perfect time for him to leave," said Galaxy Coach and General Manager Bruce Arena. "He was burnt out. He didn't want to come in and work any more. It was getting hard on him. That decision, at the time, was the right decision."
In retirement Donovan married, moved to San Diego, started a family and dabbled in everything from TV commentary and tennis to coaching and team ownership, buying a stake in English club Swansea City. But he also played a lot of pickup soccer against former World Cup players such as Alexi Lalas and Alessandro Del Piero — both of whom had also retired, then attempted their own comebacks.
When Lalas quit at 29, he dictated a press release that specifically avoided the word retirement because he wanted "to keep that door open." It was a door he walked back through 15 months later.
So he, like Martino, was far from surprised when Donovan did the same last week.
"When Landon retired, if you had said, 'hey, he could possibly come back,' that wasn't something just ridiculously outlandish to say," offered Lalas, who will be part of a five-person Fox Sports team working Sunday's game. "But I think there were few people that picked this moment for it to happen."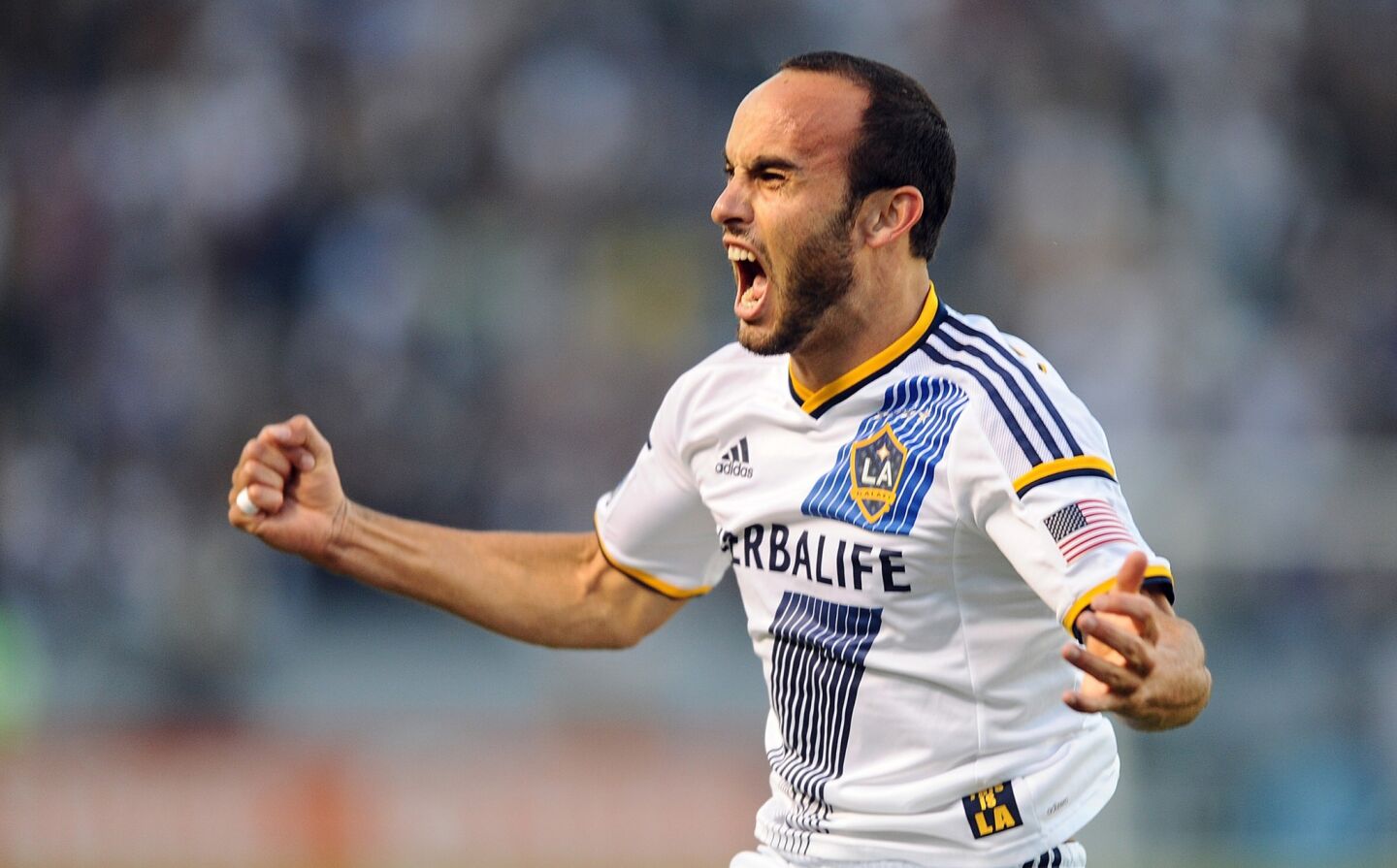 Galaxy midfielder Landon Donovan reacts after scoring the first of his three goals against Real Salt Lake in an MLS playoff game on Sunday at StubHub Center.
(Wally Skalij / Los Angeles Times)
Landon Donovan turns to celebrate with teammates after scoring one of his three goals against Real Salt Lake.
(Wally Skalij / Los Angeles Times)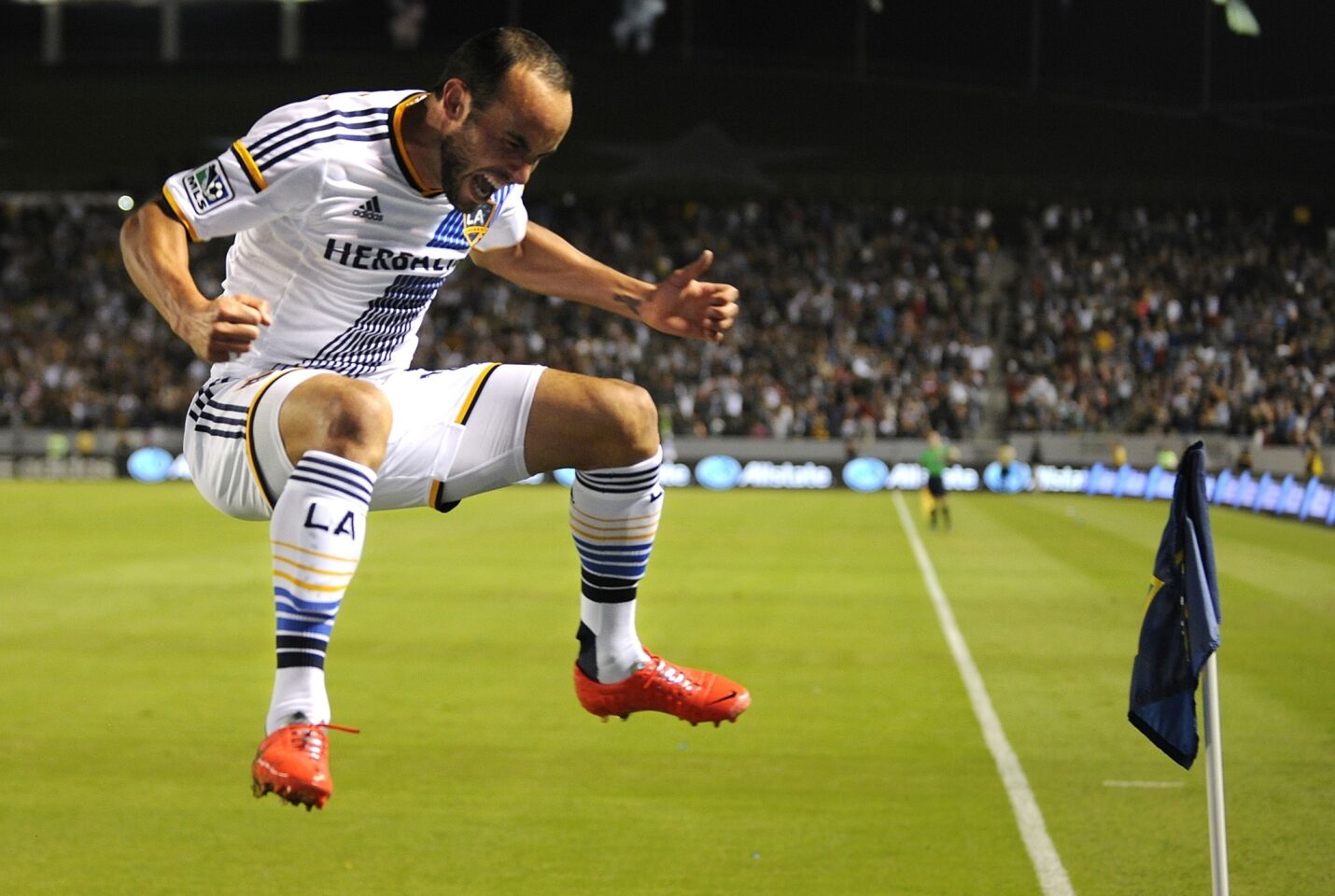 Galaxy star Landon Donovan celebrates the second of his three goals against Real Salt Lake on Sunday at Stubhub Center.
(Wally Skalij / Los Angeles Times)
Landon Donovan, left, vies for the ball with Spain's Sergio Ramos during a Confederations Cup semifinal soccer game at Free State Stadium in Bloemfontein, South Africa, on June 24, 2009.
(Paul Thomas / Associated Press)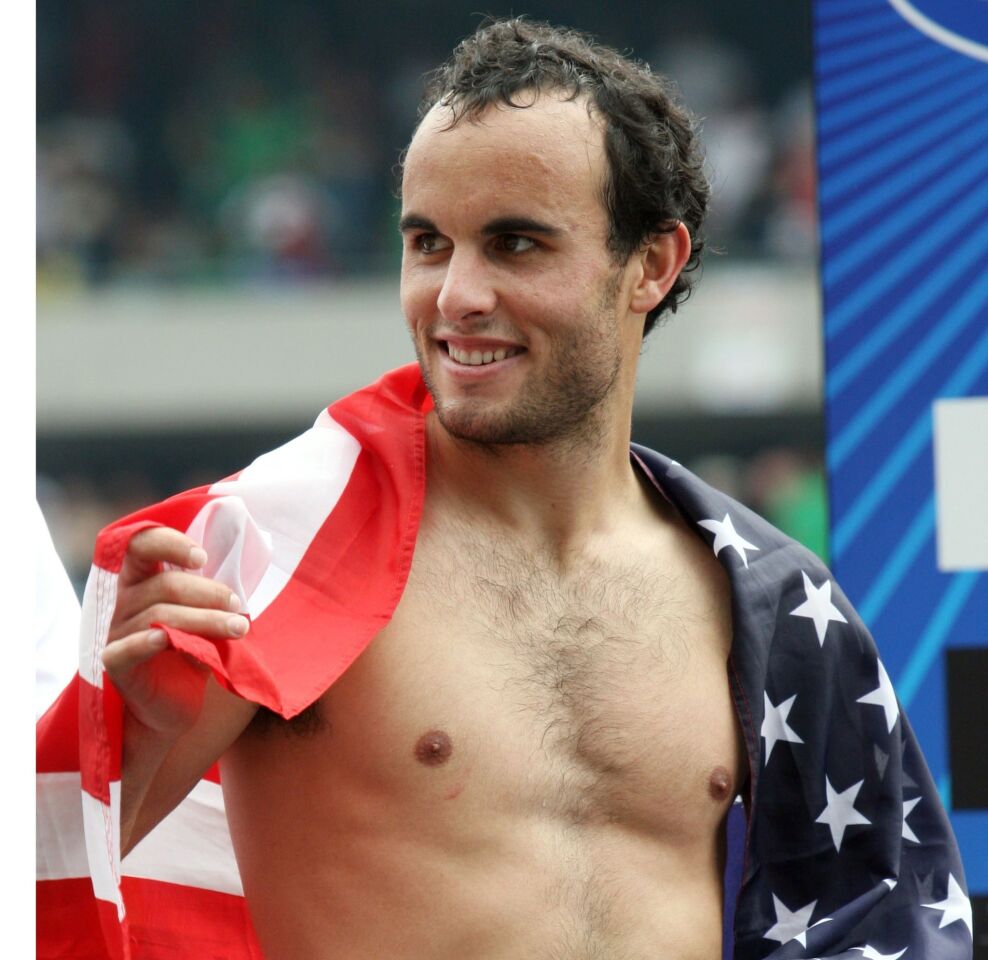 Landon Donovan celebrates after the U.S. defeated Mexico, 2-1, in the CONCACAF Gold Cup final on June 24, 2007, at Soldier Field in Chicago. Donovan scored one of the U.S. goals.
(Tasos Katopodis / Agence France-Presse / Getty Images)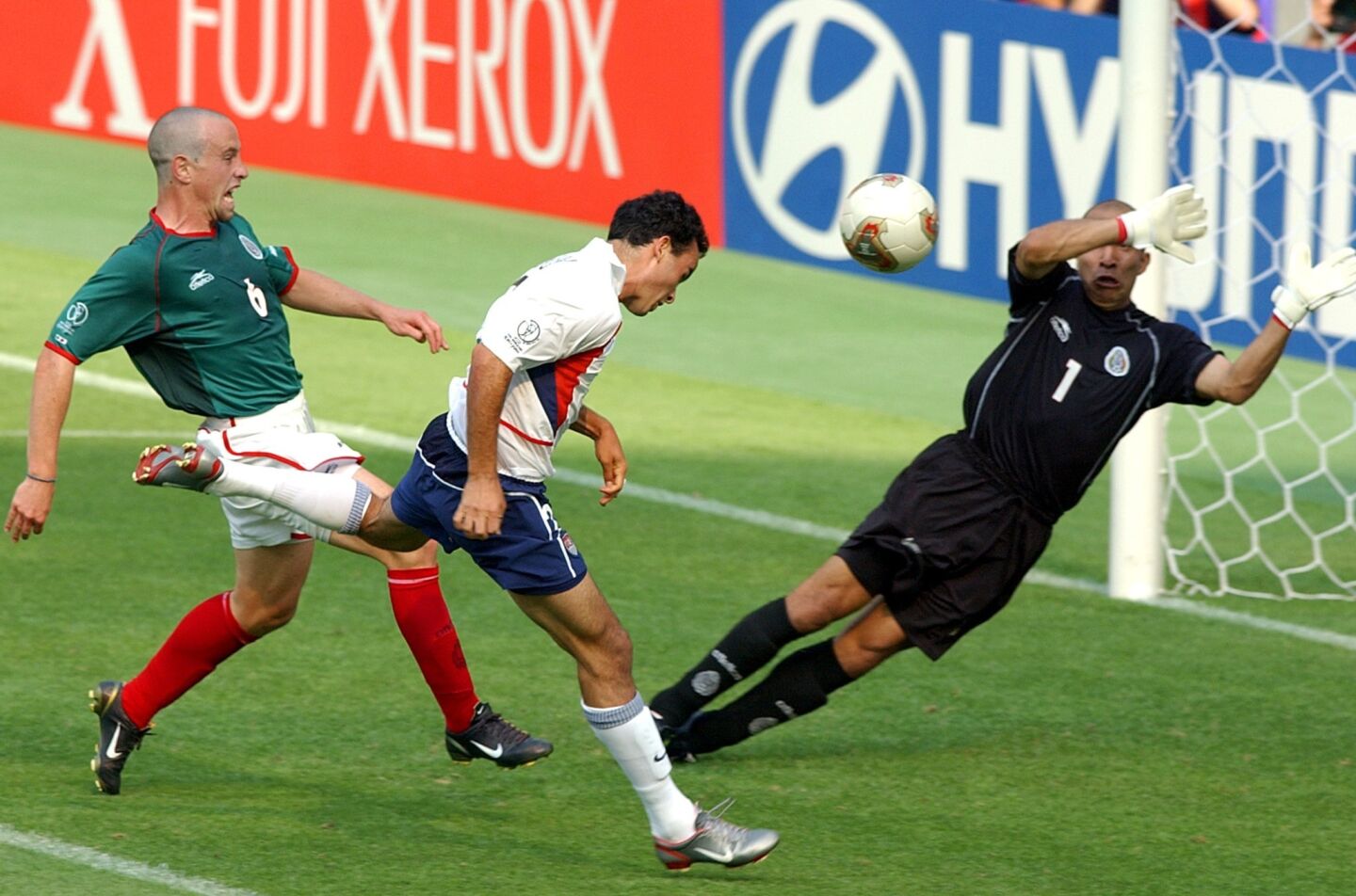 Landon Donovan scores on a header past Mexico goalkeeper Oscar Perez, right, and Gerardo Torrado in a 2-0 victory on June 17, 2002, that sent the United States into the quarterfinals of the 2002 World Cup in South Korea.
(Vincent Yu / Associated Press)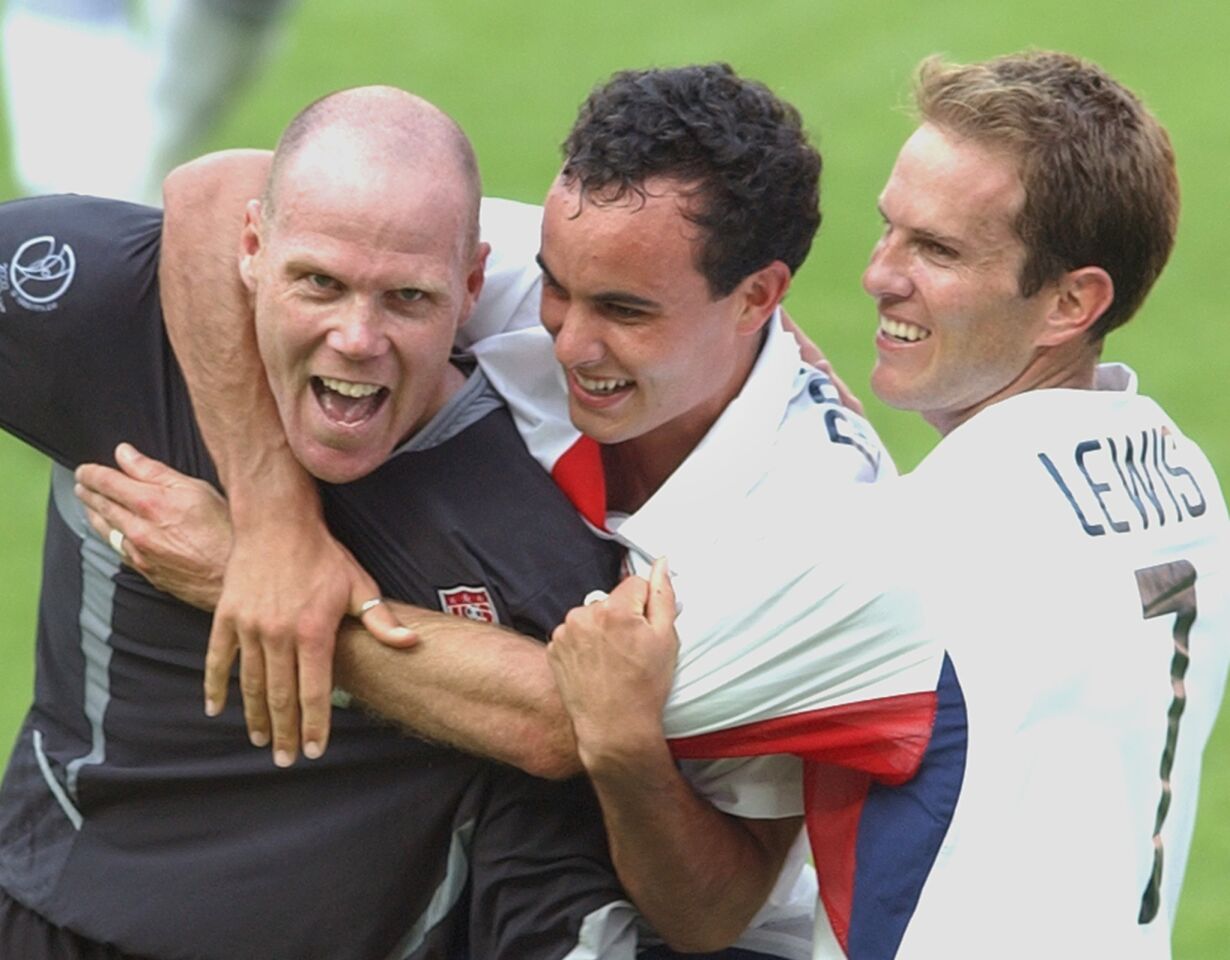 Landon Donovan, center, celebrates a 2-0 victory over Mexico in the 2002 World Cup with teammates Brad Friedel, left, and Eddie Lewis on June 17, 2002.
(Vincent Yu / Associated Press)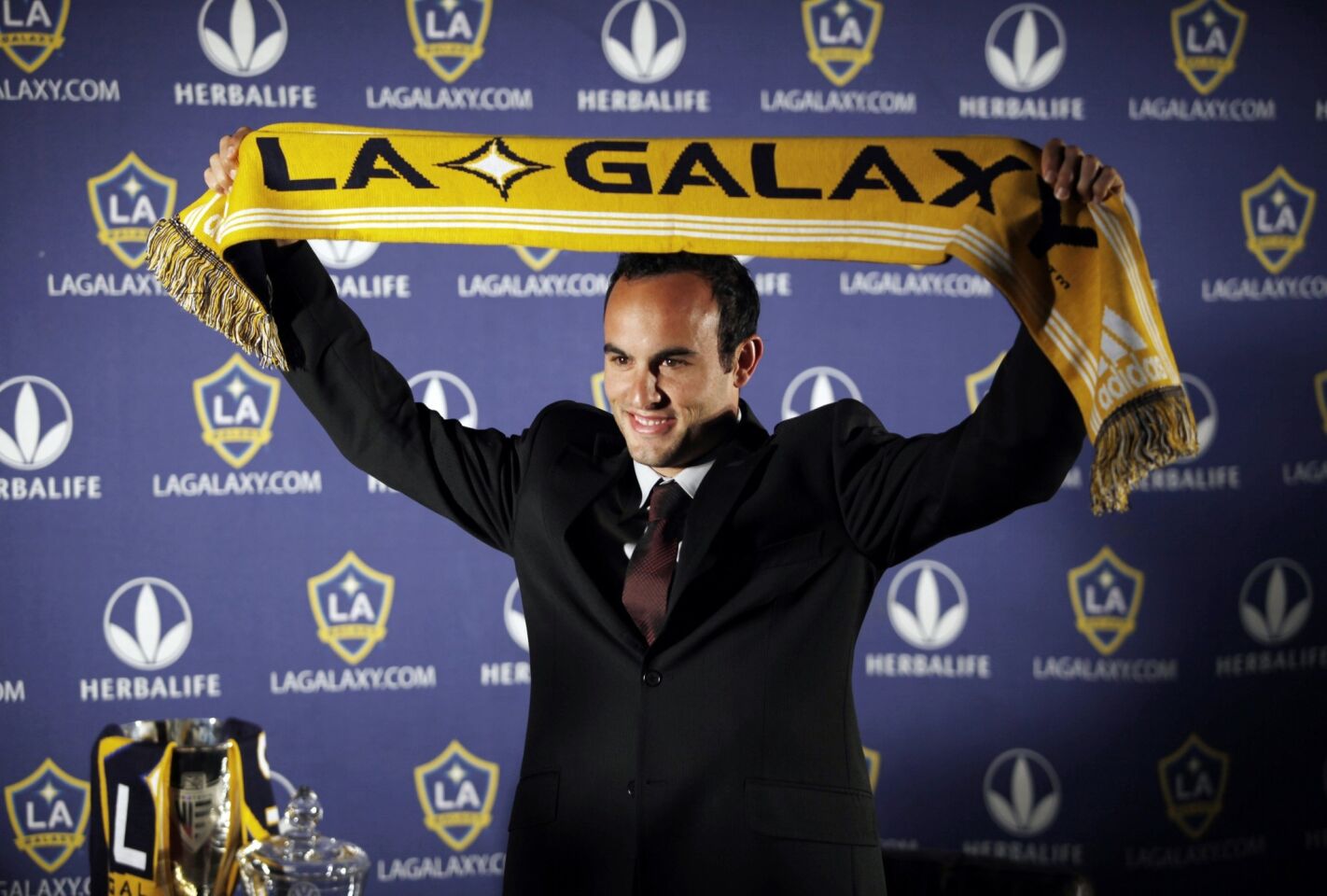 Captain Landon Donovan holds up a Galaxy scarf during a news conference in Los Angeles on Dec. 16, 2009, to announce that he signed a new four-year contract that includes a provision to pursue opportunities to join a foreign club on a short-term loan agreement.
(Damian Dovarganes / Associated Press)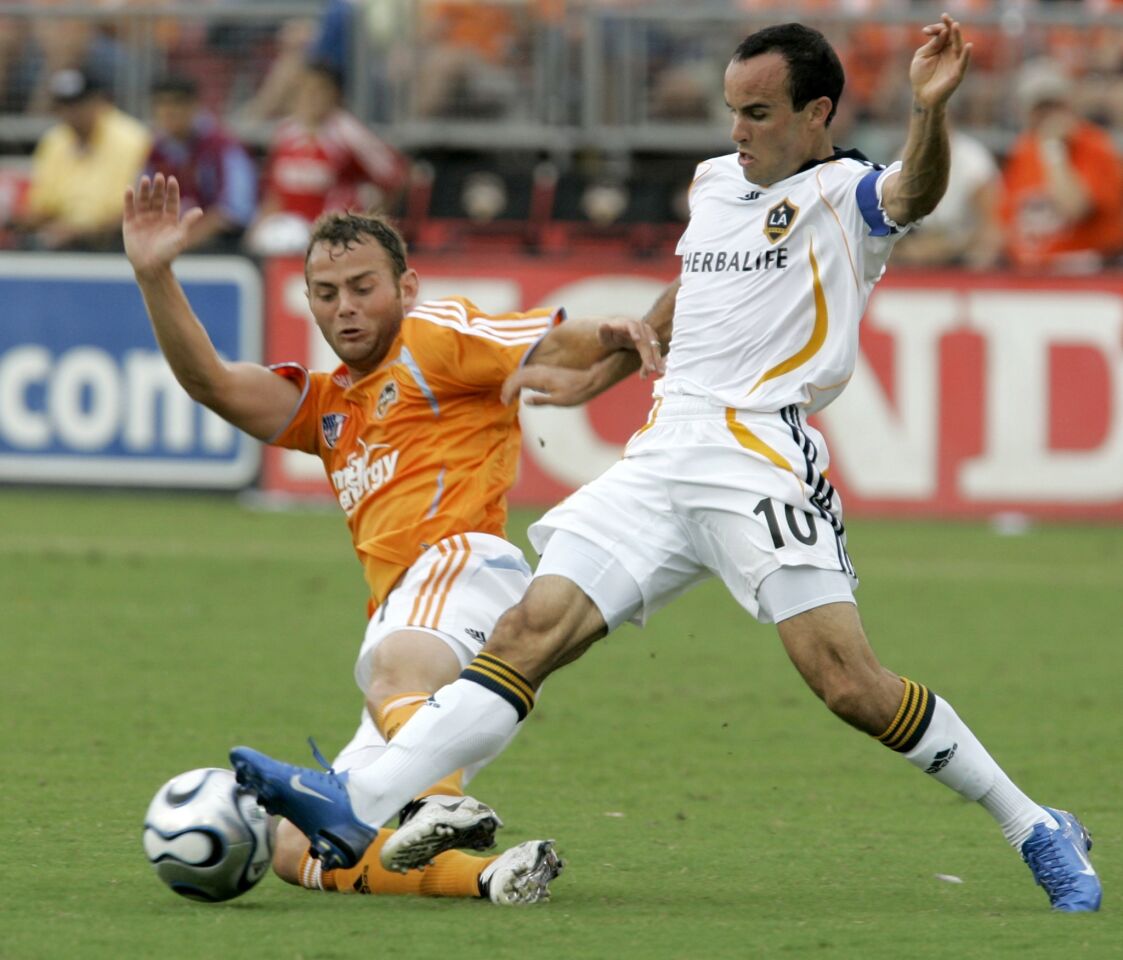 The Galaxy's Landon Donovan (10) keeps the ball away from the Dynamo's Brian Mullan, left, in the second half of a 2-1 win in an MLS soccer game on Oct. 7, 2007, in Houston.
(Pat Sullivan / Associated Press)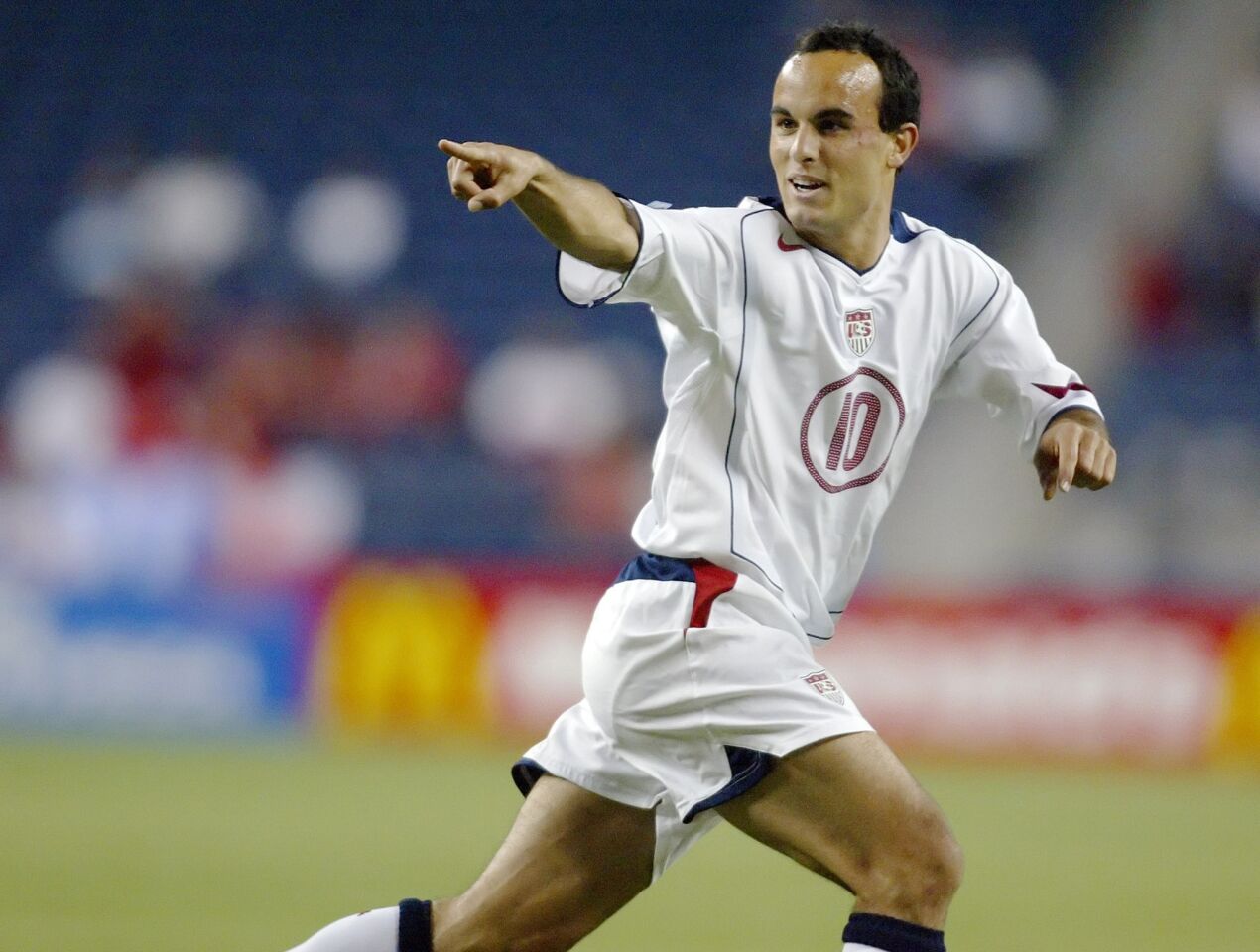 Landon Donovan points to his teammates after scoring a tiebreaking goal against Cuba in the CONCACAF Gold Cup game on July 7, 2005. The U.S. won the game, 4-1.
(John Froschauer / Associated Press)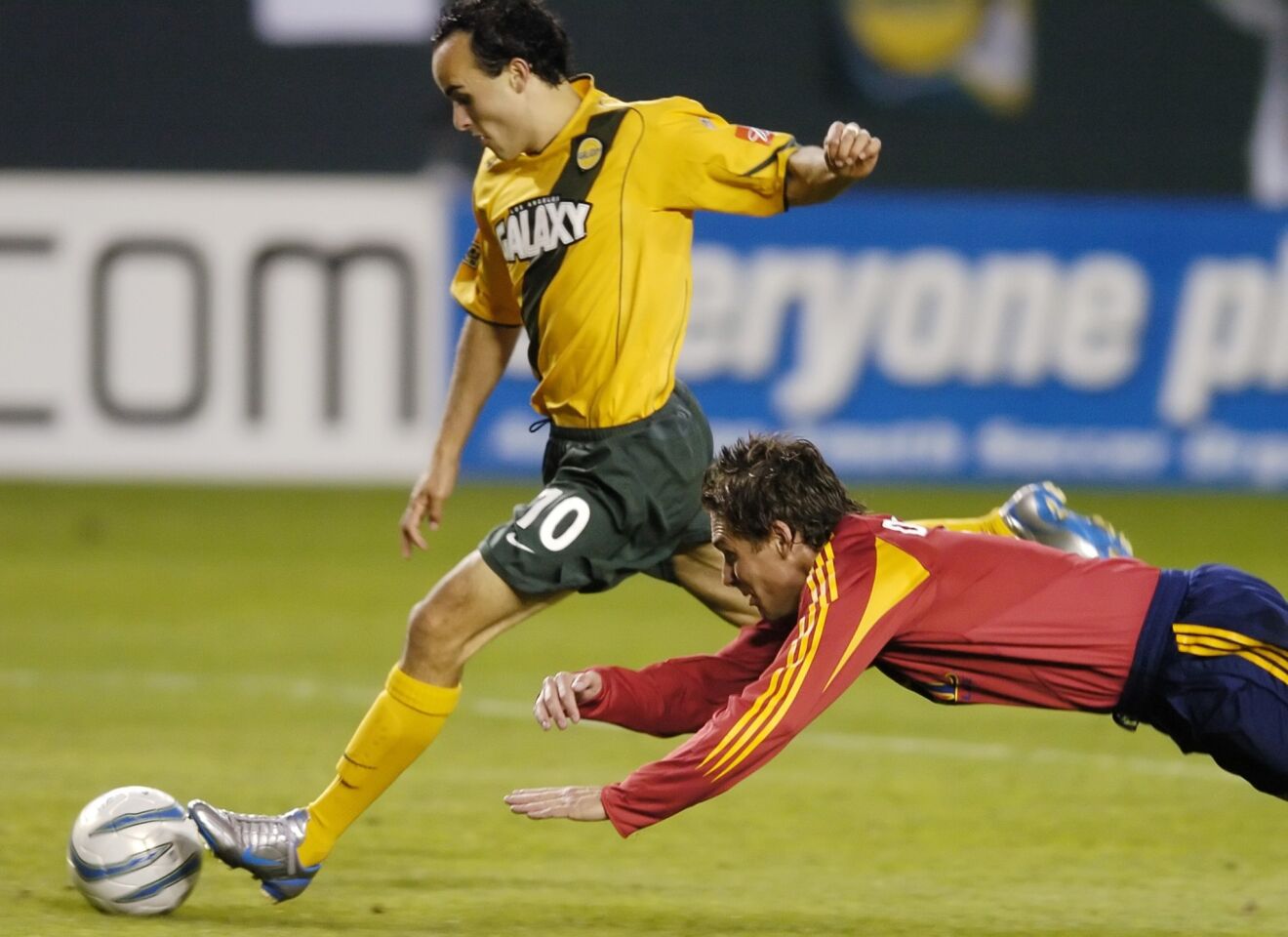 Galaxy forward Landon Donovan (10) eludes a diving Brian Dunseth of Real Salt Lake before scoring in an MLS game on June 11, 2005.
(Chris Pizzello / Associated Press)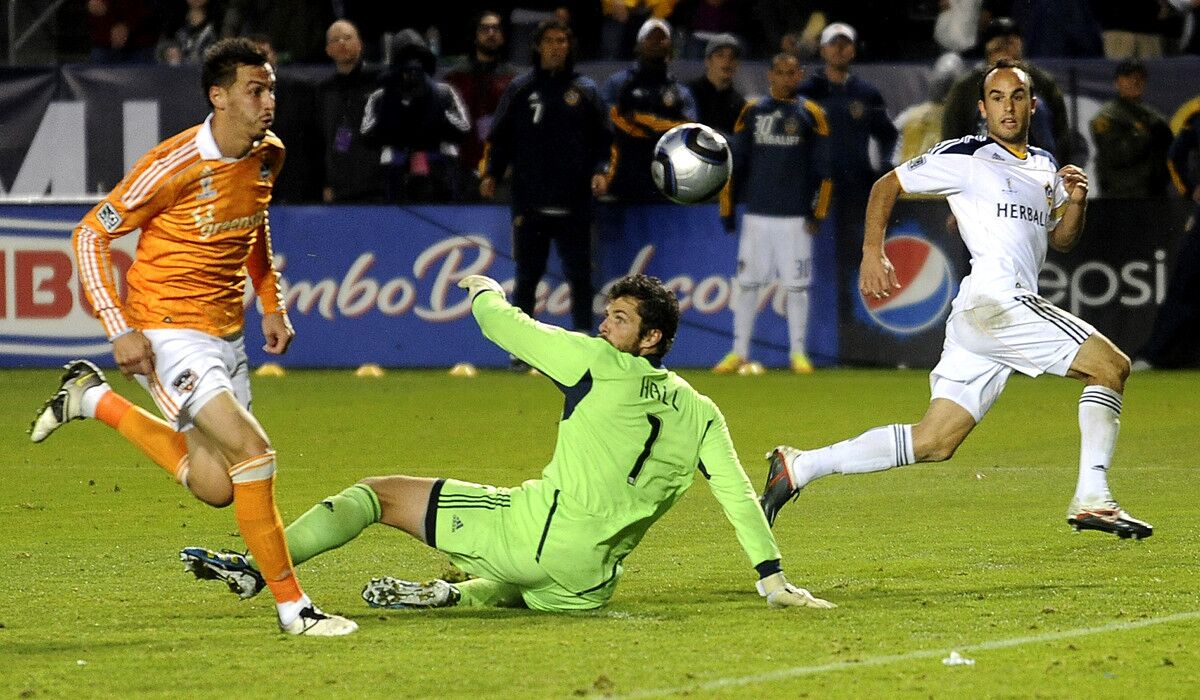 Landon Donovan
scores the game-winning goal over Houston's Tally Hall in the 2011 MLS championship game.
(Wally Skalij / Los Angeles Times)
Galaxy players celebrate their win against the Houston Dynamo in the MLS championship at the
Home Depot Center
in 2011.
(Wally Skalij / Los Angeles Times)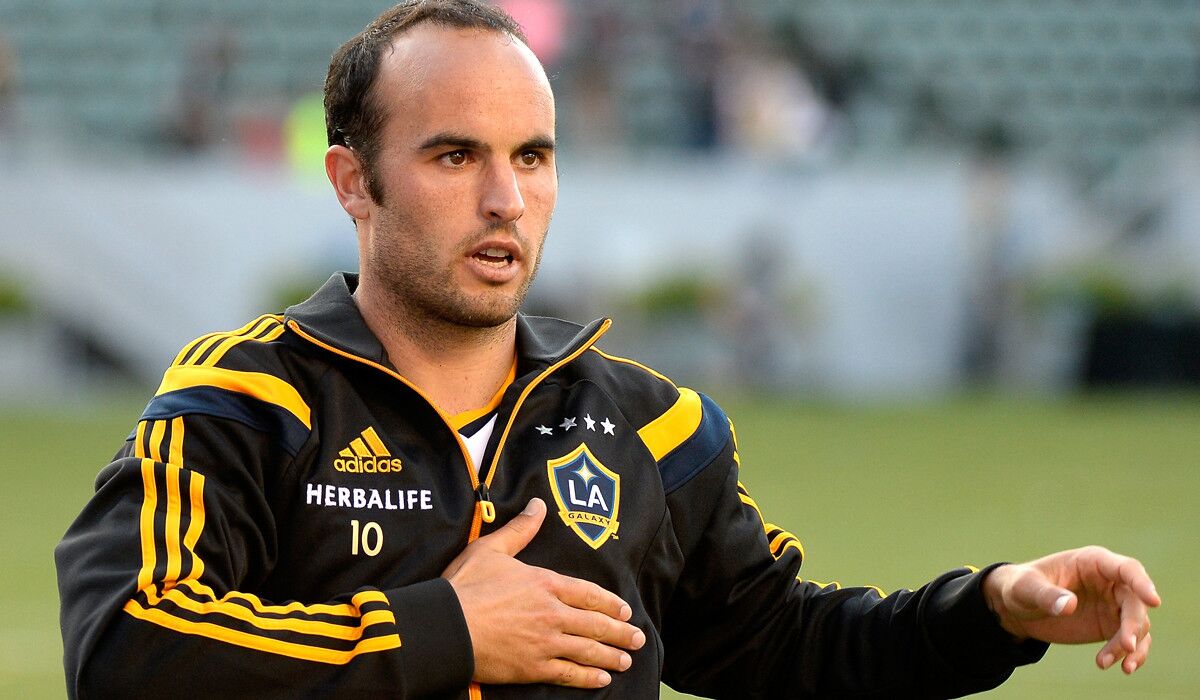 Galaxy star Landon Donovan shows his appreciation for supporters after a 4-1 victory over the Philadelphia Union at StubHub Center on May 25.
(Harry How / Getty Images)
Landon Donovan (10) pursues the ball in an exhibition game against Ecuador in East Hartford, Conn., on Oct. 10. Donovan made his final national-team appearance in the 1-1 draw. At right is Ecuador goalkeeper Maximo Banguera.
(Elise Amendola / Associated Press)
Landon Donovan (10) brings the ball up the field in the first half of the Galaxy's MLS Western Conference semifinal Saturday against Real Salt Lake. The teams played to a 0-0 tie in the first leg of the two-game playoff series.
(Rick Bowmer / Associated Press)
Galaxy forward Landon Donovan, center, holds the MLS Cup trophy after a 2-1 overtime win against the New England Revolution for the MLS title on Dec. 7, 2014.
(Jae C. Hong / Associated Press)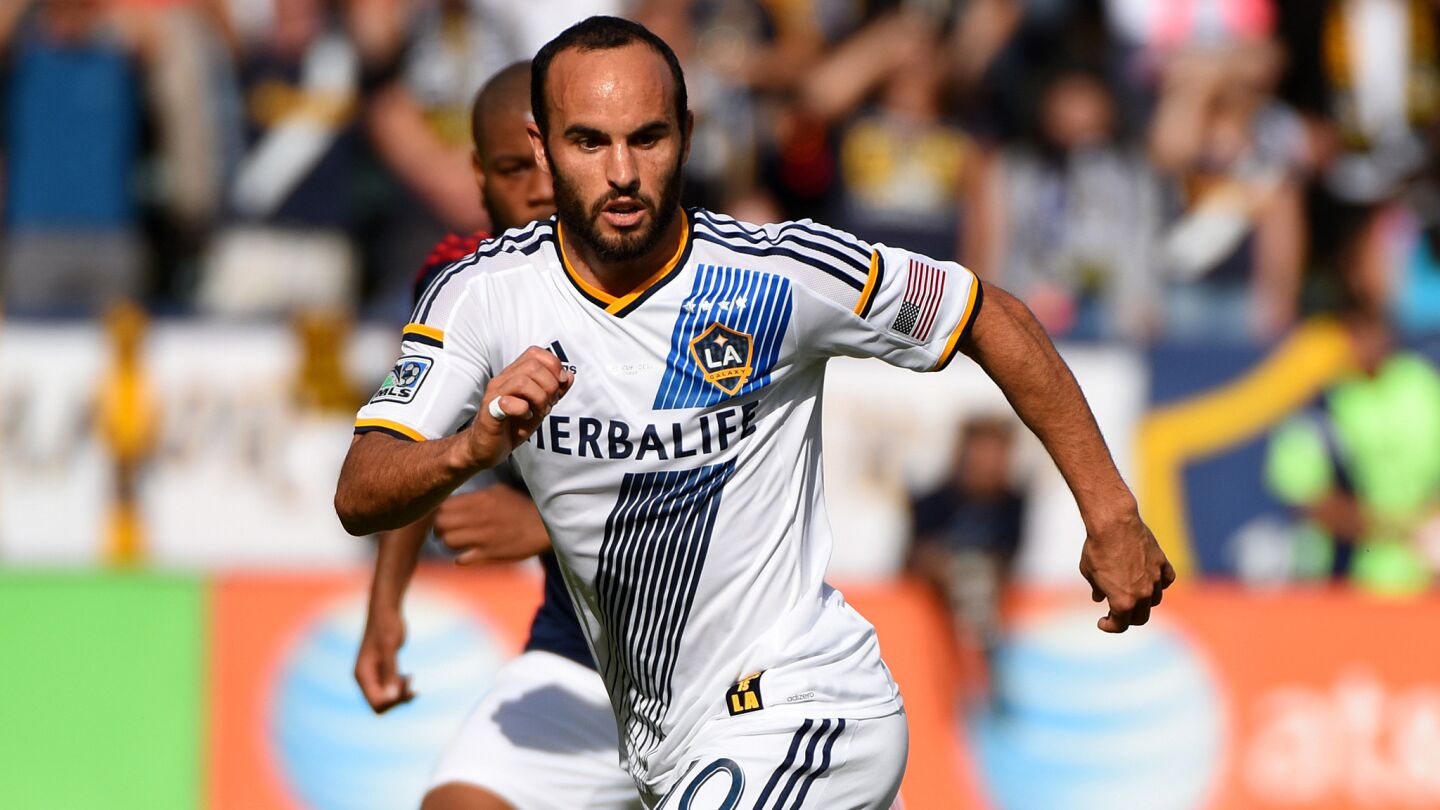 Galaxy forward Landon Donovan chases after the ball during the first half of a MLS Cup victory over the New England Revolution on Dec. 7, 2014.
(Robert Laberge / Getty Images)
Landon Donovan reacts after the final seconds tick away in the Galaxy's 2-1 victory over the Revolution.
(Rick Loomis / Los Angeles Times)
Galaxy forward Landon Donovan acknowledges the fans after playing in his final professional match following a 2-1 win over the New England Revolution in the MLS Cup final on Dec. 7, 2014.
(Jae C. Hong / Associated Press)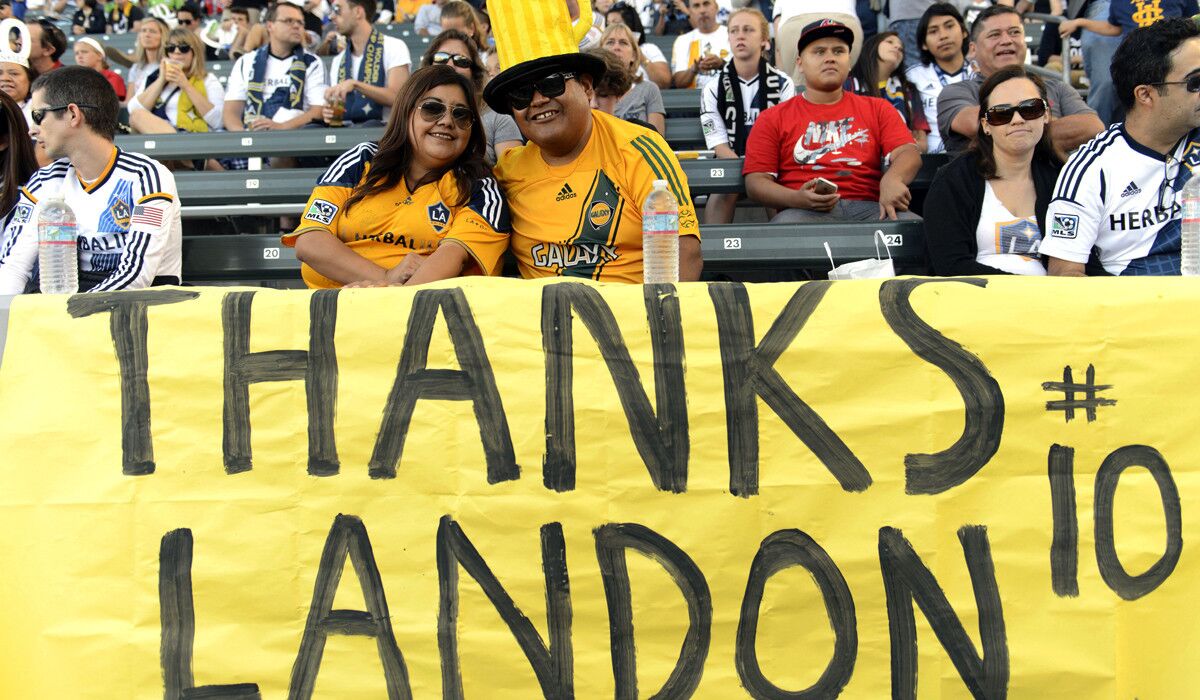 Margie Banuelos, left, and Nefi Chaua, right, show their support for Galaxy star Landon Donovan before a game against the Seattle Sounders on Oct. 19 at StubHub Center.
(Kelvin Kuo / Associated Press)
The timing was perfect for the Galaxy though. Not only had the team lost four starters to injury, but when midfielder Nigel de Jong took a job in Turkey 11 days ago, it left the Arena with an open roster spot and about $150,000 in salary-cap space for a replacement. When he called Donovan, there was little need for arm-twisting.
"To come back now? I think it's interesting," Arena said. "And it can be a great decision."
Even Klinsmann is in his corner.
"I think it's great to have Landon back on the field. For himself and MLS," he said.
That's because, despite their differences, both Klinsmann and Donovan have shared with Martino, Lalas and others the pain of having retired too early, of having to leave Neverland while still under the spell of a children's game. In Klinsmann's case the comeback took five years to pull off and it came with an Orange County amateur team under an assumed name, Jay Goppingen.
"I simply wanted to kick the ball around," says Klinsmann, reasoning Donovan might well agree with. "I wish I had still time for it."
Twitter: @kbaxter11
---
All about the beautiful game
Go inside the L.A. pro soccer scene and beyond in Kevin Baxter's weekly newsletter.
You may occasionally receive promotional content from the Los Angeles Times.