Two months later, U.S. soccer players savor World Cup experience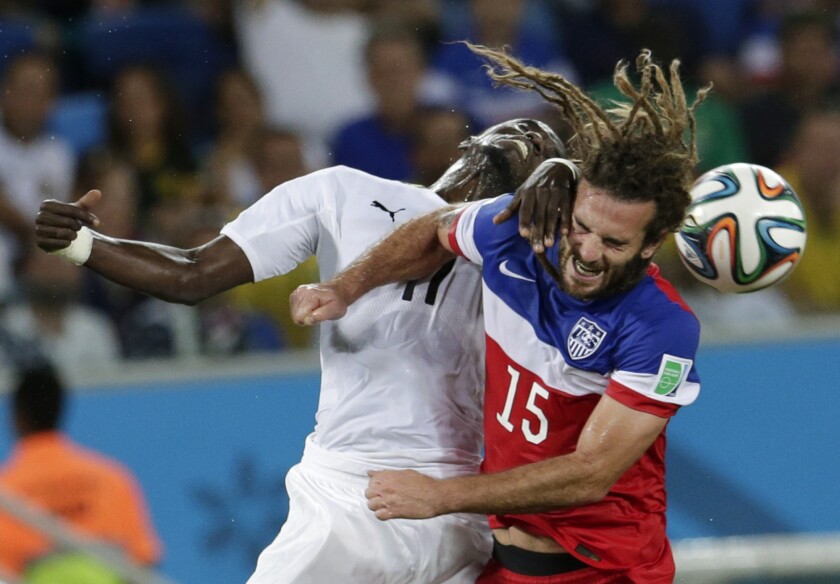 When Kyle Beckerman was little bigger than a soccer ball he would leave notes for his mother that he would always autograph the same way.
"It just said my name in cursive and then 'USA #15,'" Beckerman confessed.
This summer Beckerman's grade school fantasy became a reality when the Real Salt Lake midfielder started three World Cup games for the USA, wearing jersey No. 15.
"I'm really glad that I was able to participate and check it off the bucket list," Beckerman said of a goal he had been chasing for most of his 32 years.
It has been two months since the World Cup ended for Beckerman and the U.S. in an overtime loss to Belgium in the round of 16. The massive crowds that cheered the Americans, from Chicago's Grant Park and the archway beneath the Manhattan Bridge, have long since disbanded and the millions more who watched on the games on TV have changed the channel to the NFL or college football.
But for the U.S. players, the memories of Brazil — some of them life-changing ones — remain.
"It was definitely the best experience of my life," Galaxy defender Omar Gonzalez said. "Playing in a World Cup, fulfilling that dream and playing against the best players in the world and doing well is definitely a boost of confidence."
For Seattle Sounders winger DeAndre Yedlin, the tournament provided a boost of patriotism as well.
"Just being in the stadium and hearing the [crowd] chanting 'USA' was probably one of the most amazing moments that I've ever been a part of," he said. "That's really the moment that I kind of realized, 'Wow, I'm representing the country right now.' "
The moment Yedlin and some of his young teammates realized they were playing in a World Cup might have come just before their second game when Cristiano Ronaldo and the Portuguese team came out for the national anthems.
"Everybody on the bench was [saying] 'That's Ronaldo!'" Yedlin remembered.
The wide-eyed Seattle native was, along with Beckerman and Gonzalez, among 17 players on the U.S. team who were participating in their first World Cup. But few were greener than the 21-year-old Yedlin, who had played just 34 minutes for the national team before becoming a surprise choice for the World Cup squad last May.
In Brazil he came off the bench to play 115 minutes in the final three games, impressing with his speed and playmaking abilities while growing in confidence .
"I did kind of prove to myself that I could hang at that level," Yedlin said. "I learned a lot about myself."
And the world learned a lot about him — so much so, several major European clubs engaged in a post-tournament bidding war for his services. Tottenham of the English Premier League eventually won, signing him to a four-year contract that, beginning next year, will pay him more than 10 times what he's making this season in Seattle.
And none of that happens without the World Cup, says Clint Dempsey, Yedlin's teammate with both the Sounders and the U.S. national team.
"You perform well, that's the global stage, the biggest stage in the world," he said. "Everybody's watching."
Eight years ago Dempsey used the same springboard to go from relative unknown to EPL millionaire, starting two games and scoring the only U.S. goal in his first World Cup to earn a move to Fulham.
"Once you play in a World Cup and perform well.… it gives you confidence moving forward that you can play at the highest level," he said. "Then after that I was able to make the move overseas and have a good career."
Dempsey, 31, also made memories in Brazil, where the U.S. was drawn into a group that included eventual champion Germany as well as Ronaldo's Portugal.
Playing in the tournament for the third time, Dempsey was named captain. And when he scored seconds into the U.S. opener with Ghana, he became the only American to score in three consecutive World Cups.
"Being able to be the captain during this World Cup and be a part of the team getting out of that 'Group of Death' that a lot of people counted us out in, those are the memories that I'll take away. It was a great time," he said.
One that, for Beckerman at least, was far too short. After decades of working on his World Cup autograph, his actual World Cup experience lasted less than two months — and that's only if you count a three-week pre-tournament training camp.
"A lot of really good memories, but also it felt like it went by so fast," Beckerman said. "A lot of it's a blur. Maybe at the end of the season I'll look back and kind of look at some pictures and different things like that.
"But for the most part not a whole lot's changed. It's just kind of really been a neat experience. Now it's just about enjoying it."
Twitter: @kbaxter11
---
All about the beautiful game
Go inside the L.A. pro soccer scene and beyond in Kevin Baxter's weekly newsletter.
You may occasionally receive promotional content from the Los Angeles Times.