Landon Donovan's return to U.S. national team is like he never left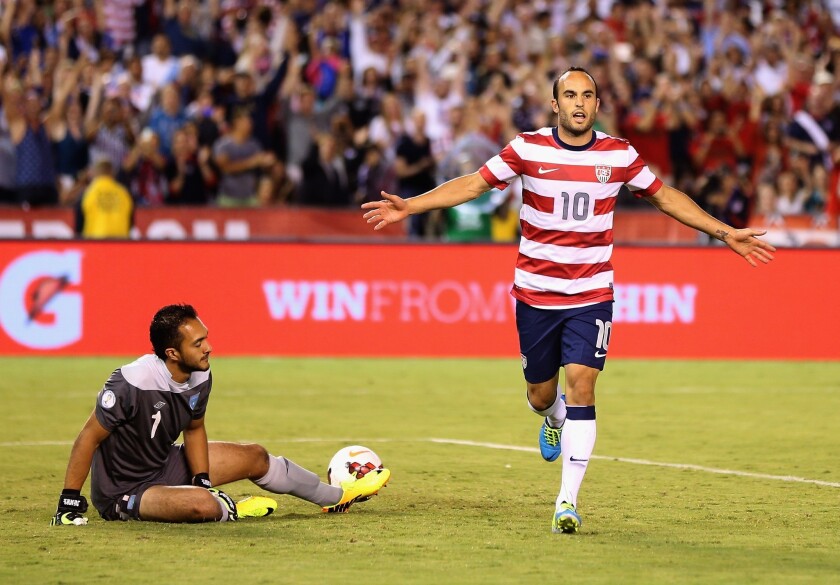 As first steps go, those were big ones that Landon Donovan took with the U.S. national team Friday. Maybe even big enough to carry him to Brazil.
Playing in his first international match in nearly 11 months, Donovan showed he hasn't lost a thing, scoring two second-half goals and setting up another in a 6-0 rout of Guatemala in an international friendly Friday at Qualcomm Stadium.
"It was a great night for us," Donovan said.
And an even better one for Donovan, who played 73 minutes and looked confident at times, a bit uncertain at others. But he also provided the kind of smart, creative play the U.S. has lacked at times since Donovan gave up his spot on the national team when he took a three-month break from soccer just before the start of World Cup qualifying last winter.
Donovan's goal now is to convince Coach Juergen Klinsmann he should get that spot back in time next summer's tournament in Brazil — and the veteran player got a good start on that during a game-changing 17-minute span of the second half.
It started 10 minutes after intermission when the savvy Donovan drew a foul deep in the 18-yard box, then calmly converted the penalty kick to give the U.S. a 2-0 lead.
Donovan, who started on the right wing but also played in the central
midfield, then set up a goal by Chris Wondolowski in
the 71st minute, charging toward the box and drawing two defenders to him, then tapping the ball ahead
to Wondolowski for the score.
He picked up his second goal a minute later, burying a cross from Stuart Holden for his 51st international goal, 17 more than any other player in U.S. Soccer's 100-year history.
With nothing left to prove Donovan then left the game favor of Will Bruin — and just for good measure the U.S. added two more goals anyway, with Clarence Goodson scoring in the 84th minute and Alejandro Bedoya four minutes later.
That capped the most one-sided U.S. win since June 2008. Not a bad way for the team, which came together just five days ago, to tune up for its Gold Cup opener next week.
"We were a lot of guys who haven't played a lot together," Donovan said. "We wanted to get to know each other and this was a great way to do it."
It took the Americans a while to jell, though, with their first goal coming in the waning minutes of the first half by way of Mexico.
Klinsmann started four Mexican league veterans and all four were involved in the play, which started with Tijuana's Edgar Castillo sending a pass forward for Jose Torres of Tigres. After settling the ball, Torres sent a wicked cross into box that eluded a sliding Joe Corona but bounced right to Corona's Tijuana teammate Herculez Gomez, who one-timed it into the open net from just outside the far post.
---
All about the beautiful game
Go inside the L.A. pro soccer scene and beyond in Kevin Baxter's weekly newsletter.
You may occasionally receive promotional content from the Los Angeles Times.