LAFC scores four goals over 12-minute blitz to defeat Atlanta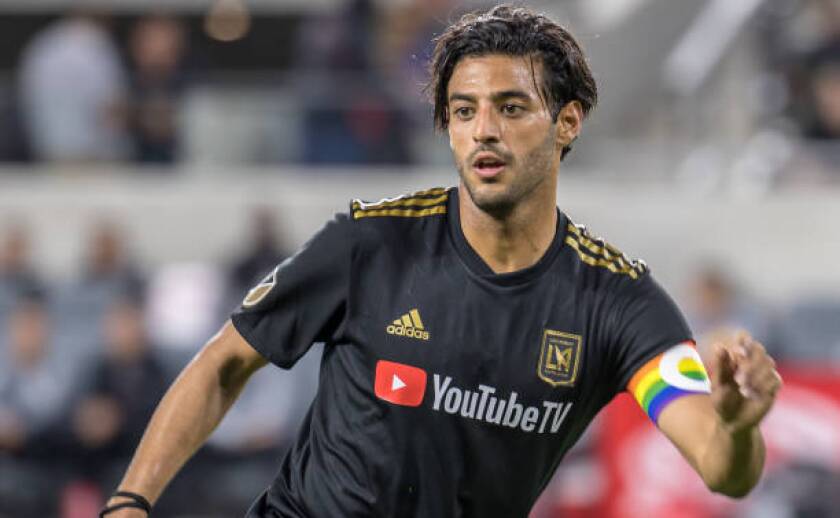 Halfway through its second season, LAFC has already stamped itself as one of the best teams in MLS history.
It was the fastest team to 100 points, is on pace to break records for goals and points in a season and its captain, Carlos Vela, is on pace to become the league's most prolific single-season scorer.
Some of those records date only to last season when Atlanta United, in its second year, ran roughshod over the league en route to an MLS Cup title.
LAFC still has quite a bit of work to do to match that, but it showed Friday it may already have passed the defending champions in some ways when it hung on to beat Atlanta United, 4-3, before a sellout crowd of 22,511 at Banc of California Stadium.
It was one of the most-anticipated matchups of the MLS season, but it appeared over before the first half was, with Diego Rossi, Vela and Eduard Atuesta all scoring in the final seven minutes before halftime to give LAFC a commanding lead it would not relinquish.
That Atlanta United and LAFC, with a league-best 15-3-4 record, have arrived at roughly the same place at about the same time shouldn't be surprising, since they followed the same blueprint.
Both began as expansion teams and had three seasons to prepare for their first game. Both hired big-name coaches with a World Cup appearance on their resumes — Atlanta in Tata Martino and LAFC in Bob Bradley — and both built their rosters around Latin American attackers, Atlanta with Josef Martinez and Miguel Almiron and LAFC with Vela and Diego Rossi.
LAFC's Carlos Vela has been chosen captain of the MLS All-Star team for a second consecutive season in a vote conducted on social media.
"Our owners were able to see what Atlanta had done. So they had a high degree of comfort with us taking some younger guys," said Will Kuntz, LAFC's vice-president of soccer operations.
But many of the similarities are the result of intuition not imitation, Kuntz said.
"It's not like we're the first two teams to try to get young players out of South America," he said.
Still, there's enough in common to earn the philosophy its own name: MLS 3.0. Version 1.0 was the out-of-the-box MLS of the first season, 1996. That was replaced a decade later by rapid expansion that saw teams moving into soccer-specific stadiums with rosters dotted by aging European stars such as David Beckham or Thierry Henry.
Now it's the LAFC-Atlanta model that's being copied around the league.
Paul McDonough, instrumental in building Atlanta United's roster as the team's first vice-president, moved to a similar post with 2020 expansion team Inter Miami and Friday that team signed two Argentine attackers in teenagers Matias Pellegrini and Julian Carranza.
"When people compare us, they compare us in that sense. Team[s] that have quality players that want to play in the right way," LAFC midfielder Mark-Anthony Kaye said. "That's the way MLS needs to go."
Atlanta (11-9-3) is undergoing a bit of remake this season with Dutchman Frank de Boer replacing Martino as coach and Almiron leaving for the English Premier League. But De Boer team's struck first Friday, with Mo Adams banging a poor clearance off a long free kick past keeper Pablo Sisniega in the second minute, marking the third time in four games that LAFC has fallen behind in the first five minutes.
Adama Diomande evened things in the 33rd minute, running on to a low pass from Kaye as he entered the box, then using his left arm to ward off defender Michael Parkhurst before driving a shot past goalkeeper Brad Guzan.
The goal was the first Guzan had allowed in 199 minutes but he gave up three more before the half ended.
Vela's goal, which came on a penalty kick, was his 22nd in 21 games, keeping him on track to break Martinez's single-season record of 31 goals set in 2018.
Martinez canceled Vela's goal out with a score of his own in first-half stoppage time.
An own goal from LAFC's Eddie Segura at the start of the second half cut the lead to a goal and though Guzan made two splendid saves in the final eight minutes, Atlanta could get no closer.
"In the end it's another win," Vela said. "But we won against a really good team, the champion of MLS. We showed we are on the way to be a contender, to be a champion."
---
All about the beautiful game
Go inside the L.A. pro soccer scene and beyond in Kevin Baxter's weekly newsletter.
You may occasionally receive promotional content from the Los Angeles Times.