USMNT defeats rival Mexico for third time in 2021, moving closer to World Cup berth
CINCINNATI —
Like many neighbors, the U.S. and Mexico have a history of fighting over the same territory. Friday that territory was the 115 yards of wet ryegrass and synthetic turf that lines the floor of TQL Stadium.
And that dispute was settled, in part, by a player whose participation was in doubt until he came onto the field, with Christian Pulisic's goal in the 74th minute sparking the U.S. to a 2-0 victory.
The second goal came from Weston McKennie in the 85th minute, pushing the U.S. (4-1-2) past Mexico (4-1-2) atop the CONCACAF World Cup standings on goal differential halfway through the 14-game qualifying tournament. After two victories last summer, it also marked the first time the Americans have beaten Mexico three times in the same year.
The U.S. delivered an electric second half, with Christian Pulisic and Weston McKennie helping seal the Americans' 2-0 win over Mexico in a World Cup qualifier.
The final margin, meanwhile, was a familiar one: The Americans' last five qualifying wins over Mexico have all come in Ohio, all by 2-0 scores. Only this time they got a little help from Mexican goalkeeper Guillermo Ochoa, who added some spice to a rivalry that was already extra hot when he appeared to be dismissive of the U.S.
"Mexico has been a mirror in which they want to see themselves and reflect and want to copy," Ochoa told an interviewer, a comment U.S. coach Gregg Berhalter — and Pulisic — took as a lack of respect.
Pulisic, who hadn't played for the U.S. since turning an ankle in a September qualifier in Honduras, and hadn't scored for the U.S. since his penalty kick beat Mexico in June's Nations League final, answered five minutes after coming off the bench, weaving through traffic to get his head on the other end of Tim Weah's cross and score the only goal the Americans would need.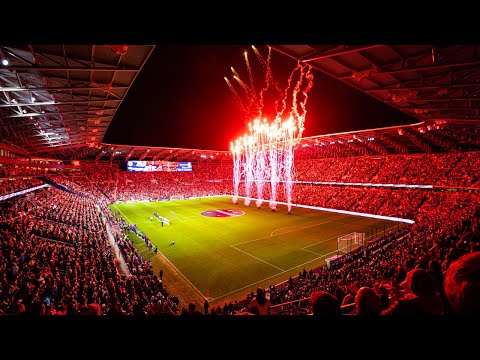 He then raced toward the corner flag and pulled up his No. 10 jersey to reveal a T-shirt that read "The Man in the Mirror," beating Ochoa again.
"It's an emotional game. It's a game that has an intense rivalry," Berhalter said afterward. "We're just talking about the rivalry with Mexico's team right now, not the country or not people.
"It's important just to acknowledge that we fiercely dislike Mexico's soccer team. We're fierce competitors and we want to win every time we're on the field."
Berhalter had focused most of his pregame comments not on mirrors or respect but rather on the importance of a home-field advantage. And he got that in Cincinnati on a night that was cold and wet, with a wind chill in the 30s under rainy skies.
The fin lighting ringing the stadium painted the top deck in red, white and blue while outside, vendors hawked U.S. and Mexican flags, scarfs and brightly colored serapes; few in the sellout crowd of 26,000 were cheering for the visitors. And the game they saw was taut before turning chippy midway through the second half, with the U.S. losing defender Miles Robinson to a red card in the final minute.
Berhalter's young lineup included two teenagers and six others aged 24 or younger. Only one player had previously participated in a qualifier against Mexico.
Mexico, on the other hand, started only one player under 24 — and six who had played in a World Cup.
That wide gap in experience showed in the early going, with only a diving one-handed save from keeper Zack Steffen preventing Hirving Lozano from giving Mexico a lead in the 18th minute.
Twelve minutes later another breakaway ended with Jesús Corona punching a right-footed shot wide of the near post. The second half was a different story.
"We lost our intensity," Mexican coach Tata Martino explained in Spanish.
The Americans picked up theirs.
"The second half is where we started to pull away," Berhalter said. "The second half is when we just go in, press them, be aggressive around the ball."
Pulisic, who came on for Brenden Aaronson, then took things up a notch, breaking open the scoreless game.
Eleven minutes later, McKennie put the game away, slicing a right-footed shot past Ochoa and into the bottom left corner.
"We talked about how we thought they didn't give us enough respect," Berhalter said. "That we had to go out and earn it. And I think we went out and earned it."