'Chicharito' scores in final minutes to lift Galaxy over New York City FC in opener
The Galaxy went into the final minutes of the final game with a playoff berth in hand last season, only to see it slip through their fingers when a fluke goal deep in stoppage time allowed Real Salt Lake to advance on the narrowest of margins, a goal-differential tiebreaker.
Four months later, the pain of that moment hasn't faded. Instead, it has motivated a team that is determined to not let its playoff hopes come down to the last game again this season.
The Galaxy got started on that mission Sunday, with Javier "Chicharito" Hernández's goal in the 90th minute providing the difference in a 1-0 season-opening win over New York City FC before a sun-soaked crowd announced at 25,174 at Dignity Health Sports Park.
"We didn't like the way last season ended," midfielder Sacha Kljestan said. "Obviously, you don't want to come down to your last regular-season game being a must-win game or being a playoff game-type atmosphere.
The Galaxy and LAFC used to be elite MLS franchises in the coveted Los Angeles market. Can Chicharito and Carlos Vela help their teams rediscover old glory?
"You want to have that slot locked up with the opportunity to play at home in the playoffs."
So Kljestan and many of the Galaxy's veterans vowed over the winter to make sure that didn't happen again. That determination was felt Sunday, with Hernández's score in the final minute of regulation turning a point from a well-earned draw into a three-point victory over the reigning league champions.
"It always feels good when you can get a win in the dying minutes of the game," Kljestan said. "It just gives you a lot of energy, and it kind of shows you the team has [guts] and belief.
"And three points is obviously better than one."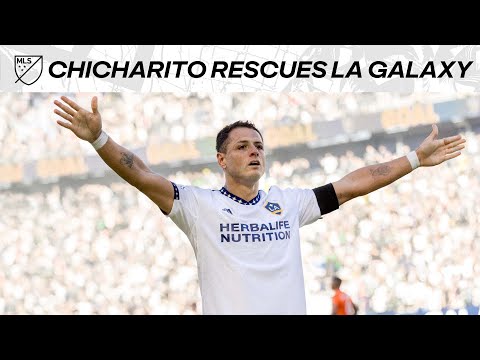 The only goal was a product of a lot of hard work from Galaxy defender Raheem Edwards and a savvy finish from Hernández.
The sequence began with Edwards trying to force a short pass through to Kljestan, who was being harassed by three players at the top of the box. New York's Keaton Parks wound up with the ball, but when he tried to dribble out of danger, Edwards won it back and quickly chipped a pass ahead for Hernández, who was darting between two defenders into the penalty area.
Hernández faked a shot with his left foot to draw a sliding Maxime Chanot to the ground, then cut back the other way to create space before drilling a right-footed shot in near the far post.
It was the Galaxy's second goal since 2015 against New York City, ending a four-game losing streak against the visitors.
"Last season, I scored 17 goals and then I was on my couch watching the playoffs, watching these guys lifting the trophy," Hernández said. "The beauty of our sport is most of the time you have the opportunity to redeem yourself.
"I'm very happy that my goal helped the team, but my goal wasn't everything. We had a clean sheet [at] home. The way that we fought back against the best team of MLS last season. So I think we grinded pretty well. All together a Galaxy win."
The game also marked the MLS debut of Douglas Costa, the 31-year-old Brazilian World Cup veteran who joined the team this month. He displayed occasional moments of brilliance in a 67-minute effort in which he put two shots on goal, the best of which forced New York keeper Sean Johnson to make a diving save of a hard left-footed shot at the near post in the sixth minute.
"You see qualities. And [an] intelligent player," Galaxy coach Greg Vanney said. "He put in a good shift on the defensive side. He was connected to the group. He did all of those things. And then obviously in possession, he's capable of a lot of things."
Costa, who played six seasons in Ukraine, celebrated his first MLS appearance by waving a yellow-and-blue Ukrainian flag on the field afterward.
For Vanney, it was a victory that had a little bit of everything: a defense that allowed just one shot on goal, a midfield that helped the Galaxy win the possession battle and keep New York City under pressure all afternoon, and a flag-waving nod to Ukrainian defiance of a Russian invasion.
Galaxy acquisition Douglas Costa became a star with Shakhtar Donetsk in Ukraine. Now he watches developments in his former home from afar with fear.
But it was just the first game. And as the Galaxy learned last year, it's not how the season starts but how it ends that counts.
"It's a really long season. We felt that last year because we were in it for 33 games and 85 minutes, and then at the end, not," Vanney said. "The first game is always a preseason effort preparation victory. But it's also a work in progress.
"If you can post shutouts, you're going to win a lot of games, and so for me that's the most important thing, is that the group showed the real resiliency and a willingness to compete and to protect their goal and protect the box. The rest of it will continue to grow."