U.S. Soccer report clears Gregg Berhalter, highlights Gio Reyna's parents' meddling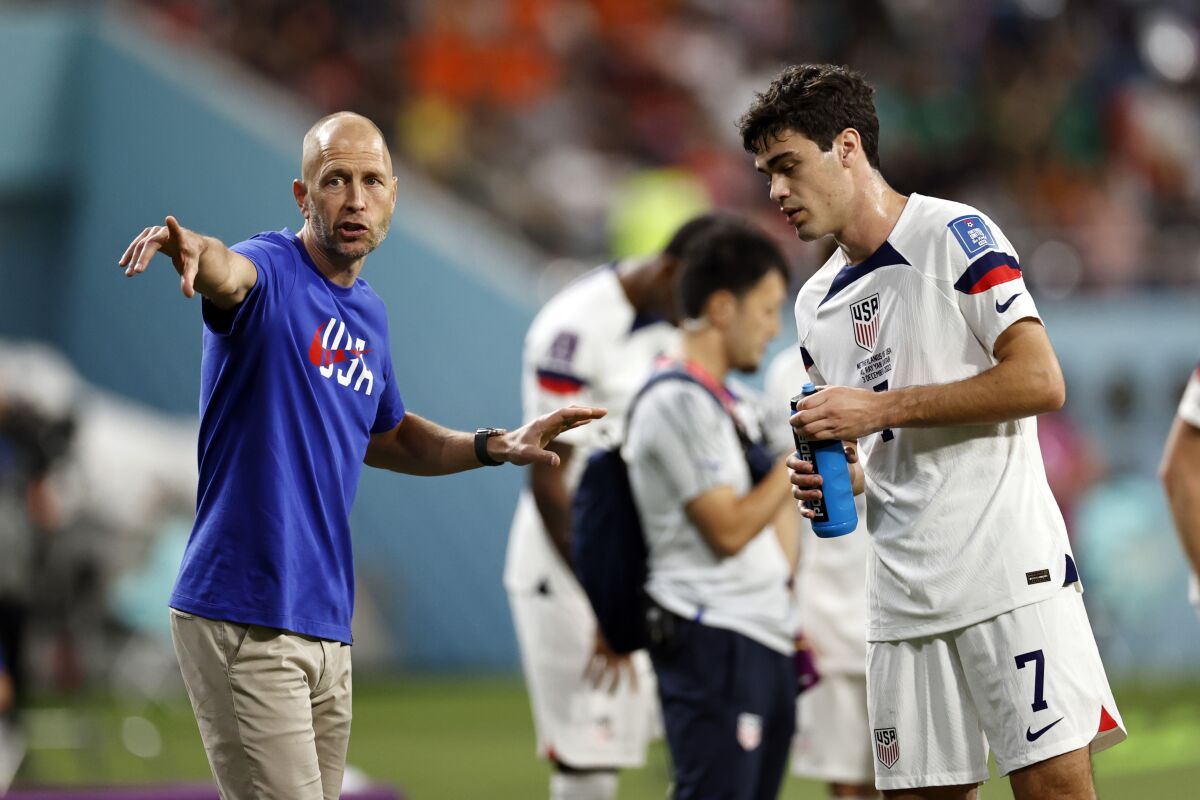 A three-month investigation into a decades-old physical altercation between former national soccer team coach Gregg Berhalter and the woman he would later marry has cleared Berhalter but revealed a lengthy series of inappropriate actions by the parents of USMNT player Gio Reyna.
The report, prepared by the Atlanta law firm Alston & Bird and released Monday by U.S. Soccer, found nothing that would prevent Berhalter from returning as coach of the U.S. team. Anthony Hudson, Berhalter's top assistant coach during last fall's World Cup, is currently managing the team on an interim basis as U.S. Soccer seeks a replacement for sporting director Earnie Stewart, who resigned last month.
Interviews for Stewart's replacement have already begun and U.S. Soccer President Cindy Parlow Cone said the person who is eventually hired will be responsible for selecting a coach. However, the federation made clear that Berhalter, who has the best winningest percentage for a U.S. coach who worked more than two games, will be considered for the job.
Gio Reyna's parents reported Gregg Berhalter's 31-year-old altercation involving his future wife but deny blackmailing the coach who did not play their son.
"Given the investigators' conclusion that there is no legal impediment to employing him, Gregg Berhalter remains a candidate to serve as head coach of the Men's National Team," the federation said in a statement.
Berhalter's contract with U.S. Soccer expired shortly after last fall's World Cup in Qatar, where the U.S. was eliminated in the round of 16. Days later, a personal feud erupted between the Berhalters and the Reynas that has put the leadership of the men's national team on an indefinite hold.
After returning to the U.S., Berhalter spoke at a leadership conference in New York, where he shared an anecdote about an unnamed player whose behavior in Qatar had been so disruptive that the coaching staff discussed sending the player home. Media reports later identified that player as Gio Reyna, who played just 52 minutes during the tournament and later apologized to his teammates for his attitude and lack of effort.
Reyna's parents, Claudio and Danielle, both former national team players who had been upset by their son's lack of playing time, complained to Stewart about Berhalter's comments and in a subsequent hourlong phone call, told Stewart about a 1992 incident outside a nightclub in which Berhalter pushed and kicked his girlfriend, Rosalind Santana. Santana was both a teammate and roommate of Danielle Reyna at North Carolina.
No police report on the incident was filed and Santana, who married Berhalter seven years later, did not seek medical attention.
Following the Reynas' phone call with Stewart, the Berhalters released a public statement in which Gregg Berhalter acknowledged and took responsibility for the physical assault. U.S. Soccer hired Alston & Bird to conduct a more detailed investigation. The law firm interviewed 16 people and reviewed emails, text messages and other materials, but said in its report that it did not uncover any evidence to contradict the Berhalters' account.
U.S. Soccer announces the departures of sporting director Earnie Stewart and GM Brian McBride. The men's team hasn't replaced coach Gregg Berhalter.
"The Investigation revealed the absence of any evidence or indication that Mr. Berhalter engaged in similar violent acts at any other point in time," the report concluded. "Based on the information obtained, we conclude that the 1992 Incident was an isolated event, and we find no evidence to suggest that Mr. Berhalter has engaged in similar misconduct at any other time."
However, the report did reveal a disturbing yearslong series of attempts by Claudio Reyna to influence his son's treatment by U.S. Soccer, behavior investigators called "inappropriate," "bullying" and "mean-spirited."
Stewart told investigators that Claudio Reyna began making complaints to him during the U-17 World Cup in 2019. Stewart said complaints focused on his son's lack of playing time, inadequate travel arrangements (specifically, not flying business class), and other instances when U.S. Soccer did not meet Claudio Reyna's standards.
Stewart also provided contemporaneous text messages from this period, adding that "in his more than 20 years 'in this business,' he has never had these types of discussions with other players' parents."
While the report suggested Claudio Reyna's actions may have violated FIFA policies, they did not violate any U.S. Soccer rules because there are none regarding coach-parent communications. The federation said Monday that it will address that by adopting guidelines protecting coaches and federation officials.
Hudson, who this week will announce his roster for upcoming Nations League games with Grenada and El Salvador, said he still considers Gio Reyna, 20, to be an important part of the team.
Some U.S. men's team players have voiced their support for former coach Gregg Berhalter
"The way I look at it is, this happened. Us as a staff made a decision to take action and there was a response from the player — a positive response. The camp ended," he said. "Beyond that, I don't see Gio's involvement in anything. We addressed it, there was a positive response.
"I'm not condoning anything that's happened, but it was more on a human level to go and see how he was, as a young kid who has been through a lot."
All about the beautiful game
Go inside the L.A. pro soccer scene and beyond in Kevin Baxter's weekly newsletter.
You may occasionally receive promotional content from the Los Angeles Times.