Pitt takes down No. 2 Clemson while Iowa topples No. 3 Michigan
Chris Blewitt made a 48-yard field goal with six seconds left as Pittsburgh stunned No. 2 Clemson, 43-42, spoiling a record-setting Saturday for quarterback Deshaun Watson and complicating the Tigers' path back to the College Football Playoff.
It was the biggest win for the Panthers (6-4, 3-3 Atlantic Coast Conference) since knocking off No. 2 West Virginia, 13-9, in 2007.
Watson threw for an ACC record 580 yards and three touchdowns for Clemson (9-1, 6-1). But his third interception gave Pitt the chance to crawl back from a 42-34 deficit. After Saleem Brightwell's pick and 70-yard return, James Conner finished the drive with a 20-yard TD run.
The Panther defense, which gave up 630 yards, rose up when it counted and stopped Wayne Gallman short on third and fourth down to take the ball with 58 seconds left. Two passes to Scott Orndoff put Pitt within range and Blewitt nailed the kick to send the Panthers into a frenzy.
Nathan Peterman had a career-best five TD passes and 308 yards. Conner rushed for 132 yards and a touchdown. He also caught one of Peterman's scoring throws.
Clemson had its offense going. Gallman ran for three TDs and Mike Williams had 15 catches for 202 yards and a touchdown.
It was Clemson's first loss at home since 2013 when Florida State, the eventual national champions, won 51-14. It was also the Tigers' first regular-season loss since November 2014 at Georgia Tech, a run of 23 straight games.
Iowa 14, No. 3 Michigan 13
Freshman Keith Duncan kicked a 33-yard field goal as time expired and the Hawkeyes won in Iowa City, damaging the Wolverines' playoff hopes.
Akrum Wadley had 115 yards rushing for the Hawkeyes (6-4, 4-3 Big Ten) in their first victory over a top-five team in six years.
Michigan (9-1, 6-1) appeared to have the game wrapped up on Channing Stribling's interception with 1:54 left. But the Hawkeyes' defense stuffed the Wolverines, and a facemask penalty put Iowa at Michigan's 36 with 1:23 to go.
Duncan then drilled the ball through the uprights from nearly the exact same spot where Daniel Murray hit the winner eight years ago to knock Penn State out of the national title picture.
But Michigan is still very much alive, in part because No. 2 Clemson and No. 4 Washington also lost Saturday.
Georgia 13, No. 9 Auburn 7
Rodrigo Blankenship kicked two fourth-quarter field goals and Georgia's defense shut down Auburn in the second half for the upset in Athens, Ga.
The loss ends Auburn's Southeastern Conference championship hopes and knocks the Tigers out of consideration for a spot in the playoff.
Auburn (7-3, 5-2 SEC) had been in control of its hopes to win the SEC's Western Division, with one conference game remaining at No. 1 Alabama. Instead, Alabama clinched the division with Auburn's loss.
The Tigers couldn't overcome the loss of star running back Kamryn Pettway, the nation's No. 4 rusher who hurt his left leg on a long run in last week's win over Vanderbilt. Pettway was with the team but not in uniform.
Auburn was held to 32 yards with no first downs in the second half, and 164 yards overall.
Georgia (6-4, 4-4) earned its biggest win under first-year Coach Kirby Smart.
Nick Chubb had 23 carries for 101 yards and Jacob Eason completed 20 of 31 passes for 208 yards without an interception.
No. 1 Alabama 53, Mississippi State 3
Jalen Hurts passed for career highs of 347 yards and four touchdowns and rushed for 100 yards in less than three quarters as the Crimson Tide routed the Bulldogs in Tuscaloosa, Ala.
The freshman quarterback's prolific performance wiped out any concerns that the Crimson Tide (10-0, 7-0 Southeastern Conference) would have a letdown after a bruising win at No. 19 LSU. Instead, Hurts turned in his best game and the defense denied Mississippi State (4-6, 2-4) the end zone on nine trips across midfield.
The Bulldogs had been riding high after an upset of No. 10 Texas A&M, but didn't muster a threat in this one.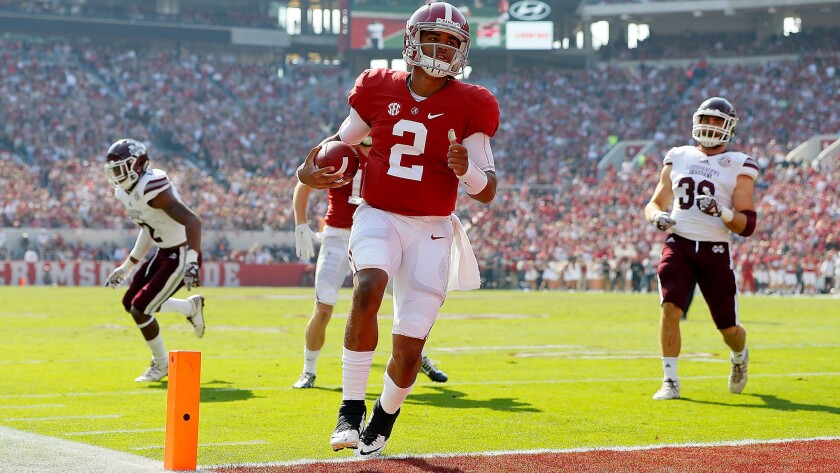 Hurts completed 28 of 37 passes and rushed for a fifth touchdown before being replaced by Cooper Bateman late in the third quarter. The career performance was marred by an interception and fumble, but the Tide's dominating defense made sure the miscues didn't matter too much.
No. 5 Ohio State 62, Maryland 3
J.T. Barrett accounted for four touchdowns, Curtis Samuel scored three TDs and Ohio State enjoyed another lopsided victory at College Park, Md.
Coming off a 62-3 roput of Nebraska, the Buckeyes led 21-3 after the first quarter and 45-3 at halftime. Unlike last week, this blowout was no surprise because it came against a struggling team with quarterback issues and a porous defense.
Ohio State (9-1, 6-1 Big Ten) has won three straight to remain in contention for the Big Ten title and, more importantly, a berth in the College Football Playoff. Maryland (5-5, 2-5) has been outscored 121-6 over the last two weeks and given up 163 points during its three-game losing streak.
With Barrett and Samuel leading the way, the Buckeyes eliminated any potential drama by scoring touchdowns on three of their four possessions in the first quarter.
No. 6 Louisville 44, Wake Forest 12
Brandon Radcliff rushed for three touchdowns during Louisville's 41-point second half, and the Cardinals roared to a victory in Louisville, Ky., despite a relatively quiet night for Heisman Trophy front-runner Lamar Jackson.
Louisville (9-1, 7-1 Atlantic Coast Conference) trailed 12-0 behind three lost first-half fumbles before shutting down the Demon Deacons, holding them to just 37 yards after halftime. That opened the door for Radcliff to run for 141 yards and TDs of 55, 7 and 19 yards.
Jackson appeared headed for his first scoreless game since Nov. 14 against Virginia before completing a two-yard pass to Cole Hikutini with 4:05 left for one of Louisville's five touchdowns in the fourth quarter. Ronald Walker also had a 31-yard interception return for a TD in the final period, and Malik Williams added a 2-yard run with 50 seconds left.
Jackson rushed for a game-high 153 yards on 22 carries, but he was held to 145 yards passing. It just didn't matter with Radcliff sparking Louisville to another blowout after one of its worst starts this season.
No. 7 Wisconsin 48, Illinois 3
Corey Clement ran for 123 yards and three touchdowns and Wisconsin intercepted four of Illinois quarterback Jeff George Jr.'s passes in the victory at Madison, Wis.
Dare Ogunbowale added 103 yards on seven carries for the Badgers (8-2, 5-2 Big Ten). They rushed for a season-high 363 yards as a team. Safety Leo Musso had two interceptions for the Badgers.
Wisconsin led by 18 after the first quarter with two scores from Clement, and 31-3 at the half on a homecoming weekend at Camp Randall Stadium. Illinois (3-7, 2-5) had just 60 yards and three first downs in the second half.
Mississippi 29, No. 8 Texas A&M 28
Shea Patterson threw for 338 yards and two touchdowns in his debut and Gary Wunderlich made a 39-yard field goal with 37 seconds left to lift the Rebels to the victory at College Station, Texas.
The Rebels pulled the redshirt off Patterson, the highly regarded recruit, to start in place of Chad Kelly, who suffered a season-ending knee injury last week.
Mississippi (5-5, 2-4 Southeastern Conference) trailed by 15 entering the fourth quarter before Patterson got going.
A 13-yard touchdown reception by Josh Reynolds put A&M up 28-19. Patterson then connected with Van Jefferson on a 32-yard reception for his second TD pass of the quarter to cut the lead to 28-26 with 5:17 remaining.
A&M (7-3, 4-3) had to punt and Patterson moved the offense into position for Wunderlich's game-winning field goal.
No. 10 Penn State 45, Indiana 31
Saquon Barkley ran for two go-ahead touchdowns in the fourth quarter, helping the Nittany Lions win in Bloomington, Ind.
Barkley was held to 20 yards on 20 carries though the first three quarters. But the Big Ten's top rusher stepped up in the final period, helping the Nittany Lions (8-2, 6-1) keep pace with No. 3 Michigan in the East Division with their sixth consecutive victory.
First, Barkley found a hole for a four-yard TD run that made it 28-24. After Indiana regained the lead on Richard Lagow's 40-yard touchdown pass to Nick Westbrook, Barkley ran over a defender for a two-yard score with 3:58 left.
Penn State sealed the win with a nine-yard fumble return for a TD with 29 seconds left.
Barkley finished with 60 yards on 33 carries. Trace McSorley was 16 of 30 for 332 yards with two TD passes and two interceptions. Indiana (5-5, 3-4) had won two in a row. Lagow was 23 of 40 for 292 yards and two TDs, and Devine Redding ran 23 times for 108 yards and two scores.
No. 11 Oklahoma 45, Baylor 24
Baker Mayfield passed for 300 yards and two touchdowns and ran for another score to help the Sooners win in Norman, Okla.
The Sooners won their seventh in a row overall and 15th straight in Big 12 play. Joe Mixon had 187 yards from scrimmage and Samaje Perine ran for 100 yards and two touchdowns after missing three games with a pulled muscle in his right leg for Oklahoma (8-2, 7-0 Big 12).
Baylor (6-3, 3-3) had hoped to bounce back after last week's 62-22 loss to TCU. Instead, the Bears are on their first three-game losing streak since the middle of the 2012 season.
Baylor quarterback Seth Russell severely dislocated his left ankle and was carted off the field with 5:48 left in the third quarter. He passed for 148 yards and ran for 70 before getting hurt, but he threw two interceptions and lost a fumble.
No. 16 West Virginia 24, Texas 20
Kennedy McCoy ran for two touchdowns and the Mountaineers' defense withstood a final pass attempt into the end zone to earn a win over the Longhorns that kept alive the West Virginia's Big 12 Conference championship hopes.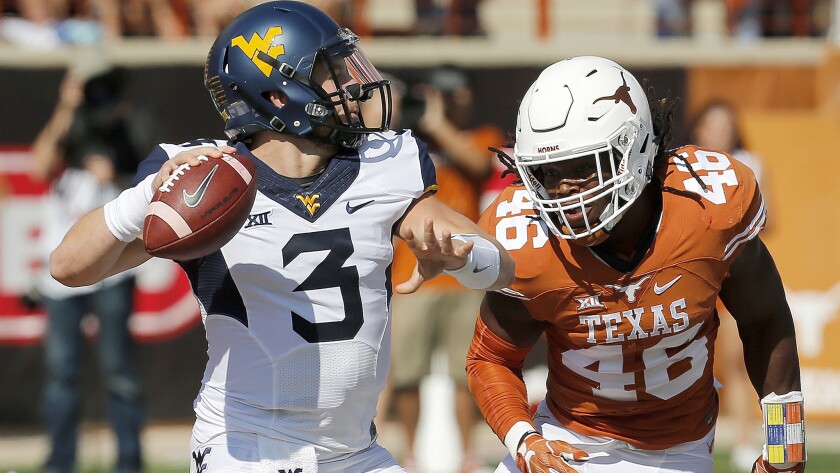 Skyler Howard passed for 269 yards and a touchdown for West Virginia (8-1, 5-1), which allowed Texas running back D'Onta Foreman 167 yards rushing but kept him out of the end zone.
Texas' last shot to win came on the final play when Texas (5-5, 3-4) quarterback Shane Buechele lobbed a pass high into the endzone but it floated too far and incomplete. Game officials checked replay to see if West Virginia's defense had too many players on the field but confirmed the play and the game was over.
The win sets up a big game next week at home for the Mountaineers against Big 12 leader Oklahoma. The Mountaineers have not yet won a league title since joining the Big 12 in 2012.
Foreman's 11th consecutive 100-yard game tied former Heisman Trophy winner Earl Campbell's Texas school record.
No. 13 Oklahoma State 45, Texas Tech 44
Clayton Hatfield missed the extra point after Quinton White's one-yard scoring run for Red Raiders with 1:39 left, and the Cowboys escaped with the victory in Stillwater, Okla.
Texas Tech (4-6, 2-5 Big 12) appeared to have overcome a 10-point deficit when White spun into the end zone on third-and-goal, but Hatfield's kick sailed wide right, leaving the Red Raiders down by one.
After Oklahoma State (8-2, 6-1, No. 13 CFP) recovered the onside kick attempt, the Cowboys marched quickly into the red zone, and resisted Tech's attempts to let them score before running out the clock.
Mason Rudolph threw for 395 yards and two touchdowns on 20-of-28 passing for Oklahoma State, and Justice Hill had 126 yards and a touchdown on 18 carries. James Washington registered six receptions for 158 yards, including an 82-yard TD catch with 6 seconds left in the third quarter that put the Cowboys ahead 45-35. Tech's Patrick Mahomes completed 34 of 51 passes for 344 yards and three touchdowns
No. 14 Georgia Tech 30, Virginia Tech 20
Georgia Tech backup quarterback Matthew Jordan rushed for 121 yards and two touchdowns to lead the Yellow Jackets to the win in Blacksburg, Va.
Jordan made his first career start in place of an injured Justin Thomas, helping make the Yellow Jackets (6-4, 3-4 Atlantic Coast Conference) bowl eligible. He repeatedly gashed the Hokies' defense, carrying 32 times and scoring on runs of 53 and 3 yards.
Marcus Marshall added 143 yards rushing and a score.
Virginia Tech (7-3, 5-2, No. 14 CFP) missed a chance to clinch the ACC's Coastal Division.
No. 19 Nebraska 24, Minnesota 17
Tommy Armstrong Jr. led a 91-yard tiebreaking touchdown drive after being helped off the field with an ankle injury the previous series, and Kieron Williams' interception with 1:29 left secured the Cornhuskers' win in Lincoln, Neb.
Armstrong, knocked unconscious in last week's loss at Ohio State, was cleared to start against the Gophers and was playing one of his best games in weeks when he injured his left ankle on a quarterback sneak late in the third quarter.
He came back to loud cheers on the Cornhuskers' early in the fourth and scored the go-ahead touchdown on a 13-yard run with 7:17 left. He stumbled into the end zone, came up hobbling again and was carried to the sideline by two offensive linemen.
Williams' intercepted Mitch Leidner's tipped pass after the Gophers had driven to the Nebraska 17, and backup quarterback Ryker Fyfe took the final snaps as the Huskers (8-2, 5-2 Big Ten) won for the first time in three games and a week after getting humiliated 62-3 at Ohio State.
Minnesota (7-3, 4-3) had its four-game win streak ended.
No. 22 Boise State 52, Hawaii 16
Brett Rypien passed for 338 yards and four touchdowns and the Broncos (9-1, 5-1 Mountain West) racked up a season-high 603 yards of total offense, 403 of them coming before halftime, during the victory at Honolulu.
Jeremy Nichols, the nation's leading scorer, ran for 153 yards on 16 carries and scored on runs of 36 and 5 yards. Rypien finished 18-of-22 passing.
Cedrick Wilson had game highs of seven receptions and 141 yards with a touchdown and Thomas Sperbeck added five grabs for 114 yards and two scores.
The Broncos scored touchdowns on six of their first seven possessions and found the end zone on all four of their red zone attempts.
Paul Harris ran for 145 yards and Rigoberto Sanchez made field goals of 24, 32 and 35 yards for the Rainbow Warriors (4-7, 3-4).
No. 24 Louisiana State 38, No. 25 Arkansas 10
Derrius Guice rushed for a career-high 252 yards and Leonard Fournette added three touchdowns as the Tigers improved to 4-1 under interim coach Ed Orgeron with victory at Fayetteville, Ark.
The win ends a two-game losing streak against the Razorbacks for the Tigers (6-3, 4-2 SEC, No. 24 CFP), who were coming off a 10-0 loss to No. 1 Alabama.
Guice rushed for two touchdowns on 21 carries, and his 96-yard touchdown run in the fourth quarter was the longest in school history. Fournette scored on runs of 7, 7 and 3 yards for LSU, finishing with 98 yards rushing on 17 carries.
The Tigers outgained Arkansas (No. 25 CFP) 547-291 in total yardage, and LSU quarterback Danny Etling finished 10-of-16 passing for 157 yards.
Rawleigh Williams accounted for 103 total yards to lead the Razorbacks, while Austin Allen was 15-of-31 passing for 210 yards and two interceptions.
---
Get our high school sports newsletter
Prep Rally is devoted to the SoCal high school sports experience, bringing you scores, stories and a behind-the-scenes look at what makes prep sports so popular.
You may occasionally receive promotional content from the Los Angeles Times.