The long history of Blair Field has featured lots of high stakes, last-out moments, but perhaps no emotional swing was heavier than Sunday afternoon.
Silence fell on one side of the venerable stadium while frenzy consumed the other when Cal State Fullerton's Brett Conine struck out David Banuelos for a 2-1 win against Long Beach State that sent the Titans to the College World Series.
Electric atmosphere. Taut drama. Masterful pitching and clutch defense. Game 3 of an NCAA super regional fulfilled its promise and packed it with bigger meaning.
"That's what it's supposed to be like," Cal State Fullerton coach Rick Vanderhook said. "Southern California is not like that, at all, and I think today was probably the most energetic college baseball game in the history of Southern California that I've ever seen in my career here so far."
Right-hander Colton Eastman took a no-hitter into the sixth inning and Conine made a six-out save to give the Titans a matchup with No.1 national seed Oregon State in Omaha.
Fullerton won with two hits. The game winner was a two-run single by Hank LoForte in the fourth inning, and Conine navigated eighth and ninth innings in which the Dirtbags put runners on third base, only to see the final snapshot a Titans dogpile near their dugout.
"This is huge," shortstop Timmy Richards said. "There's no better way than to do it than to beat them at the field [and] get to go to Omaha one last time."
Eastman won a regional-clinching game for the second straight week in his longest outing of the season at 106 pitches. He didn't think he would see Omaha when he injured his elbow this season, nor did he care that Long Beach State had won five of six games against Fullerton in the regular season.
"You can have the Big West, but I'll take Omaha," Eastman said when asked about the meaning of his celebration upon getting his last out.
Dirtbags starter John Sheaks gave up no hits in the first three innings to match Eastman, and LoForte's single was the first hit of the game.
"I think it's probably my biggest accomplishment in my career," LoForte said.
It would have been a feat for Long Beach State to reach its first College World Series since 1998. It managed four runs and stranded 28 runners in the three-game series.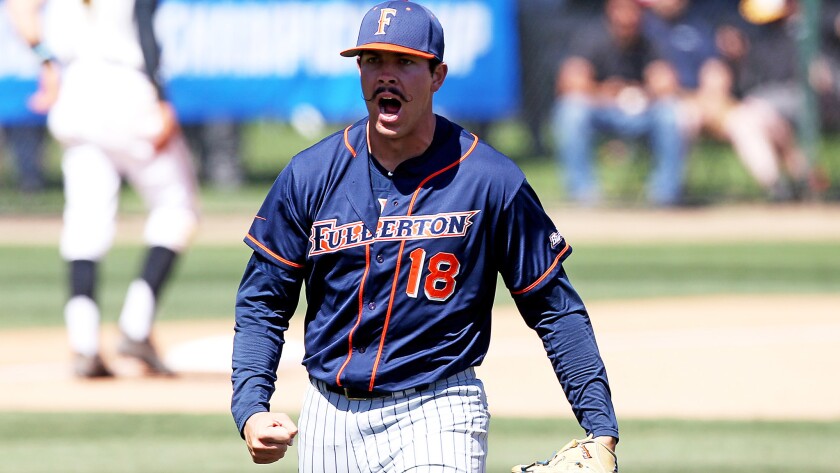 The Dirtbags ended a scoreless streak at 22 innings, from the second inning of Game 1 to the sixth inning Sunday, when a passed ball by Chris Hudgins allowed Jarren Duran to score.
That was all their scoring. Richards made a highlight throw on Laine Huffman's grounder to deep short for the first out of the eighth.
Coach Troy Buckley said the Dirtbags chased fastballs up and took strikes on the outer half of the plate.
"The strikeouts have been a problem for us, it's just the strikeouts that we had when runners were in scoring position," Buckley said. "You don't make them play catch. And their defense was fantastic. Their outfield, boy, it looked like there was six guys out there at times."
Buckley and Vanderhook were frustrated that the two best Big West teams were forced to play each other to get to the final eight.
The immediate frustration for the Dirtbags, though, was evident in Duran's face, smeared with eye black. Asked what it felt like to see the Titans celebrate on their field, Duran said, "I can't say that."
---