Jeremy Lin has dreadlocks now, and it's fine with him that Kenyon Martin doesn't like them
Jeremy Lin has dreadlocks now. Pretty cool, huh?
Well, some people don't think so. But that's OK with Lin. The one-time Laker and current member of the Brooklyn Nets thinks everybody is entitled to their own opinions.
That's exactly what Lin told one such critic, former NBA star Kenyon Martin — that and lots of other really nice stuff in response to the first of two videos Martin posted Wednesday on the topic of Lin's hair.
In the first video, Martin stated, "Do I need to remind this damn boy that his last name Lin?" and "All right bro, we get it. You wanna be black."
Lin responded in the comment section of Martin's post:
"Hey man, its all good. You definitely don't have to like my hair and definitely entitled to your opinion. Actually i legit grateful you sharin it tbh. At the end of the day, i appreciate that i have dreads and you have Chinese tattoos bc I think its a sign of respect. And i think as minorities, the more that we appreciate each others cultures, the more we influence mainstream society. Thanks for everything you did for the nets and hoops ... had your poster up on my wall growin up."
Later that day, Martin posted his second video, in which he said Lin can wear his hair any way he likes.
"That man grown. That man can rock whatever hairstyle he wanna rock. That don't mean I have to like it or agree with it," Martin said. "Second of all, I'm grown. I can say whatever I wanna say about whatever I wanna say about. It ain't about race, it ain't about none of that. Like, grow up people. It was a joke. But I don't like it, I don't agree with it, so it is what it is."
Following the Nets' 107-88 preseason win over Miami on Thursday, Lin was still in a gracious mood about the Martin situation.
"At the end of the day … we need to spend a little more time thinking about what it'd be like to be somebody else," Lin told the New York Post. "He said what he said but I'm not really that offended. If that's how he thinks, that's how he thinks. But my job is to be gracious, loving and if I can just share with him a little of my side I think the next time maybe he'll have a different viewpoint."
Lin has worn a variety hairstyles during his seven-year NBA career. This is how he looked during the 2014-15 season with the Lakers: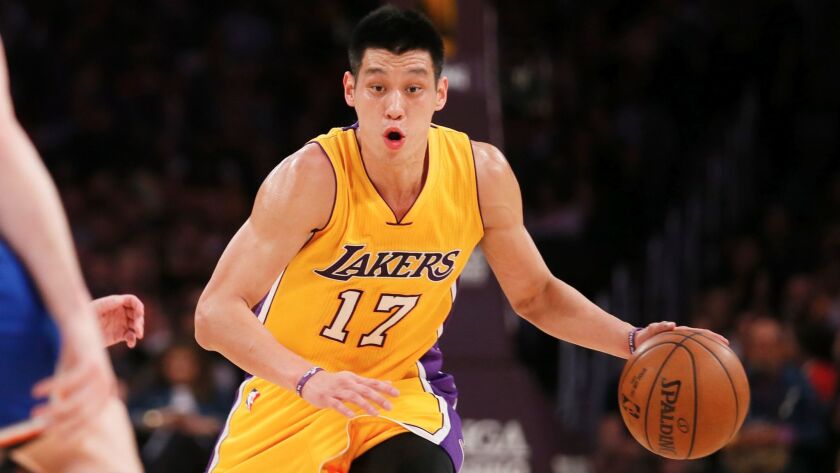 The following season he played for the Charlotte Hornets and looked like this:
Sometimes he has gone with the braided look: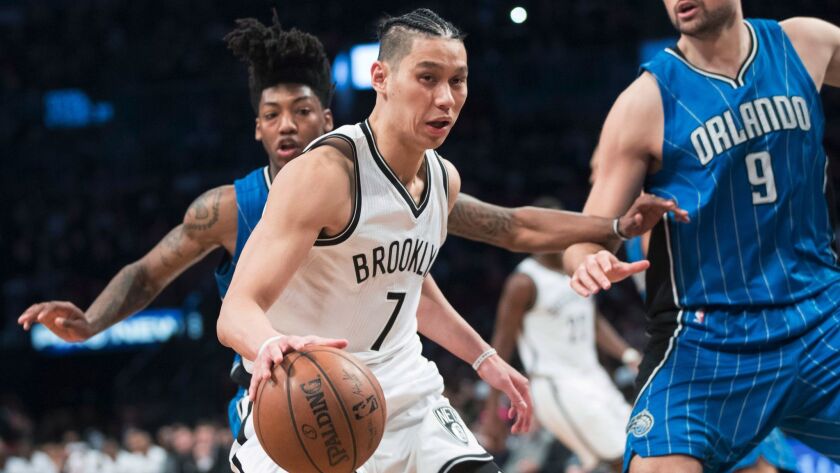 And now, he's got dreads, a look Lin said he put a lot of thought into.
"A recent conversation I had with Savannah Hart, a Nets staff member who's African-American, really resonated with me," Lin wrote in a post this week for the Players' Tribune. "I told her about my thought process — how I was really unsure about getting dreads because I was worried I'd be appropriating black culture. She said that if it wasn't my intention to be dismissive of another culture, then maybe it could be an opportunity to learn about that culture."
Later in the article, he wrote:
"Over the course of the last few years and all these hairstyles, I've learned that there's a difference between 'not caring what other people think' and actually trying to walk around for a while in another person's shoes. The conversations I had weren't always very comfortable, and at times I know I didn't say the right things. But I'm glad I had them — because I know as an Asian-American how rare it is for people to ask me about my heritage beyond a surface level.
"It's easy to take things that we enjoy from other cultures — that's one of the coolest things about a melting-pot society like ours. But I think we have to be careful that taking doesn't become all we do. With all the division, political turmoil and senseless violence in our society right now, we need to talk to each other more than ever."
Twitter: @chewkiii
ALSO
Redskins' Terrelle Pryor: 'You keep calling us the N-word, we going to start acting up'
Dodgers outfielder Enrique Hernandez urges President Trump to show sympathy for Puerto Rico
Who will Cody Bellinger be in the playoffs? Here's what the data can tell us
---
Get our high school sports newsletter
Prep Rally is devoted to the SoCal high school sports experience, bringing you scores, stories and a behind-the-scenes look at what makes prep sports so popular.
You may occasionally receive promotional content from the Los Angeles Times.