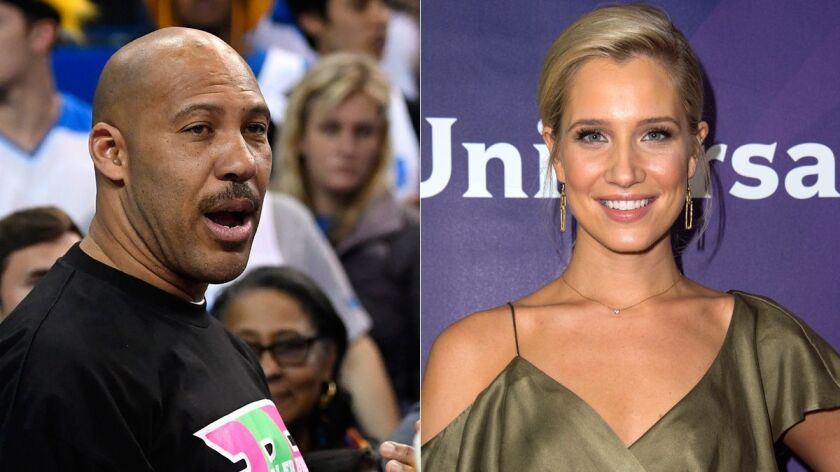 LaVar Ball suggested Wednesday that his Big Baller Brand company isn't interested in marketing toward women because it isn't "a woman's company."
During an interview on Fox Sports Radio's "The Herd With Colin Cowherd," Ball got into an argument with co-host Kristine Leahy, whom he described as "a hater" because she had said she wouldn't want to wear a shirt with the words "Big Baller" on it.
Leahy told Ball, "I think in order to have a successful company, you're going to have to have women who like your brand."
Ball replied: "Uh, yeah, if you have a women's company. But, anyways, we're talking about Big Baller Brand."
The company website does feature a page that offers nine women's shirts from $40 to $50.
The friction between Leahy and Ball started earlier in the interview, when Ball was discussing his son Lonzo's $495 signature shoes with Cowherd. When Leahy joined the discussion to ask how many pairs of shoes had been sold, Ball paused for a minute before telling her, "Stay in your lane."
Ball went on to say Leahy "scares me to death" and "I'm talking to you, Colin."
Later in the interview, Leahy accused Ball of disrespecting women.
He responded: "Oh, I don't respect women, but I'm the one that's married? … I never disrespect women, but if you act like that, guess what? Something's coming to you."
Also during the interview, Ball made a crack about Fox Sports journalist Jason Whitlock's weight ("I don't think he can comment on anything but snacks") and said Lonzo Ball will only work out for the Lakers, who have the No. 2 pick in the NBA draft ("He's only going to go to the Lakers, so why should we work out for 40 different teams or two or three different teams?").
Twitter: @chewkiii
---