Morning Briefing: If you see Aubrey Huff, don't mention spin rate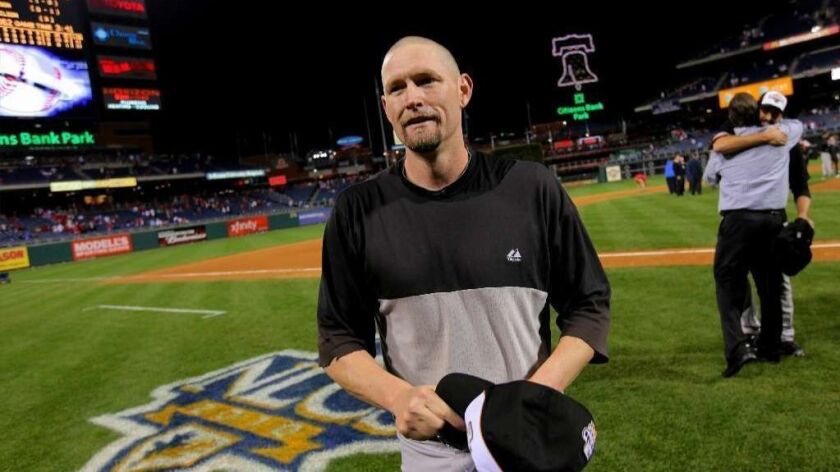 Twitter can provide hours of entertainment if you follow the right people.
Aubrey Huff played in the majors for 13 seasons (2000-12) and was never paid more than $10 million a year. And now he's wishing he were playing nowadays so he could earn some Manny Machado money. Huff tweeted the following after learning of Machado's 10-year, $300-million deal with the San Diego Padres:
"Congrats to Manny! My first 7 seasons vs Machado. Who you signing? AVG tied .282 HR Machado 175 to 152. RBI's Me 545 to 513. OBP Me .340 to 335. SLG Machado .487 to 468. Identical stats. Wish I was 10 years younger. Thought this would be a fun comparison for the MLB fans."
After a fan pointed out Machado played a key defensive position (short or third) unlike Huff, he responded with a shot at Machado.
"OK. Well I was versatile enough to play 1st, 3rd, LF, and RF allowing the manager to put the best possible offensive lineup on any given day. I highly doubt Manny would agree to play outfield. I had no chance at a gold glove because I played everywhere. #utility guy"
Then a fan made a grave mistake. He pointed out that some of the newer stats developed the last couple of seasons showed Machado as much better than Huff. The fan also tagged Keith Law, a baseball analyst who has written books on those new stats, in the tweet. That set Huff off.
"@keithlaw is the poster child for the new era of pointless stat geeks. These guys weren't good enough to actually play baseball but found a way to use irrelevant stats like launch angle, and spin rate to be relevant and be around a game that didn't want them between the lines.
Law responded, "You think an invisible sky fairy made people."
Huff: "For your sake Keith I hope you're right. I hear there is a high demand for stat nerds in hell."
And that's how you can spend an enjoyable morning watching crazy people fight on Twitter. It's like pro wrestling without the commercials.
Last of his kind?
San Francisco Giants manager Bruce Bochy announced earlier this week that he would retire at the end of this season, ending a great run that has included three World Series titles and almost certain future induction into the Baseball Hall of Fame.
Giants pitcher Jeff Samardzija also says it marks the end of managers who make their own decisions without heavy input from the front office.
"He's just a dying breed," Samardzija said Wednesday. "Unfortunately after this you're going to have 30 puppets out there."
Best sports movie
Well, we have reached the finals of the poll on best sports movie that we've been conducting here and via our daily sports newsletter.
After several rounds of voting and thousands of votes, we are down to the final five. So please vote for what you feel is the best of the movies listed below by typing in the URL: poll.fm/10245624 or emailing me at houston.mitchell@latimes.com. Results will be announced Monday.
Here are the finalists:
"Field of Dreams"
"Rocky"
"Hoosiers"
"Bull Durham"
"A League of Their Own"
---
Get the latest on L.A.'s teams in the daily Sports Report newsletter.
You may occasionally receive promotional content from the Los Angeles Times.