Morning Briefing: Technology can be a wonderful thing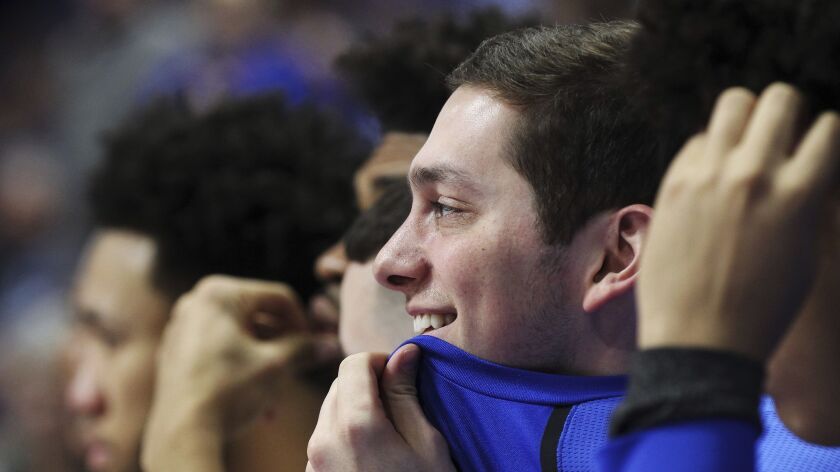 Which came first, the chicken or the egg? If a tree falls in the forest and there's nobody there to hear it, does it make a sound? How many licks to get to the center of a Tootsie Pop? These are the questions that have plagued mankind for centuries. But Joe David, coach of the Mt. Lebanon High boys' basketball team in Pittsburgh, had a more difficult question to answer.
Does he coach his team in the state playoffs, or does he go watch his son, a senior, compete for the University of Kentucky basketball team on Senior Day? If only there was some technology that allowed him to be in two places at once.
David figured out that there was.
David watched his son Jonny play for the Wildcats, then later that day, from his hotel room in Lexington, Ky., he used the FaceTime app on his mobile phone to coach his high school team, which was playing in Peters Township, Pa.
How it worked: A Mt. Lebanon junior varsity player FaceTimed the game on the sideline to David on his phone and relayed his coaching instructions to an assistant coach. David was able to call most of the plays and make the player substitutions.
And both of David's teams won, by almost identical scores. Kentucky beat Florida 66-57 and Mt. Lebanon defeated Manheim 67-57 in a first-round playoff game.
"I asked [Mt. Lebanon assistant coach] Tyler Bluemling, 'Do you think any coaches have done this before?'" David told the Pittsburgh Post-Gazette. "He said, 'I think we made basketball history.' "
"It's not easy because it's like you have two families," David said. "There's my family and my son. Then sort of your extended family is the team. You put in a lot of time and effort, and you don't want to let the team down. But I think they understood. It's a once-in-a-lifetime thing with my son. It was a tremendous, tremendous day for Jonny. The outpouring of love and support for him at Kentucky was amazing. To have missed that would've been a huge regret for me. To have lost the [PIAA] game would've been a regret, too. But that was one I could live with the rest of my life.
Mr. Clutch 2.0
Since revealing she's dating the son of NBA legend Jerry West in January, golfer Michelle Wie has posted several pictures of herself with Golden State Warriors executive Jonnie West on Instagram.
The most recent was posted Sunday night, and it was a special one — Jonnie West on one knee in front of Wie.
That's right, they're engaged.
No details are known about any wedding plans, but that goes along with the private nature of the couple. The little information out there about their relationship comes from Instagram.
Also thanks to Instagram, we know that golfer Justin Thomas apparently was the one who introduced the two of them. According to the New York Post, Thomas wrote Sunday on Instagram, "Can definitely say this set up went as well as possible! Happy for you two love birds."
Wie replied, "You should start a matchmaking business."
Who's going to win?
Winning this week's Pac-12 men's basketball tournament is the only way UCLA or USC will make it into the NCAA tournament, and that's not looking good. Betting odds for the Pac-12 were released on Monday and neither team is exactly favored to win.
Washington, 9-4
Arizona St, 7-2
Oregon, 4-1
Colorado, 13-2
Oregon State, 13-2
Utah, 10-1
Arizona, 16-1
UCLA, 18-1
Stanford, 20-1
USC, 20-1
California, 200-1
Washington State, 200-1
---
Get the latest on L.A.'s teams in the daily Sports Report newsletter.
You may occasionally receive promotional content from the Los Angeles Times.