Paralympian Amy Purdy discusses Week 1 on 'Dancing With the Stars'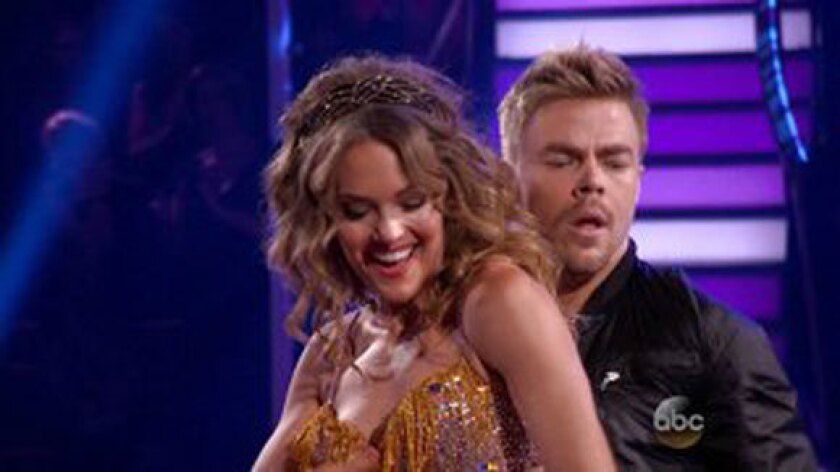 The Times is pleased to have Amy Purdy, who won a bronze medal in snowboardcross at the 2014 Paralympics, guest-blogging for us while she competes on "Dancing With the Stars." Purdy answered a few questions from Sports Now editor Houston Mitchell. Here are Purdy's thoughts about Week 1 of the competition, which she offered via email.
Q. You were training for "Dancing With the Stars" while competing in the Paralympics. What was a typical day for you?
I started my day off by snowboarding for four hours. then I'd do a little physical therapy on my legs. I'd then take three gondolas down from the Athlete's Village to meet Derek and we would run back to his hotel to dance for 3-4 hours and I would do it again then next day for about four days in a row. That's was it...that's all the training I got...really squeezing in time any place we could. It was crazy...but lots of fun too.
Q. Were you a fan of "Dancing With the Stars" before you agreed to be on the show?
Yes, Derek was my favorite dancer and I always thought it would be an amazing glamorous show to be part of.
Q. You almost brought Carrie Ann Inaba to tears in your first week. You have to walk the fine line of being an inspiration to so many people, while also wanting to be treated like any other competitor on the show. How difficult is that?
I believe inspiration is contagious. My motivation is not to try to inspire, but rather to do things that inspire me and hopefully that will spread to others. I'm not trying to be an inspiration, but I'm flattered to be considered one.
Q. What's more nerve-wracking, the moments before your first Paralympic run, or the moments before you stepped onto the stage the first time?
Definitely the Paralympic runs because there [were] years and years of preparation leading to that one moment. For my dance tonight I just jumped in feet first with very little preparation, and frankly, I was so jet-lagged that I didn't really have much time or energy to overthink it. We just went out and did it...and it was a blast! I'm really looking forward to next week.
You can follow Amy Purdy at her website, amypurdy.com and on Twitter: @AmyPurdyGurl
ALSO:
San Diego hoping to make money from 2021 U.S. Open
Indiana WR Isaac Griffith in critical condition after water accident
Indianapolis colts owner Jim Irsay arrested on suspicion of DWI
---
Get the latest on L.A.'s teams in the daily Sports Report newsletter.
You may occasionally receive promotional content from the Los Angeles Times.