Barry Bonds loses collusion case against MLB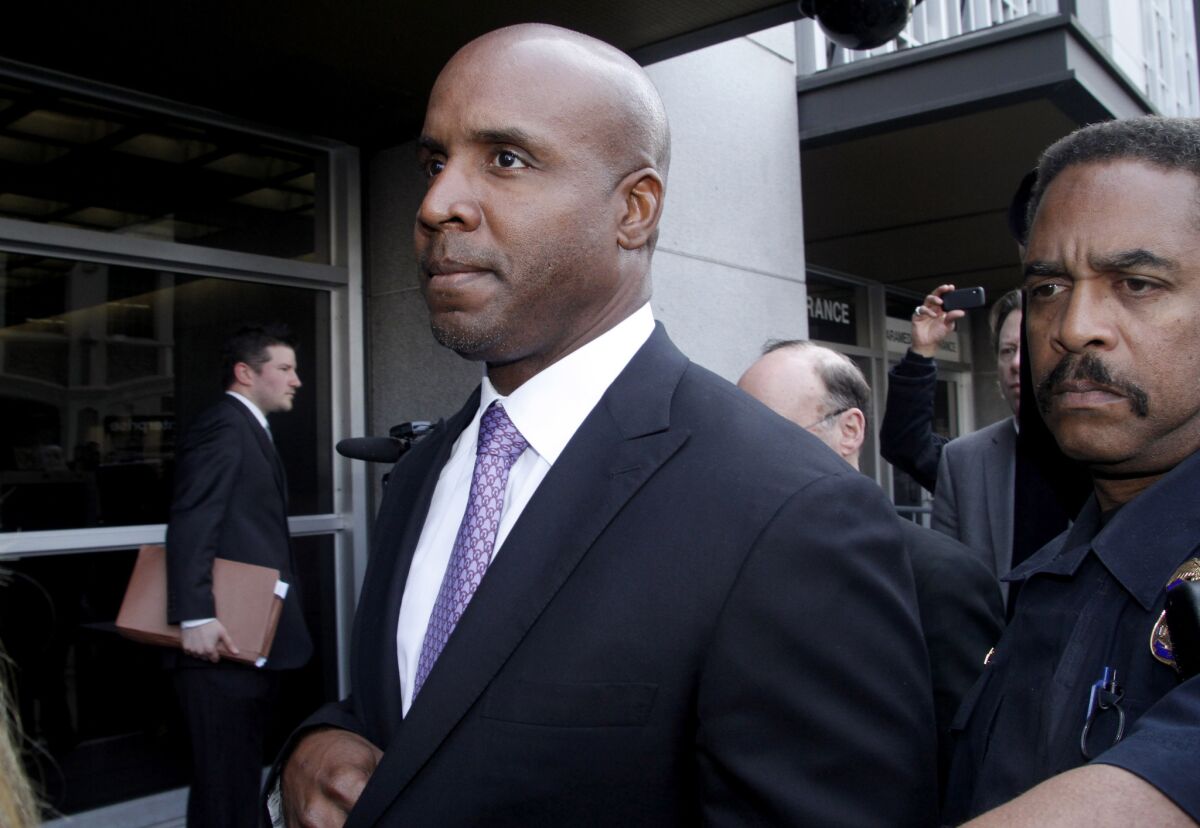 Barry Bonds has lost his collusion grievance against Major League Baseball.
Bonds could not find a job after the 2007 season, in which he hit 28 home runs and led the league with a .480 on-base percentage. In November 2007, he was charged with perjury and obstruction of justice after telling a federal grand jury he had not knowingly used performance-enhancing drugs.
In April, when an appellate court overturned the lone conviction for obstruction, prosecutors had lost on every charge. Bonds then pursued the collusion case against MLB, but an arbitrator ruled against him, as first reported Thursday by CBS Sports and confirmed by The Times.
In September 2007 -- one month after he broke Hank Aaron's all-time home-run record -- the San Francisco Giants told the 43-year-old Bonds they would not offer him a new contract. No other team offered him a contract either, even after Bonds' agent suggested his client would play for the major league minimum salary, which would have meant a pay cut from a base salary of about $15 million to $500,000.
In 2008, the Major League Baseball Players Assn. said it had evidence teams had violated the collective bargaing agreement by acting in concert to keep Bonds out of the game. Baseball's arbitrator, Fredric Horowitz, apparently decided any such evidence was circumstantial rather than damning -- that is, arguing that players with similar statistics do not remain unemployed is not sufficient to show that teams conspired against Bonds.
Bonds, the only seven-time most valuable player, has not played since then. He has failed to get more than 36.8% of the vote in his three appearances on the Hall of Fame ballot, as voters have overwhelmingly rejected players linked to steroid use.
However, Bonds has seven years remaining on the ballot. He might never get the 75% required for election, but his numbers could go up significantly in the next election, now that the Hall of Fame has purged older voters that generally are believed to be among the most hard-line in their opposition to players tied to steroids.
---
Get our high school sports newsletter
Prep Rally is devoted to the SoCal high school sports experience, bringing you scores, stories and a behind-the-scenes look at what makes prep sports so popular.
You may occasionally receive promotional content from the Los Angeles Times.