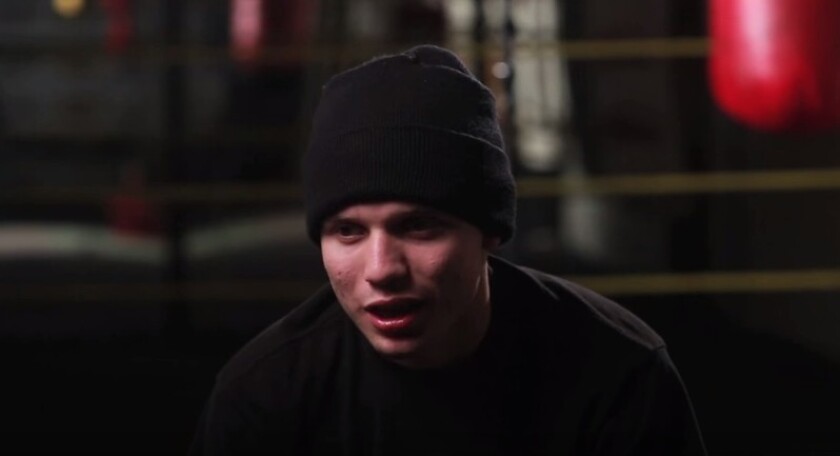 Julian Ramirez missed weight, but not his punches.
The unbeaten fighter from East Los Angeles lost a chance to win a minor World Boxing Council belt by weighing 1.4 pounds over the featherweight limit for Friday's bout against San Diego's Chris Martin at the Belasco Theater in downtown Los Angeles.
Ramirez (16-0) set that disappointment aside and dominated Martin (28-7-3), winning a unanimous decision by judges' scores of 100-90, 99-91 and 99-91.
Pleased with the showing, Ramirez said, "For my next fight, I know that I need to . . . focus on training and not get caught up with any distractions."
Ramirez said he fell ill with stomach flu during the run-up to the bout and missed a full week of sparring and training. A hot bath didn't shed the weight he thought it would. Still, he says he intends to remain a featherweight.
The sharpness of Ramirez shined, allowing him to land repeated punches and well-timed jabs while moving well out of harm's way and into position to find the best angles to Martin's face.
"I was able to box a little more and capitalize on his mistakes," Ramirez said. "Like, he would open up when he'd throw a punch and I could connect."
Although he needs to develop more power –- he has knockouts in just half of his fights -- Ramirez is content for now progressing with sophisticated boxing skill.
"As long as I get the 'W,' I'm fine with [my power]. Skills pay the bills," Ramirez said.
He jarred Martin in the first round with a punch to the head in Ramirez's corner, then found him again with a hard left set up by a jab that sent Martin backing to a neutral corner.
Ramirez remained on the offensive, belting Martin on the nose with a hard left in the second round after three consecutive clean punches to the head. Martin then nearly dropped to a knee when hurt by a combination to the body in the third.
In the sixth, Ramirez pounded Martin to the body and face with nearly a dozen unanswered punches before Martin answered with his best moment, a right that buzzed Ramirez and backed him off.
Ramirez waved his right hand up to the sellout crowd to say he was fine and boxed on.
Earlier, featherweight Abraham Lopez of La Puente showed off his willingness and ability to take a punch, enduring an inside fight against Puerto Rico's Carlos Valcarcel by landing the heavier blows.
By the end of the seventh round, Valcarcel's corner had seen enough after he'd been peppered by hurtful uppercuts, stopping the bout and allowing Lopez to improve to 20-0-1 with 15 knockouts.
"The intensity of the fight made it possible to end things early," Lopez said. "I want to get a . . . championship this [year] and this is the beginning of that."
Also, East L.A. welterweight Jonathan Navarro scored a second-round knockout of Mexico's Carlos Rodriguez, unleashing heavy power right hands to the gut and head that knocked Rodriguez on his rear 48 seconds into the round.
Follow Lance Pugmire on Twitter @latimespugmire
---