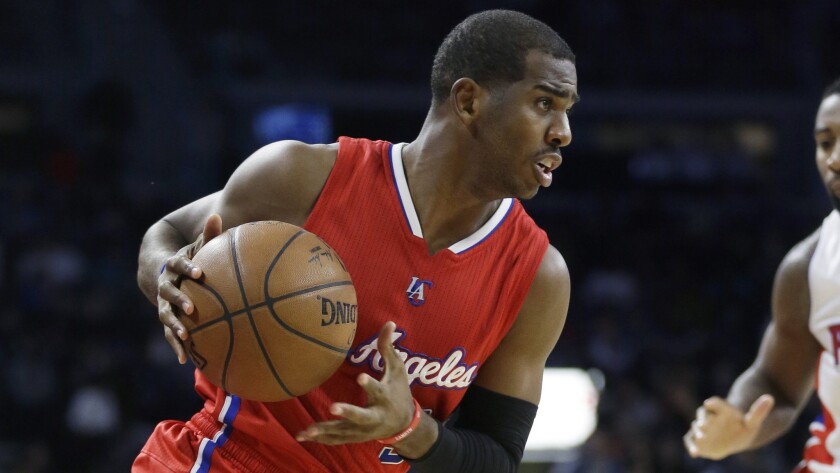 Reporting from Auburn Hill, Mich. —
Five takeaways from the Clippers' 104-98 victory over the Detroit Pistons on Wednesday:
1. When Chris Paul is aggressive and attacking, the Clippers are a much better team.
Of course it's always a delicate balance for Paul to look to score first or get his teammates involved.
Paul had one of those moments in the third quarter in which he took control, scoring 14 points to make sure the Clippers stayed close to the Pistons.
He made all six of his field goals, including a three-pointer, in the third quarter.
Paul finished with 23 points on nine-for-12 shooting, and seven assists in 36 minutes 20 seconds.
2. Jamal Crawford still remains the best sixth man in the business.
Crawford, who won his second NBA sixth man of the year award last season, scored a team-high 25 points for the Clippers.
He was eight-for-16 from the field.
Crawford also blocked a shot and had two steals.
He had 14 points in the fourth quarter, making five of eight shots, two of three on three-pointers.
3. When the Clippers really dig down and play defense, they can be a very good basketball team.
The Clippers held the Pistons to 44.9% shooting.
4. The Clippers out-rebounded the Pistons by just one, 39-38, but it was an important stat.
The Clippers gave up 12 offensive rebounds, quite a few when they had the inside position while a Pistons' player shot free throws.
DeAndre Jordan led the Clippers with 11 rebounds, Blake Griffin had seven and Spencer Hawes had eight.
5. Hedo Turkoglu gave the Clippers a nice lift off the bench.
He had nine points, making three of seven three-pointers.
By taking and making those three-pointers, Turkoglu opened up the driving lanes for Paul and the inside for Griffin to operate.
Twitter:@BA_Turner
---