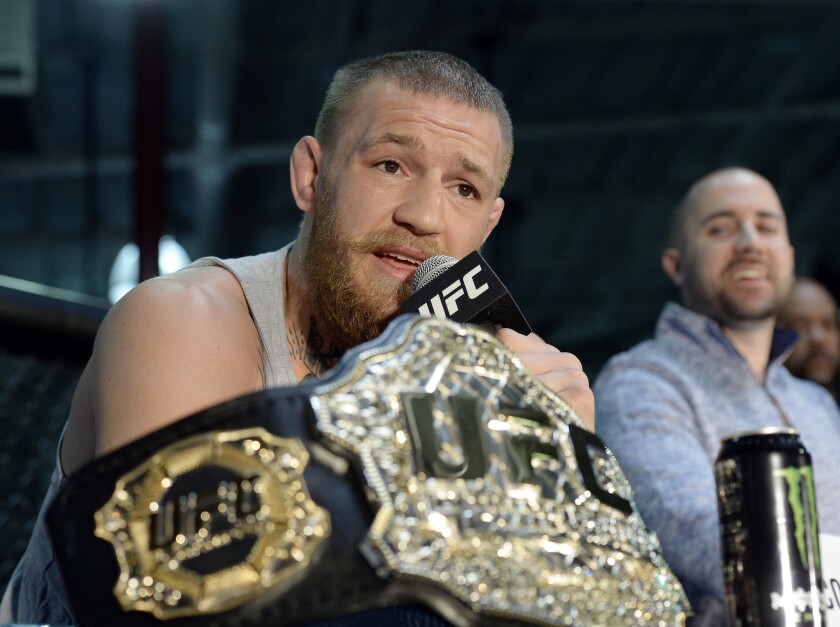 For nearly two years, Conor McGregor pursued the singular focus of a featherweight belt he won in December with a 13-second knockout of Jose Aldo.
Now, after lightweight champion Rafael dos Anjos pulled out of their scheduled bout and McGregor has moved on to a March 5 UFC 196 replacement bout against Nate Diaz at the 170-pound welterweight limit at MGM Grand in Las Vegas, his options are far wider.
McGregor, appearing at an Ultimate Fighting Championship news conference Wednesday in Torrance, was noncommittal about what he wants to do next.
He half-joked he's creating his own "McGregor belt" for each of his fights, which has some seriousness to it given that he ranks right there with Ronda Rousey as the UFC's most popular fighters.
"Who cares about weight?" he asked. "Weight doesn't matter to me. As long as there's an opponent and a date, we'll fight."
McGregor told The Times in a discussion after the news conference that he definitely plans to return to the 145-pound featherweight division.
He told reporters "it's hard to commit to dos Anjos again" for UFC 200 in Las Vegas in July, which would be a second chance to become the first fighter in UFC history to simultaneously hold belts in two divisions.
Part of that is his current anger at the Brazilian who trains in Huntington Beach and claimed he injured his foot so badly he was unable to fight March 5. McGregor joked that "ice and Ibuprofen" would make things better.
If McGregor fights impressively at 170 pounds, he might follow through on previous interest he's expressed in fighting for champion Robbie Lawler's belt.
"I'm really not sure what I'm going to do," McGregor said.
"I never prepare for opponents. I simply prepare. I don't prepare to fight somebody. I'm just happy to fight. … The fact that the second belt was taken, that dampens it a little bit.
"But I'm enjoying myself, and I think this fight will be a fun contest. I feel myself and Nate have a similar will, but [Diaz's] skill doesn't match the will and that's where the difference will be."
---