End of Chris Pronger's career brings Ryan Getzlaf perspective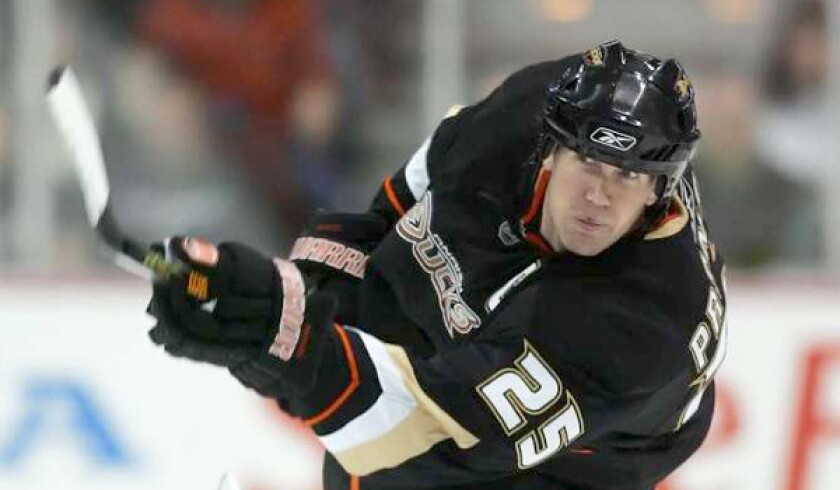 A comment from Philadelphia Flyers General Manager Paul Holmgren that former Ducks defenseman Chris Pronger "is never going to play again" was met by a tribute Wednesday from a former teammate who played with Pronger on the Ducks' Stanley Cup-winning team.
Ducks captain Ryan Getzlaf was asked what Pronger's standout trait was. "Accountability amongst yourselves in the locker room," Getzlaf said. "Some people like him, some people don't. He is who he is. He held us accountable, and we held each other accountable, and it made us a better hockey team."
Pronger, 39, hasn't played since November 2011, worn down by a series of concussions, a serious eye injury and 13 surgeries.
But in the 2006-07 season he had 46 assists and 69 penalty minutes in 66 regular-season games, helping the Ducks win the Stanley Cup.
Alongside Bobby Orr as the only NHL player to win Hart (most valuable player) and Norris (best defenseman) trophies, Pronger also played 2007-08 (31 assists, 128 penalty minutes) and 2008-09 (11 goals, 37 assists) in Anaheim.
Pronger scored 157 goals and 698 points in 1,167 career games. He was struck in the eye with a stick before his final game. He is still owed $11 million from the Flyers.
Getzlaf said having "two of the top three defensemen in the league," with Pronger and recent Hall of Fame selection Scott Niedermayer helped the Ducks immensely in claiming their first Cup in 2007.
"'Prongs' was a big part of our success," Getzlaf said.
Record's staying power
The Ducks set a franchise record with 56 shots on goal Sunday, a feat Ducks Coach Bruce Boudreau said was "a perfect storm" dictated mostly by Ottawa's fatigue.
But young wings Jakob Silfverberg and Emerson Etem say the team's youth and energy makes the strategy sustainable.
"We talk about getting the pucks to the net, that's how you score goals – lucky bounces, bury rebounds," Silfverberg said. "That's the way we've been playing. It's working well."
Silfverberg said, "Guys driving to the net, winning the battles to do that" is critical.
"Our main goal is to come out of the gate flying," Etem said. "Our systems through the neutral zone as far as forechecks have been really solid. It's creating more opportunity. We're winning, I'm just trying to create energy."
Boudreau said while the shots will decrease – "nobody averages more than 35 shots on goal," – he wants to apply the pressure even when an opponent like tonight's foe Calgary has rested for," four, "days.
"They'll be a tougher go tonight. … It's going to be more kitty bar the door type thing, a low-scoring affair."
Health report
The Ducks sent forward Devante Smith-Pelly back to Norfolk Wednesday as left wing Dustin Penner returned to work at Wednesday's morning skate after failing to dress Sunday following a Thursday game injury.
"He looked good enough to play. Whether I play him is a different story," Boudreau said.
Meanwhile, injured defenseman Luca Sbisa, saying he was tiring of his four-week "Tour de France" effort in rehabilitating his injured left ankle on a stationary bicycle, skated for 30 minutes Wednesday and said he will join the Ducks on their eight-game road trip Tuesday through Nov. 4 with hopes of playing.
"Everything I had to do, I did thinking about it first," Sbisa said in acknowledging the ankle's sensitivity. "I did some conditioning. I didn't have the sharp pains. … I can't really shoot on that foot yet."
Streak on line
Getzlaf was a junior player in Canada the last time the Ducks lost a home game to Calgary on Jan. 19, 2004. Their streak of 16 victories that will be tested tonight by the unbeaten Flames (3-0-2).
"The media and the coaches are probably the only people who know those things are intact," Getzlaf said. "We want our building to be that tough. That's the idea. You want your building to intimidate other teams. We're working toward that."
Boudreau said he's impressed by Calgary and rookie Sean Monahan (four goals, two assists), calling the Flames "a hardworking team that has a lot of confidence right now. … Everybody counted them out at the beginning of the year. They've defied that."
For the Ducks, it's their first Pacific Division game. Another one, versus Phoenix, is on Friday.
Goalie Viktor Fasth was first off the ice Wednesday, an indicator he'll start.
The NHL's Pacific Division is deep, Boudreau said of a division that took a 26-14-4 record (including Edmonton's 1-5-1 mark) into play Wednesday. "Every game's going to be a war."
ALSO:
Angels hire Don Baylor as hitting coach
USC football: Cody Kessler reaches out to Lane Kiffin
---
Get our high school sports newsletter
Prep Rally is devoted to the SoCal high school sports experience, bringing you scores, stories and a behind-the-scenes look at what makes prep sports so popular.
You may occasionally receive promotional content from the Los Angeles Times.