Live updates: Ducks defeat Flames, 3-0, in Game 2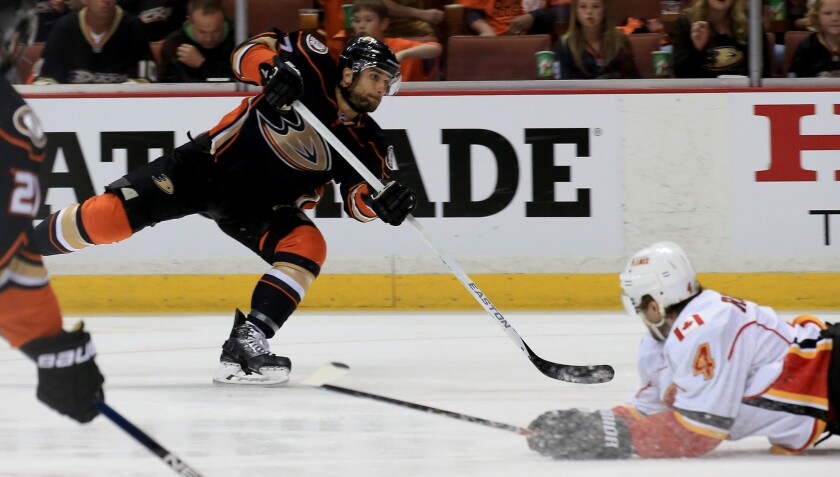 After routing the Calgary Flames in the opener of their second-round playoff series and scoring a goal while putting goaltender Karri Ramo under constant siege Sunday in the first period of Game 2, the Ducks appeared to be skating on an easy path to another playoff victory.
The contest instead turned into a nail-biter, with the Ducks pressured into protecting a 1-0 lead most of the evening.
A third-period goal by Hampus Lindholm off a slick pass from Corey Perry and an empty-net goal by Nate Thompson lifted them to a hard-earned 3-0 victory and gave them a sweep of the first two games at Honda Center.
The series moves to Calgary for Game 3 on Tuesday and Game 4 on Friday.
Including their first-round sweep of Winnipeg, the Ducks have now won six straight postseason games.
::
The Ducks continued to cling to that 1-0 lead in the third period, a dangerous strategy.
But goalie Frederik Andersen was doing his job, and his teammates rewarded him by providing an insurance goal at 11:15.
Defenseman Hampus Lindholm, active all night, took a pass from a backskating Corey Perry and whipped a shot past goalie Karri Ramo for the 2-0 lead.
::
Neither team scored in the second period, though the Flames had some prime chances in dangerous areas.
Perhaps their best opportunity occurred after a giveaway by Francois Beauchemin in the Ducks' zone put Joe Colborne alone in the high slot. Frederik Andersen gloved the shot with a dexterity that suggests he might have played shortstop at some point in his life -- or if he didn't, he should give it a try.
Through two periods the Ducks had a 29-21 edge in shots and were leaving their fans quite uneasy that their lead was only 1-0.
::
The Flames began to find their rhythm in the second period, using their speed as they began to challenge Ducks goalie Frederik Andersen fairly regularly.
Andersen was up to the task, as Calgary goalie Karri Ramo had been in the first period when the Ducks were cycling the puck with little resistance.
::
Although the Ducks toyed with the Flames at times and produced several odd-man rushes, the score stood at 1-0 after the first period.
Calgary goaltender Karri Ramo earned his pay -- and his teammates' paychecks, too -- by stopping 19 shots. Many were from close range.
The Ducks were credited with 20 shots in the period and took nine other shots that were blocked and five more that were off target. The Ducks also outhit the Flames, 16-15.
::
The Ducks dominated the early going and nearly scored when Ryan Kesler clanged a shot off the right post, a play that was reviewed and found to have not been a goal.
Anaheim finally got one past Flames goaltender Karri Ramo at 7:27, when Jakob Silfverberg sent a short pass to Kesler, who was on the left side and saw Matt Beleskey dashing up the right side. Kesler threaded a pass to Beleskey, on the move and through several defenders, and Beleskey finished it off with a one-timer from the right side.
::
As it turns, out, Micheal Ferland did not play and was instead among the Flames' scratches. Left wing David Wolf took his place, an imposing figure at 6-foot-3 and 215 pounds.
Wolf and Ducks right wing Corey Perry bumped into each other at the red line during warmups and stared at each other for a few seconds before going their separate ways, and it wouldn't be surprising if they met up again -- and didn't separate as readily then.
Pregame
After sweeping the Winnipeg Jets in the first round and winning the opener of their Western Conference semifinal series against the Calgary Flames on Thursday, the Ducks ran their playoff winning streak to five. That's their longest since May 17-30, 2007, when they won the last two games of the Western Conference finals and first two games of the Stanley Cup Final. They went on to win the Cup by beating Ottawa in five games that season.
With an extra day off between Game 1 and Sunday's second game at Honda Center there was plenty of time to analyze why the Ducks have been successful so far. Some of the reasons aren't surprising: Corey Perry had four-point games in the opener of each series and has collected 11 points overall, and the Ducks' physicality wore out the Jets and seemed to do the same to the Flames in Game 1. But two aspects of their game have been surprisingly successful: their power-play conversion and their balanced scoring.
The Ducks' power play during the season ranked 28th in the NHL with a feeble 15.7% success rate, but it had converted 33% of its chances (five for 15) through Game 1 of the Flames series. That ranked first among playoff teams. Perry and linemate Ryan Getzlaf were tied with Calgary's Johnny Gaudreau for the league lead in power-play points, with four each, before Game 2.
Defenseman Cam Fowler said the Ducks' relatively light schedule the last few weeks has enabled them to squeeze in more practices and devise ways to improve their power play.
"It's definitely something that we've been working very hard at," he said. "For whatever reasons things might not be clicking so much for you during the regular season and it's hard to get a lot of time to work on it specifically, but in the playoffs you have a lot more time spread out where you can work on special teams. You can really focus in on a few key aspects that you're trying to work on.
"The other thing is, we really wanted to have that mentality to make teams pay on the scoreboard if they wanted to get physical or if they wanted to rough up some of our key guys. There's no better way to stop a team from doing that than to score a couple power-play goals. I think it just got us going early, especially in that Winnipeg series, and momentum's a huge thing on a power play. Hopefully we can keep that going."
Balanced scoring also has carried the Ducks to this point. Eleven players have scored at least one goal and 16 of the 20 skaters who have appeared in the playoffs have recorded at least one point.
"It's huge," Perry said. "Any time you can have secondary scoring, you're going to need it to be successful, to win in the playoffs. It's not going to be one line every single night. It's going to be a combination of lines, a combination of different people at different times. They can be a different hero every single night."
Fowler said contributions from support players can make a key difference if opponents key on Getzlaf's line.
"Come playoff time, teams are definitely going to give most of their focus to the big guys, Getzlaf and Perry and those guys. So secondary scoring come playoff time is huge," Fowler said.
"Those guys have still been finding ways to get their points and get their goals but we've had a lot of other guys step up when they've needed to and get big goals when it called for them. And that's going to be huge. You have to have secondary scoring if you plan on going where we want to go."
The Ducks planned no lineup changes Sunday, which means Jason LaBarbera was scheduled to back up starter Frederik Andersen. Coach Bruce Boudreau said John Gibson has the flu and was told to stay home Sunday. However, Boudreau said Gibson will accompany the Ducks to Calgary for Games 3 and 4, which will be played Tuesday and Friday.
Flames Coach Bob Hartley said Sunday morning that several players were game-time decisions but that forwards Micheal Ferland and Jiri Hudler probably would play after sustaining injuries that led them to leave Game 1 early. Hartley also said Gaudreau, whom he held out of the third period because he said the Ducks were taking liberties with the young winger, will play Sunday. Hartley emphasized that Gaudreau wasn't held out as a punishment of any sort. It's always possible that Gaudreau was injured too, since NHL rules allow teams to keep injury information confidential.
---
Get our high school sports newsletter
Prep Rally is devoted to the SoCal high school sports experience, bringing you scores, stories and a behind-the-scenes look at what makes prep sports so popular.
You may occasionally receive promotional content from the Los Angeles Times.