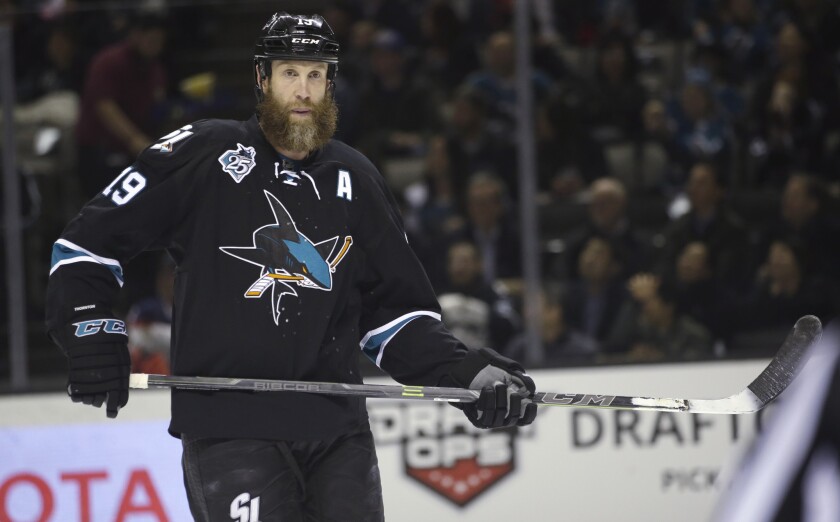 There was the 82-point season resulting in a fourth-place finish in NHL scoring, a return to the playoffs and one epic beard, courtesy of 36-year-old Joe Thornton.
Long before they came together, new Sharks Coach Peter DeBoer had a feeling he would be on the same page with the long-tenured Thornton, who had played in San Jose since 2005 following a trade from Boston.
"He's done it all for us, from training camp," DeBoer said on Thursday morning, a few hours before Game 1 of the first round of the playoffs between the Kings and the Sharks at Staples Center. "Never mind what he's done on the ice –- carrying the message –- from the first time I met with him last summer. How we wanted to play. The goal of getting back in the playoffs.
"The fact we were going to go to Pav [Joe Pavelski] as the captain, but I still wanted him as a big part of the leadership group. I can't say enough about how he's handled every situation and backed it up with, I think, an MVP-type season.
Kings Coach Darryl Sutter had been spending plenty of his time, of late, talking about the contributions of one of their newcomers, center Vinny Lecavalier, who is one year younger than Thornton.
Sutter likes to give kudos to the not-so-new kids on the block.
"He's had a great season," Sutter said of Thornton. "You know how I feel about older players. In our conference, we see a lot of great forwards. The two best that I've seen this year -- other than our own -- would be [Jamie] Benn [of Dallas] and Thornton."
Thornton led the Sharks in scoring, edging Pavelski by four points. The competition for the most unruly beard -- between Thornton and teammate Brent Burns -- is fascinating too,
"I worked for Lou Lamoriello," said DeBoer of his former boss in New Jersey, who is now in Toronto. "You know his feeling on beards. It doesn't bother me as much as it would bother Lou.
"We were sitting for our team picture about three weeks ago, and Burnsie was in front of me. He's got the beard and the hair and the ponytail and I just said to Zubby [Dainius Zubrus], who was standing beside me, "What do you think Lou would do right now?'"
The Kings have no such Lamoriello ban on facial hair, meaning Jake Muzzin got an impressive start on his beard, long before the playoffs. Defenseman Rob Scuderi, who was with the Kings when they won the Stanley Cup in 2012, rejoined them in February and took a look at his D-corps colleagues, Muzzin and Drew Doughty.
"It's impressive. When I first got back here, I thought Muzz and Dewey were from the cast of 'The Revenant,'" Scuderi said.
---