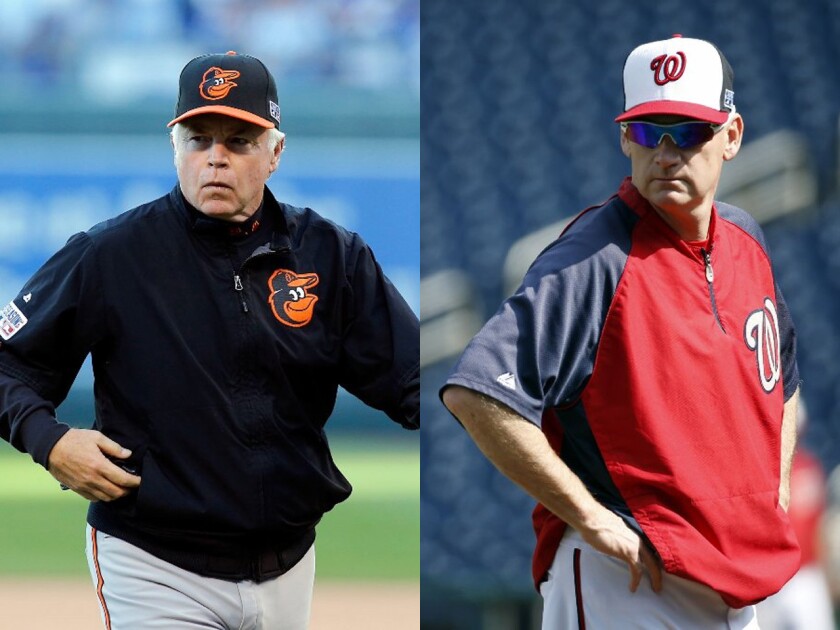 Matt Williams, who led the Washington Nationals to the best record in the National League in his first season as a manager, and Buck Showalter, who led the Baltimore Orioles to their first division championship since 1997, were honored Tuesday as managers of the year.
The Angels' Mike Scioscia finished second in the American League vote, followed by Ned Yost of the AL champion Kansas City Royals. Voting closed at the end of the regular season.
Showalter got 25 of 30 first-place votes, with Scioscia receiving four. Lloyd McClendon of the Seattle Mariners, who finished fourth in the balloting, got the other first-place vote.
In the NL, Clint Hurdle of the Pittsburgh Pirates finished second, followed by Bruce Bochy of the World Series champion San Francisco Giants. The Dodgers' Don Mattingly, one of nine managers to receive votes, finished sixth in the balloting. Mattingly was named on 10 of 30 ballots, getting one second-place vote and nine third-place votes.
Scioscia's recognition reflected the Angels' return to the championship form they enjoyed in the early days of Arte Moreno's ownership. In five of Moreno's first six full seasons, the Angels won the AL West. In the next four seasons, they failed to reach the playoffs.
In 2013, the Angels lost 84 games and finished 18 games out of first place, their worst season in a decade. Moreno decided to retain Scioscia and General Manager Jerry Dipoto, and the Angels rebounded with the best record in the major leagues. They won 98 games, and Scioscia won his sixth division championship, tied for the lead among active managers.
Scioscia, who has led the Angels for 15 seasons, is the longest-tenured manager in the major leagues. He is one of five men in the last 40 years to manage a team for at least 15 consecutive years. The others — Sparky Anderson, Bobby Cox, Tom Lasorda and Tony La Russa — are in the Hall of Fame.
Follow Bill Shaikin on Twitter @billshaikin
---