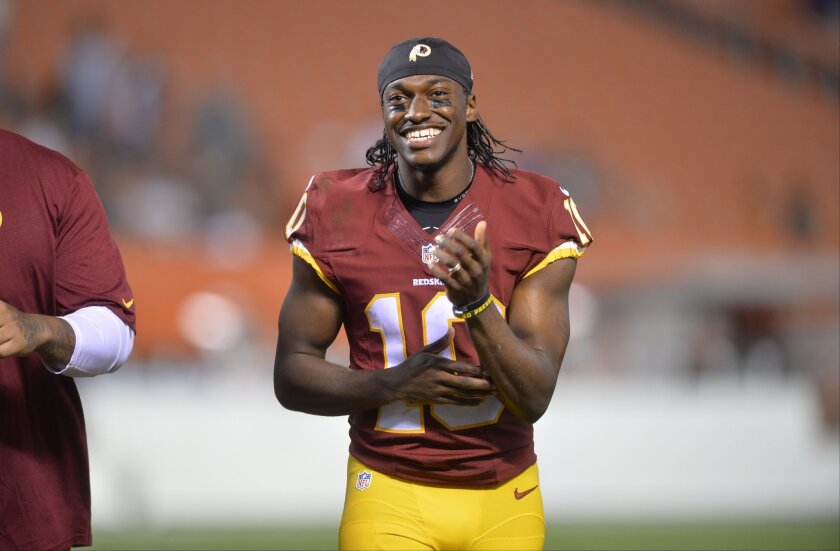 Robert Griffin III is setting himself up.
For what? Well, take a look at the comment the Redskins quarterback made during an interview with WJLA in Washington, D.C.
"I feel like I'm the best quarterback in the league, and I have to go out and show that," Griffin said. "Any athlete at any level, if they concede to someone else, they're not a top competitor, they're not trying to be the best that they can be. There's guys in this league that have done way more than me. But, I still view myself as the best because that's what I work toward every single day."
Clearly, he's setting himself up for ridicule.
In the three years since a very promising rookie season, Griffin has shown he's nowhere near the likes of Aaron Rodgers or Tom Brady or Peyton Manning or many of the other starting quarterbacks in the NFL.
He was benched late in the season last year, meaning that Coach Jay Gruden didn't even think he was the best quarterback on the Redskins.
On the other hand, though, maybe he's setting himself up for something else -- success. Taken in context, Griffin was saying he can't allow himself to think he's anything other than the absolute best, otherwise he'd be conceding to his opponents.
Baltimore Ravens quarterback Joe Flacco made a similar statement with similar reasoning back in 2012, and I was one of the many who ridiculed the guy. At the time, Flacco had never even appeared in a Super Bowl and had compiled mediocre stats as a starting quarterback.
Less than a year later, however, Flacco was a Super Bowl champion and that game's MVP following a career-defining run through the playoffs. He was rewarded with a six-year, $120.6-million contract, which was the highest ever for an NFL player at the time.
Can Griffin pull off similar accomplishments? Well, at least he's got the proper mindset.
Twitter: @chewkiii
MORE NFL NEWS:
James Harrison says he returned his sons' trophies because they didn't earn them
Tim Tebow gets a warm greeting from Eagles fans in exhibition
---