San Diego approves spending on planning for new Chargers stadium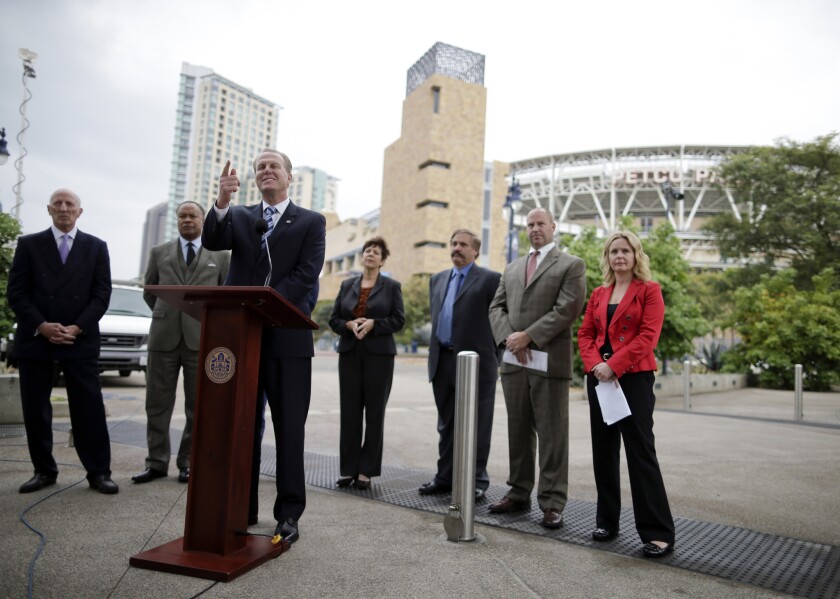 The San Diego City Council voted, 6-3, Tuesday to spend $2.1 million to do an environmental impact report on a possible new Chargers stadium -- a move that Mayor Kevin Faulconer and others hope will convince the NFL to tell the Chargers to return to the bargaining table with the city.
Not to approve the funding would have been "the death knell for the Chargers" in San Diego, said Councilwoman Lorie Zapf.
The team broke off negotiations with city leaders last month and has blasted the idea of spending money on a hurry-up environmental impact report. "The Chargers will have no part in the city's misbegotten, doomed legal strategy," Chargers counsel Mark Fabiani said on the eve of the vote.
But Faulconer said the vote "demonstrates that we are committed to keeping professional football in our region."
City officials plan to stress that message when NFL executives visit San Diego this month and also on Aug. 10 in Chicago before an NFL owners meeting in which relocation issues are set to be discussed.
Council members on both sides of the issue said they hope the team does not move to Carson for a joint-use stadium with the Oakland Raiders.
Councilman Scott Sherman said he remains confident the NFL will "tell the Chargers to go back to the table" and negotiate a stadium deal and financing plan that can be presented to San Diego voters in December or January.
"If we're going to be a world-class city, part of that is world-class amenities, and part of that is an NFL team," Sherman said.
A task force appointed by Faulconer has recommended a stadium be built to replace aging Qualcomm Stadium on the same 166 acres owned by the city in Mission Valley. But the Chargers have preferred a downtown site. Fabiani has doubted that a quickly done environmental impact report can withstand legal challenge.
Councilman David Alvarez, one of the council members voting against the $2.1-million allocation, said that, "without a financing plan for this project, we are simply not being serious."
Council members and members of the public expressed strong support for the team, but there was strong annoyance aimed at the Spanos family that owns the team.
The city needs to invest in repairing roads, building parks and improving public safety, said Councilwoman Marti Emerald, who voted no, "not invest our precious tax dollars to further enrich a wealthy few."
But Councilwoman Myrtle Cole, a yes vote, said she considered the $2.1 million an investment in keeping the Chargers and the community spirit that having an NFL team provides.
"I own two L.T. jerseys," Cole said, a reference to retired Chargers star LaDainian Tomlinson. "That's an investment and I want to wear those jerseys."
Follow Tony Perry on Twitter @LATSanDiego
---
Get our high school sports newsletter
Prep Rally is devoted to the SoCal high school sports experience, bringing you scores, stories and a behind-the-scenes look at what makes prep sports so popular.
You may occasionally receive promotional content from the Los Angeles Times.