49ers' Chris Borland, 24, retires because of brain injury concerns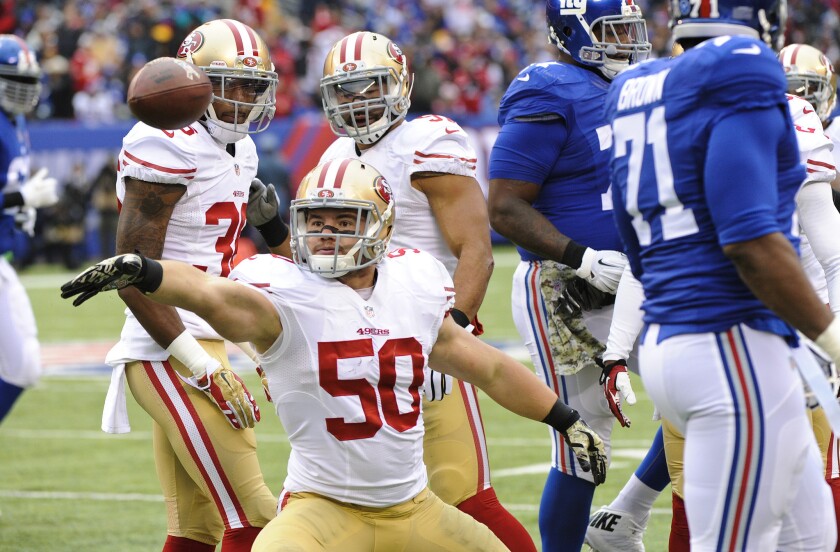 After just one NFL season, San Francisco linebacker Chris Borland, who looked like the future of the 49ers' defense, will retire out of concerns about the long-term effects of brain injuries.
Borland, 24, revealed his surprising decision Monday on ESPN's "Outside the Lines" after informing the 49ers of his intentions Friday. The 49ers later announced his retirement.
"I just honestly want to do what's best for my health," Borland said. "From what I've researched and what I've experienced, I don't think it's worth the risk."
Borland cited a fear of developing a brain disease like former NFL players Mike Webster, Dave Duerson and Ray Easterling, all of whom were diagnosed with chronic traumatic encephalopathy, which is caused by repeated head trauma, after their deaths.
"I feel largely the same, as sharp as I've ever been, for me it's wanting to be proactive," Borland said. "I'm concerned that if you wait till you have symptoms, it's too late. ... There are a lot of unknowns. I can't claim that X will happen. I just want to live a long, healthy life, and I don't want to have any neurological diseases or die younger than I would otherwise."
Though he never suffered a head injury in an NFL game, Borland said he had been concussed while playing soccer in eighth grade and football in high school.
However, Borland also spoke of the pressure to stay on the field after suffering what he believed to be an undiagnosed concussion in training camp. Borland said he kept playing because he didn't want to get cut.
"I just thought to myself, 'What am I doing? Is this how I'm going to live my adult life, banging my head, especially with what I've learned and knew about the dangers?'" said Borland of the incident.
In 14 NFL games, the 6-foot, 248-pound player made eight starts and collected 108 tackles and one sack. He also intercepted two passes in Week 10 against the Giants, earning him NFC defensive-player-of-the-week honors -- a first for a 49ers rookie since Andre Carter in 2001 -- and he was named the NFC defensive rookie of the month in November.
But his first season was cut short by an ankle injury that put him on season-ending injured reserve on Dec. 20.
Borland was selected with the 77th overall pick in the third round of the 2014 NFL draft by the 49ers out of Wisconsin, where he earned his bachelor's degree in history. He signed a four-year deal with San Francisco worth $4.897 million with a $617,436 signing bonus before his first season.
"While unexpected, we certainly respect Chris' decision," 49ers General Manager Trent Baalke said in a statement. "From speaking with Chris, it was evident that he had put a great deal of thought into this decision."
As a second-year pro, he was expected to replace veteran linebacker Patrick Willis, 30, who in another surprise announcement, retired last week after eight seasons.
Follow Matt Wilhalme on Twitter @mattwilhalme
---
Get the latest on L.A.'s teams in the daily Sports Report newsletter.
You may occasionally receive promotional content from the Los Angeles Times.