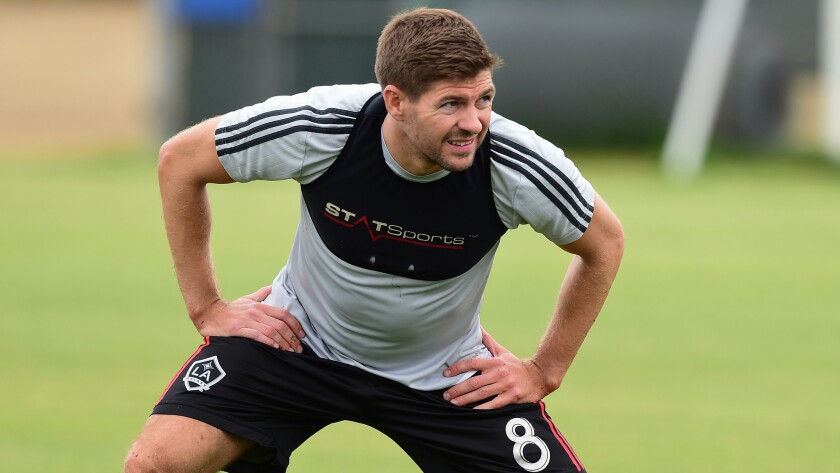 It was just your everyday, average training session for the Galaxy. They scrimmaged, ran some drills, talked strategy, all the usual things.
Only this time, there were more than two dozen cameras lining the sideline, close to 100 media members milling around and a new figure in their midst.
Steven Gerrard moved one step closer to playing for the Galaxy on Tuesday, practicing with his teammates in a session open to the media, seven months to the day since he signed with the club.
But for a team that has endured the media hoopla of David Beckham and Landon Donavon, the arrival of the English captain wasn't all that difficult.
"It's kind of weird, it was kind of seamless," forward Alan Gordon said of the transition. "He fit right in right away. We're a tight bunch. It's like he's been here for a while. He's not a loud guy, but he has a presence and he fits right in."
That transition was made especially smooth by the presence of Robbie Keane, who played with Gerrard in Liverpool. Keane said that when team management approached him with the news that they were pursuing Gerrard, he signed off on the idea immediately.
Keane said he has tried to help Gerrard, who has never played outside England before, by offering recommendations on local businesses for Gerrard's family. And when Gerrard reported for his first training session a week ago, it was Keane who took him around and introduced him to the staff and players.
On the pitch, Keane and Gordon said the team's chemistry with Gerrard is developing quickly. Though not an especially vocal player, the former Liverpool star has a presence about him that engenders respect, they said.
Gerrard's arrival coincides with the departure of Omar Gonzalez and Gyasi Zardes to international duty and Stefan Ishizaki to a new club -- and the skill set he brings will be key to boosting the team from third place in the Western Conference.
"We're inheriting a legend, one of the top players in the game. His vision is second to none, he sees the field so well, so he'll be able to orchestrate our offense and our defense as well," Gordon said.
Keane, the team's leading scorer, said he was especially looking forward to Gerrard's top-notch passing. Gerrard is second all-time in the Premier League with 99 assists.
"He's a quality player. His passing is incredible," Keane said. "Certainly for a striker, he's good to play with. He finds those little pockets I like to play in. His range is incredible, and his will to win, his competitive side is certainly going to help this team."
His teammates also praised Gerrard's professionalism, with midfielder Sebastian Llegett saying he was especially impressed by Gerrard taking the time to learn each of their names before he entered the locker room.
"He did his homework," Coach Bruce Arena said. "He made this move real smoothly, they did their work in advance. This transition isn't going to be perfect, but I think it's going to go as well as anyone could expect."
Llegett, Keane and Arena all said the transition would be made even easier by the fact that Gerrard is eager to be a leader and a teammate.
"He's so intelligent. We're learning off him immediately," Llegett said. "It's just the little things you pick up. And he's just a good guy in general too. He's always trying to teach people."
---